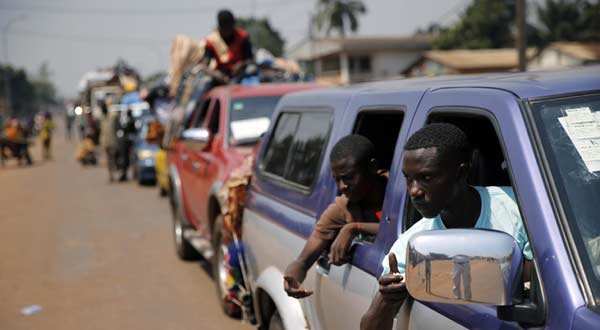 BANGUI, Feb 20  
— Heavy gunfire has erupted near the airport in the Central African Republic's capital Bangui as a Christian militia tried to block the evacuation of Muslims from the area, witnesses said.
Wednesday's clashes began after Chadian troops tried to escort a convoy of Muslims out of the city, Songokoua Yetinzapa, a Bangui resident living in a camp for displaced civilians near the airport told Reuters news agency. "I heard several people were killed, but I only saw one dead body: a Muslim who was killed by the Anti-Balaka," Yetinzapa told Reuters by telephone.  An Anti-Balaka spokesman said their fighters went to the airport to defend the local population after they were targeted by Chadian troops who were escorting the Muslim convoy.
"When they drove in from Chad yesterday, the Chadians attacked civilians in Damara. Someone from the town called a radio programme to report what the Chadians did," Sebastien Wenezoui, an Anti-Balaka spokesman said. "This angered people in Bangui who set up road blocks to prevent them from leaving," he said. Wenezoui added that troops from the African peacekeeping force MISCA and French soldiers removed the roadblocks and dispersed the crowds, which prompted some Anti-Balaka, Christian fighters, to respond with gunfire.
Chadian troops "passed forcefully" through the barricades, a foreign military source who did not want to be named told Reuters. A United Nations official said that African peacekeepers were dispatched to reinforce troops in the airport area. Al Jazeera's Tania Page confirmed that the fighting had stopped, but also said that "there is still a very high presence of French Soldiers at the airport and African Union soldiers on the main road that links the central city to the airport." Page said thousands of Muslims have been seeking shelter in a giant aircraft hanger near the airport. "They are camped out underneath air force helicopters and underneath the wings of airplanes, which is where families have been sheltering from the Christian Anti-Balaka militia," she said.
"They don't know why the Anti-Balaka brought their convoy under attack because we know from speaking to Anti-Balaka that they do want to drive the Muslims out of the Central African Republic," she said, reporting from the camp. "There is no security in the capital let alone beyond the boundaries, the limits of the capital," Page said. "Out there, beyond the city limits, there are atrocities being committed on almost a daily basis." Predominately Muslim fighters, known as Seleka, toppled the president of the Central African Republic, Francois Bozize, last March
Killings and abuses carried out by the Seleka led to the creation of a mainly Christian self-defence militia known as "Anti-Balaka". Violence has escalated since the Seleka leader Michel Djotodia resigned in January amidst international pressure. Seleka's retreat has led to Muslims fleeing the south and warnings from a top UN official of "ethnic-religious cleansing". At least 2,000 people have been killed since the start of the crisis and around one million others have been displaced by the violence, according to UN officials.—IINA