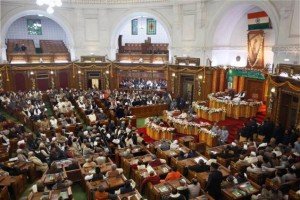 The Muslim representation has come down from 71 Muslim candidates or 17 percent in the last Assembly to a mere 24 or less than 5 percent
Abdul Bari Masoud | Clarion India
NEW DELHI — As the stunning election results for the constitution of 17th assembly of Uttar Pradesh were announced wiping out the combined opposition of Samajwadi Party-Congress and BSP, the Muslim representation also hit a new low with only 24 Muslims managing to get elected to the new House which is the lowest Muslim representation since the Independence. In the outgoing assembly, there were 71 Muslim members.  It means the Muslim representation has come down from 17 percent to a paltry 5 percent in the state assembly.
Last time in 1991, when the communal wave was so intense in the state, Muslim representation had hit a new low as only 23 candidates were able to reach the State assembly.
In the just concluded elections the BJP, which almost swept the elections in the state due to intense communal polarization and non-Yadav OBC mobilization, the ruling Samajwadi party and the opposition BSP have been reduced to double-digit parties. The BJP did not field any Muslim although they constitute nearly 20 per cent or 40 million of the state's 200 plus population.
Mayawati's BSP fielded almost 100 candidates from the community and the SP had 56 Muslim candidates. However, the elections were marred by allegations of tampering with Electronic Voting Machines. For the first time,  a national party leader leveled this charge. Former chief minister and BSP chief Mayawati said she got reports on the rigging of EVMs from different parts of the state adding that even Muslim votes went into BJP's favour.  Seconding her accusations, outgoing chief minister Akhilesh Singh  Yadav said the government must look into this matter.
Out of 24 Muslim MLAs, 15 got elected on SP tickets while seven on BSP and two on Congress tickets. Barrister Asaduddin Owaisi's  All India Majlis-e-Ittehadul Muslemeen, which jumped in the fray for the first time, did not open its account just as it failed to open account in the Bihar Assembly elections.
It was apprehended before the elections that a split in Muslim votes might give BJP an edge over other parties that apprehension has proved right as their votes were divided into SP and BSP on a large scale and other Muslim-led parties.  It was more the merrier for the BJP as whenever the saffron party is challenged by a number of Muslim rivals, a split in votes on communal lines helps turn the tide for its candidates in Uttar Pradesh.
The 115 Muslim-dominated seats witnessed once again this ugly spectacle and Muslims did not learn a lesson from the past including the 2014 General Elections. Going by the past record, BJP was the major beneficiary of the division of minority votes and polarization during polls.
In 2012 polls, there were at least 26 seats where Muslim candidates lost due to the division of votes due to fighting between them. Now it broke the old record as many as 50 seats lost because of the split of votes on 'Bridari lines'.
Below is the list of Muslim Candidates who won the elections:
Mohammad Aslam — Bahujan Samajwadi Party, Bhinga
Mohd. Faeem — Samajwadi Party, Bilari;
Naseer Ahmad Khan — Samajwadi Party, Chamraura
Nafees Ahmad — Samajwadi Party, Gopalpur
Nahid Hassan — Samajwadi Party, Kairana
Azad Ari Mardan — Bahujan Samajwadi Party, Lalganj
Yasar Shah — Samajwadi Party, Matera
Mukhtar Anshari — Bahujan Samajwadi Party, Mau
Haji Ikram Qureshi — Samajwadi Party, Moradabad rural
Shah Alam — Bahujan Samajwadi Party, Mubarakpur
Tasleem Ahmad — Samajwadi Party, Najibabad
Mohd Azam Khan –Samajwadi Party, Rampur
Mujtaba Siddiqui — Bahujan Samajwadi Party, Pratappur
Masood Akhtar — Congress, Saharanpur
Iqbal Mehmood — Samajwadi Party, Sambhal
Haji Irfan Solanki — Samajwadi Party,  Shishamau
Rafiq Ansari, SP, Meerut
Alambadi, SP,  Nizamabad
Sohail Akhtar Ansari, Cong, Kanpur Cantt
Abar Ahmad, SP, Isauli
Asaalam Chaudhri, BSP, Dahulana
Nawab Jaan,SP, Thakurdwara
and   Mohammad Abdullah SP , Suar who is son of fromer minister Azam Khan.
While in neighboring state Uttarakhand, two Muslims were elected to the new assembly and a Muslim woman  from Punjab. They all were elected on Congress ticket.