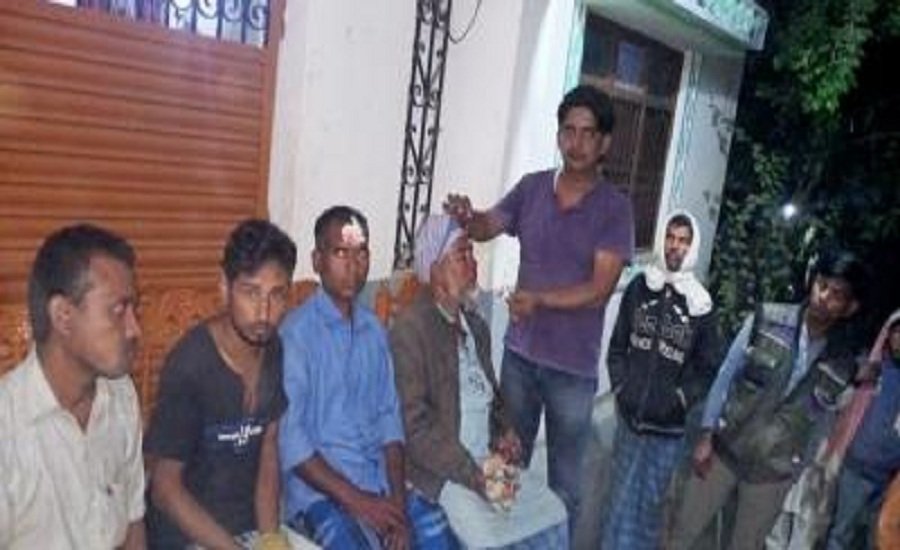 Five worshippers were wounded while a microphone and two gates of the mosque were broken
Clarion India
NEW DELHI – Five worshippers are reported to have been severely wounded in a village in Bihar's East Champaran district when a mosque was attacked and vandalised by Bharatiya Janata Party (BJP) supporters during a procession taken out to mark the victory of the party's candidate in the recent assembly elections.
The incident happened in Jamua village on Wednesday during Maghrib prayers. The microphone  of the mosque and its two gates were broken by the saffronites. Several vehicles parked outside the shrine were also vandalised.
BJP leader Pawan Kumar Jaiswal has won the Dhaka assembly seat which includes the Jamua village where Hindus outnumber the small Muslim population by hundreds.
Millat Times news portal has uploaded a video which shows the vandalised mosque. One of the injured persons told the news portal that the attackers raised the slogan of Jai Shri Ram and hurled abuses while damaging the mosque. The police have been deployed in the village.
"There were about 500 people in this juloos (procession) who were celebrating the win of Pawan Jaiswal in the assembly elections. When they came near the mosque, they started pelting stones at it. They broke its gates, its mic–all while chanting Jai Shri Ram," Mazhar Alam, caretaker of the mosque, told The Wire.
"They told us to leave the country. This country is not yours," Mazhar said.
"The Muslim families are scared now. But the administration has assured us that they are with us, and will not let anyone harm us," he added.
Abhay Kumar, station house officer of the Dhaka Police Station, confirmed to The Wire that the incident took place on Wednesday evening. A first information report was registered and the police have invoked several Sections of the Indian Penal Code (IPC) such as 145 (joining or continuing in unlawful assembly, knowing it has been commanded to disperse), 148 (rioting, armed with deadly weapon), 153 (wantonly giving provocation with intent to cause riot), 295 (injuring or defiling place of worship with intent to insult the religion of any class) and 307 (attempt to murder).