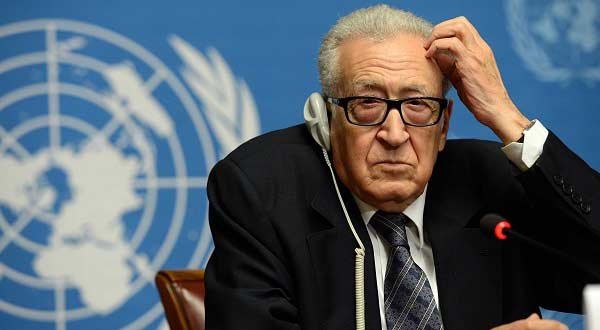 UNITED NATIONS — UN Secretary-General Ban Ki-moon Tuesday announced resignation of Lakhdar Brahimi as the joint United Nations-Arab League Special Representative on the Syria crisis, terming it a "tragedy for the Syrian people" and a "failure" for the United Nations, reports IANS.
Making the announcement personally at a press briefing at the UN Headquarters, Ban said that the veteran diplomat, whom he described as one of the world's most brilliant diplomats, would relinquish his post May 31 amidst an international community "hopelessly divided" over how to end more than three years of bloodshed in Syria.
In his statement on the UN website Tuesday, Ban said, "For nearly two years, Brahimi had sought an end to the brutal and still worsening civil war in Syria. Indeed, the 80-year old Algerian diplomat has faced almost impossible odds."
Brahimi, who was appointed on Aug 17, 2012, took over the peace-facilitation role played by former UN secretary general Kofi Annan.
Brahimi said he was "very, very sad to leave Syria in such a bad state" but noted he had no doubt the secretary-general would do "everything humanly possible" to work with the UN Security Council, the Syrian parties and with neighbouring countries, to end the crisis.
"I am sure the crisis will end, but all [stakeholders] should consider how much more death, how much more destruction will occur… before Syria can become a new Syria," he said.
The conflict in Syria, which began in March 2011, has led to well over 100,000 deaths, and more than 680,000 people have been injured, the statement said.
Responding to questions at the press conference, the UN chief said that he would continue consultations on the way forward and would make a decision later on Brahimi's successor.
Brahimi was with the secretary-general as he made the announcement.
"Because of its nature, I want to make it in person," Ban said.
Ban had earlier informed the Security Council of Brahimi's resignation.