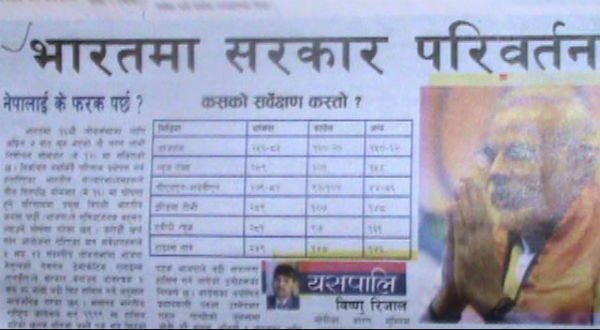 KATHMANDU, May 17 – The impressive victory of the Narendra Modi-led BJP in India's Lok Shaba elections has generated a foreign policy debate in Nepal and has lent fresh impetus to the simmering discontent against the Himalayan nation adopting secularism as against being a Hindu state till 2008.
The Bharatiya Janata Party's splendid victory was widely covered in Nepali media Saturday, though India watchers here were mixed in their opinion on whether India's policy towards Nepal would shift during the BJP-led regime.
Almost all Nepali dailies — both vernacular and English, TV news channels, radio, internet portals and even social media were flooded with news of BJP's victory and the rise of Narendra Modi.
Modi's pictures were splashed across all national dailies. One picture was of him taking the blessings of his mother while another showed him addressing a rally immediately after his victory in his home state Gujarat.
Along with banner headlines and carrying Modi's photo, Nepali newspapers also published commentaries on possible changes in India's foreign policy vis-a-vis Nepal under the BJP-led National Democratic Alliance government.
"Modi's BJP wins by landslide", Nepal's leading English language daily The Kathmandu Post ran a banner headline in its Saturday edition. The Post also carried a separate story on anticipated changes in India's policy towards Nepal under Modi's regime headlined "Readings of shift in India's Nepal policy".
Similarly, Nepal's largest selling newspaper in Nepali language, Kantipur, also allotted ample space to the results of the Indian elections along with four separate write-ups on the rise of the BJP and Narendra Modi.
With Nepal having more than 80 percent Hindu population, the rise of Hindu nationalist BJP has sparked a debate here that the Himalayan nation could revert to being a Hindu state again. This contention was fuelled by comments made by the BJP's leadership in 2008 when Nepal declared itself a secular state from the Hindu state that it was hitherto.
Several BJP leaders and others associated with fraternal organisations of the BJP had vented ire over Nepal's departure from being a Hindu state to a secular country.
Another leading English language newspaper, The Himalayan Times, ran the headline "India to have majority government after 30 years" along with separate analysis headlined "Shift in policy towards Nepal unlikely".
"Narendra Modi storms to historic election win", reads the Republica's headline along with a commentary "Modi's premiership opportunity to further strengthen Nepal-India ties".
Almost all newspapers ran separate stories on Modi — his rise from being a tea seller to chief minister of Gujarat to now India's prime minister — storming the decade-long bastion of the left-of-centre UPA led by the Congress.
Some leaders and former diplomats published their reminiscences of meeting Modi along with photographs. Many leaders have extended congratulations to Modi through their social media handles.
Nepal's vernacular national dailies like Nagarik, Rajdhani, Nepal Samacharpatra, Rajdhani, and Naya Patrika also gave impressive coverage to the BJP's victories and hailed the achievements of both the BJP and Modi.
(Anil Giri can be contacted at [email protected])
— IANS