Agencies
UNITED NATIONS —   After days of speculation over a possible handshake and a one-on-one meeting between Indian Prime Minister Narendra Modi and Pakistani Premier Nawaz Sharif, all they did was wave at each other across a table, Indian media reported.
Modi and Nawaz Sharif were seated across each other at a horseshoe-shaped table as they attended the UN peacekeeping summit hosted by US President Barack Obama on Monday in New York.
PM Modi walked into the conference hall first. Mr Sharif came in a little later and waved at Mr Modi, who waved back and smiled. After a pause, PM Modi was seen waving again, and Mr Sharif acknowledged it and smiled.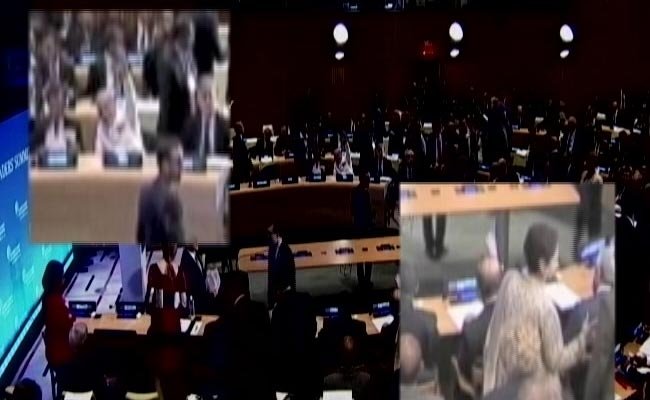 Curiously, foreign ministry sources denied the little exchange, despite evidence on camera.
PM Modi and Mr Sharif shared the same hotel, the iconic Waldorf Astoria, but avoided each other in a building that has several entrances and driveways that lead right into the middle of the structure. They had last met in Ufa in Russia in July.
Indian officials had ruled out bilateral talks but the possibility of at least a handshake between the two leaders had been raised. Pakistani officials had said they expected the usual exchange of "salaam dua" if the two met.
Ties have been strained between the neighbours over border firing and a series of ceasefire violations. Talks between National Security Advisors were cancelled recently because of a dispute over the agenda. India wanted to discuss terror attacks and Pakistan insisted on raising Kashmir.
Pakistan had come up in the context of terrorism during PM Modi's talks with Mr Obama,UK Premier David Cameron and French President Francois Hollande, said external affairs ministry spokesperson Vikas Swarup.
"There was a discussion on Pakistan… broadly the idea was if terrorism has to be fought then all countries have to be on the same page. You can't have some countries talking of good and bad terrorists," Mr Swarup had told the media.