Turkish President Recep Tayyip Erdogan appreciates all countries for the aid they provided for Turkish people day and night, supporting search and rescue efforts with their teams after powerful earthquakes hit the country's southeast.
Türkey is grateful to all the countries for the help they provided for the search and rescue and relief efforts in the aftermath of the powerful twin earthquakes, President Recep Tayyip Erdogan said.
In a video message sent to the World Government Summit in Dubai, the United Arab Emirates, the Turkish leader said on Tuesday that the teams have pulled out more than 8,000 people alive from the quake debris since the strong tremors struck southeastern Türkey last week.
He also said a large number of over 81,000 people injured in the earthquakes have been discharged from hospitals.
"I would like to thank once again to all the friendly and sisterly countries that have been collecting aid for our nation day and night, supporting our search and rescue efforts with their teams, and not forgetting us in their prayers," Erdogan added.
Türkey, which is facing one of the "greatest natural disasters" not only in its history but also in the history of humanity, will never forget "the friendship you showed on this dark day," he said.
The earthquake disaster "once again showed the importance of international solidarity," he stressed, as Türkey has received messages of support and condolences from more than 100 countries, including the United Arab Emirates which is hosting the summit.
'A fairer world is possible'
"The importance of both bilateral and multilateral platforms has become evident today as the global system is surrounded by crises," Erdogan said, as he reiterated that "a fairer world is possible."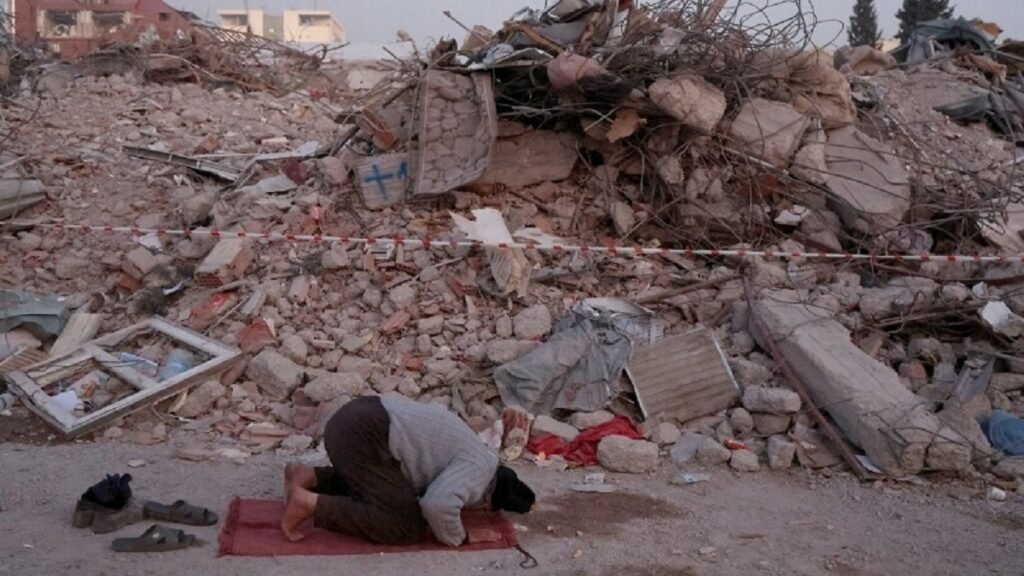 "In this regard, Türkey and the Gulf countries constitute the main axis for the security, stability, prosperity and economic integration of our region. As Türkey, we always say that we do not take our own stability and security into consideration separately from the stability and security of the Gulf region," he added.
The World Government Summit is being held under the theme of "Shaping Future Governments", and it brings leaders, global experts and decision makers from around the globe to share and contribute to the development of tools, policies, and models that are essential in shaping future governments, according to information on its website.
On February 6, two massive earthquakes struck southeastern Türkey.
The magnitude 7.7 and 7.6 tremors were centred in Kahramanmaras and hit nine other provinces – Hatay, Gaziantep, Adiyaman, Malatya, Adana, Diyarbakir, Kilis, Osmaniye, and Sanliurfa.
They also hit several countries and caused widespread destruction in northern Syria.
Nearly 32,000 people were killed in Türkey, according to the latest official figures, while the death toll topped 5,800 in Syria.
Meanwhile, Turkish President Tayyip Erdogan vowed to press on with rescue and recovery efforts more than a week after a powerful quake ripped through his country and neighbouring Syria, with an elderly woman the latest to be pulled from the rubble.
The combined death toll in Turkey and Syria has climbed over 41,000, and many survivors are enduring near-freezing winter temperatures, having been left homeless by the devastation in cities in both countries, reports Reuters.
"We will continue our work until we remove the last citizen left under the collapsed buildings," Erdogan said late on Tuesday after a cabinet meeting held at the headquarters of the Disaster and Emergency Management Authority (AFAD).
Damage assessment of buildings, of which tens of thousands were destroyed, will be completed in a week and reconstruction will begin within months, he said.
"We will rebuild all the houses and workplaces, destroyed or made uninhabitable by the earthquake, and hand them over to the rightful owners," he added.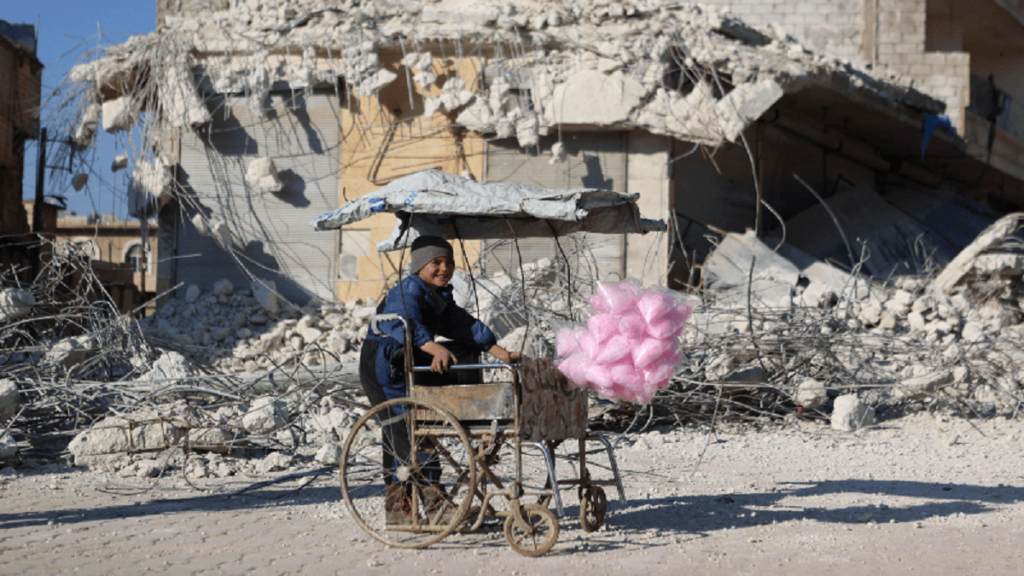 More than 105,000 people were injured in the quake, he said, with more than 13,000 still being treated in hospital.
Overnight, a 77-year-old woman named Fatma Gungor was pulled alive from the rubble of a seven-storey apartment block in the city of Adiyaman, some 212 hours after the first earthquake, media reports said.
Wearing an oxygen mask, covered in a gold foil blanket and strapped onto a stretcher, Gungor was carried by rescue workers down from the ruins of the building to a waiting ambulance, footage from state broadcaster TRT showed.
Afterwards, Gungor's relatives hugged the rescue team, made up of military personnel and members of the disaster management authority AFAD.
Nine other survivors were rescued in Turkey on Tuesday as the focus of the aid effort shifted to helping people now struggling without shelter or enough food in the cold.
Erdogan has acknowledged problems in the initial response to the 7.8 magnitude quake that struck early on Feb 6 but he has said the situation is now under control.
"We are facing one of the greatest natural disasters not only in our country but also in the history of humanity," Erdogan said.
More than 2.2 million people have left the worst-hit areas already, Erdogan said, and hundreds of thousands of buildings have become uninhabitable.
Those rescued on Tuesday included two brothers, aged 17 and 21, pulled from an apartment block in Kahramanmaras province, and a Syrian man and young woman in a leopard-print headscarf in Antakya.
UN authorities have said the rescue phase is coming to a close, with the focus turning to shelter, food and schooling.
"People are suffering a lot. We applied to receive a tent, aid, or something, but up to now we didn't receive anything," said Hassan Saimoua, a refugee staying with his family in a playground in Turkey's southeastern city of Gaziantep.
Saimoua and other Syrians had found refuge in Gaziantep from the war at home. Now, rendered homeless by the quake, they have assembled makeshift tents in a playground using plastic sheets, blankets and cardboard.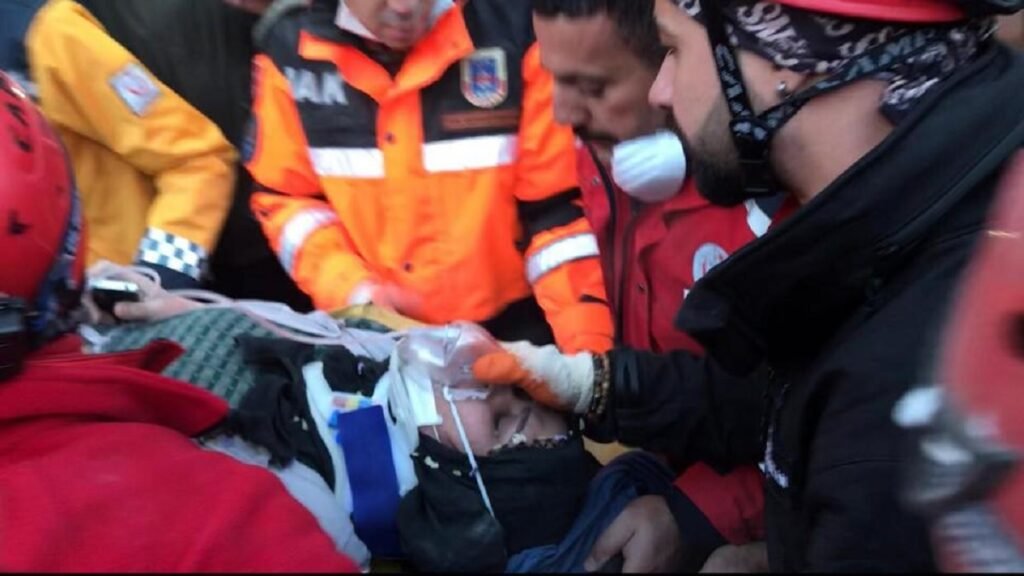 "The needs are huge, increasing by the hour," said Hans Henri P. Kluge, the World Health Organization's director for Europe. "Some 26 million people across both countries need humanitarian assistance."
"There are also growing concerns over emerging health issues linked to the cold weather, hygiene and sanitation, and the spread of infectious diseases – with vulnerable people, especially at risk."
'Dad, aftershock!'
Families in both Turkey and Syria said they and their children were dealing with the psychological aftermath of the quake.
"Whenever he forgets, he hears a loud sound and then remembers again," Hassan Moaz said of his 9-year-old in Aleppo, Syria.
"When he's sleeping at night and hears a sound, he wakes up and tells me: 'Dad, aftershock!'"
A first convoy of UN aid entered rebel-held northwest Syria from Turkey via the newly-opened Bab al-Salam crossing.
The search for survivors was about to end in the northwest of Syria, said the head of the White Helmets main rescue group, Raed al Saleh.
Russia also said it was wrapping up its search and rescue work in Turkey and Syria and preparing to withdraw.
The Turkish toll was 35,418 killed, Erdogan said. More than 5,814 have died in Syria, according to a Reuters tally of reports from Syrian state media and a UN agency.
Survivors joined a mass exodus from the disaster zone, leaving their homes and unsure if they can ever come back.
Hamza Bekry, a 22-year-old Syrian has lived in Antakya, in southern Turkey, for 12 years, having fled the conflict in his homeland, but he was now preparing to follow his family to Isparta in southern Turkey.
"It's very hard … We will start from zero, without belongings, without a job," Bekry said.
Syrians pick up pieces alone after earthquake
The complex politics of humanitarian assistance in Syria's opposition-held northwest left many war-weary citizens there fending for themselves.
Walid Ibrahim lost more than two dozen of his family members among them his brother, his cousin, and all their children. He only managed to remove their bodies from under the rubble two days after the quake.
"We were removing rock after rock and finding nothing underneath. People were under the concrete screaming, 'Get us out! Get us out!' But we'd come up with empty hands," he said.
"Your hands alone aren't enough."
Parts of the provinces of Idlib and adjacent Aleppo held by Turkey-backed rebels suffered the bulk of the quake's casualties in Syria: over 4,000 of the entire Syrian death toll of more than 5,800, according to the United Nations and government authorities.
Four Syrian towns in a stretch bordering Turkey were among the hardest hit: Salqin, Harem, Jinderis and Atareb.
On an organised press tour on Tuesday, Reuters saw around 20 men and boys trying to salvage what they could from pulverized homes in Harem and its outskirts, without protective gear or uniforms.
Only some wore work gloves, covered in the grey-white dust of smashed cinderblocks. Even their eyelashes, cracked lips and beards were coated in the chalky substance.
One man prayed among the rubble as a lone excavator cleared debris. Children chased each other around mounds of ruins and twisted rebar. — Agencies