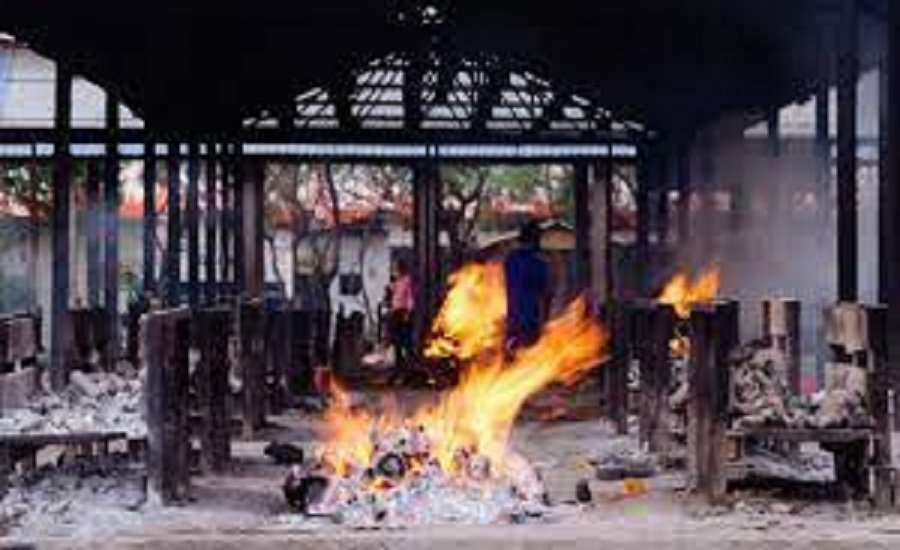 From April 8 to 12, the government data claimed that there were only eight deaths due to Covid but crematoriums and graveyard managements said they disposed of 249 bodies under Covid protocol during the given period
Zafar Aafaq |  Clarion India
NEW DELHI — Data of the past one week related to Covid deaths collected by journalists from crematoriums and graveyards in Bhopal, the capital of Madhya Pradesh, point that a staggering number of deaths are not reported in the official Covid-19 record of the government.
Bhopal is one of the worst-hit cities in the country where hospitals are running out of beds as the number of cases is escalating quickly.
India has so far reported more than 15 million cases. The ongoing wave is more brutal and the government has been caught off guard. The hospitals are complaining of acute shortage of oxygen and patients are struggling to arrange it even from the market.
The mismatch between data from crematoriums and graveyards and officials' records in Bhopal started emerging from the second week of April. From April 8 to 12, the government data claimed that there were only eight deaths due to Covid but crematoriums and graveyard managements said they disposed of 249 bodies under Covid protocol during the given period.
Bhadbhada Ghat crematorium, one of the main last rites spaces for Hindus in the city, has been witnessing long queues of corpses as the cremations continue day and night. Visuals show bodies covered in Covid shrouds piled up inside mortuaries waiting for their time to be taken for last rites.
Government data showed only five deaths on April 13 but reports say 84 bodies with Covid-19 protocols were cremated or buried  in Bhopal. Bhadbhada Ghat reported  47 cremations and  Subash Nagar 28  while Jahangirabad Graveyard buried nine bodies.
Again, on April 14, the government records showed only four deaths due to Covid but the numbers from last rites spaces were way too high. Bhadbhada Ghat reported 54 cremations done under Covid protocol. Similarly Subhash Nagar crematorium's number was 23 and Jahangirabad Graveyard, eight.
On April 15, earth movers were deployed in the graveyard to dig the graves, the uninterrupted sirens and flames from the crematorium reminded the city folk's Bhopal gas tragedy of 1984. That day the crematoriums and graveyard management claimed to have performed the last rites of at least 112 bodies with Covid protocol. The government number stood at only four.
The number of cremation and burials under Covid protocol surged to 119 on April 16 in the city. The government kept harping the number of four.
Instead of coming clean on data the authorities resorted to tactics of trying to cover up by threatening journalists of action for asking questions.
Like other parts of the country the state is seeing a surge in deaths due to Covid-19 as the healthcare system is struggling to cope up with the crises.
The Congress has accused the government of playing down  the real number of coronavirus cases.  "Is the government playing down the numbers in order to hide the fact that it has completely failed," asked state spokesperson of Congress Bhupendra Gupta Agham.