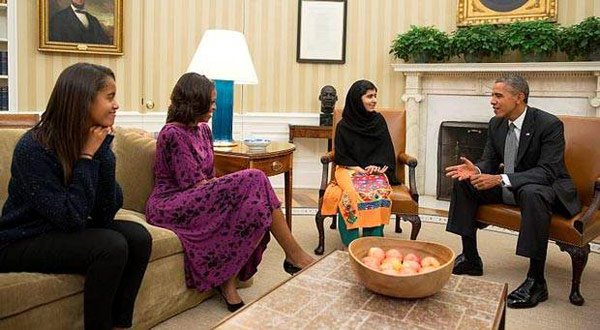 In a meeting at the White House, the teenager icon tells the US president drone strikes are causing "resentment"
Clarion Report
LONDON — Pakistani teenage activist Malala Yusufzai has told the US President that drone strikes in her country are "fuelling terrorism," reported British television news network Sky News.
The 16-year-old schoolgirl, who was shot in the head and neck by Taliban gunmen who attacked her school bus in Pakistan's Swat Valley, met Barack Obama and the First Lady in the White House. "I thanked President Obama for the United States' work in supporting education in Pakistan and Afghanistan and for Syrian refugees," she said after the meeting.
"I also expressed my concerns that drone attacks are fuelling terrorism. Innocent victims are killed in these acts, and they lead to resentment among the Pakistani people.
"If we refocus efforts on education it will make a big impact."
The US military and the CIA have carried out hundreds of drone strikes against militant groups in the northwest Pakistan since 2004.
But the Pakistani government complains that they also frequently kill civilians and turn ordinary people against Islamabad and the US.
Malala attracted the anger of the Taliban by writing a blog chronicling the challenges of daily life under the Islamists.
She is now living in Britain, where she underwent treatment for the injuries sustained in the attack, and campaigns for girls' right to education.
Mr Obama praised the teenager for her "inspiring and passionate work" and signed a proclamation to mark the International Day of the Girl.
A statement issued by the White House said: "The United States joins with the Pakistani people and so many around the world to celebrate Malala's courage and her determination to promote the right of all girls to attend school and realize their dreams."
Malala had been among the favorites for this year's Nobel Peace Prize, but the award was handed to the Organization for the Prohibition of Chemical Weapons.
In 2012 Barack Obama condemned Malala's shooting as "barbaric". White House spokesman Jay Carney said. "I know that the President found the news reprehensible and disgusting and tragic."
The teenager was treated in Britain following her shooting in 2012
The Pakistani army retook control of Swat later that year, and Malala received the country's highest civilian award.
Since then she has been nominated for several international awards for child activists – including the EU's Sakharov human rights prize which she won earlier in the week – and has written a book about her campaign work called I Am Malala: The Girl Who Stood Up For Education And Was Shot By The Taliban.