British-Iranian artist and photographer, Sara Shamsavari is one of the most promising names in the art world today. She talks about life as an artist and 'London Veil' showcasing photography of Muslim women in London and much more
By Raziqueh Hussain
[dropcap]H[/dropcap]ijab. A means of empowerment. Fashion. A mode of self-expression. Together they provide a refreshing modern feeling of elegance, producing a growing number of Muslim women who are blending fashion with their Islamic faiths. Hijab fashion can be described by the different styles in which the Hijab is worn.
Hijab fashion sprang to prominence in the early 2000s but has become much more prevalent today. What makes Hijab fashion such a prominent movement is the pulsating use of colors, striking accessories, ravishing prints and of course the artistic ability of draping the Hijabs themselves. It's often quite invigorating to observe the sundry of personalities behind the Hijab styles, as they add a touch of veracity to the entire experience.
Iranian-born, London-based photographer, Sara Shamsavari's art series, London Veil, shows an element of beauty in the women that choose to wear the religious garment. After a successful exhibition to coincide with International Women's Day 2013, Sara expanded her reach to photograph young women in Paris and New York. Her portraits are striking — peeping into the world of hijabistas who tailor their headscarves in the forms of bold animal prints, accessorize it with gold chains, and twists of turquoise and cream.
Born in Tehran in the midst of the Iranian revolution, Sara overcame childhood cancer while running from country to country before the age of two! Being raised in London from the age of two inspired her exploration of identity, while surviving both the Revolution and illness engendered a profound desire to make a difference through her work. Caravan caught up with Sara Shamsavari to know about her work and future projects. Excerpts from an interview:
How would you describe your photographic work?
Most of my photographic work explores identity and looks at current social and cultural concerns. Although each project is different they all seek to encourage the ideals of non-judgement, equality, unity in diversity and collective responsibility.
Beauty Untold – Portraits from the Street — This series was a response to the barrage of images I would see in the mainstream media depicting a version of beauty that was not consistent with the beauty I saw in people I would meet every day. Beauty Untold is a documentation of the uncelebrated beauty that exists within every day people and situations.
Love is Change – This series is a documentation of love. Inspired by the recession, the series looks at love as a silent constant often overlooked during times of social economic and political upheaval. Yet if we focus our attention back to love this silent constant can become a driver of change with the power to transform the way we think, feel and live.
Britain Retold – A Portrait of London – This series is an exploration of British identity as told by the multicultural communities that make up London. The British Flag is incorporated in to each photograph with the idea that by taking an object that has mixed associations we can transform it in to something new and beautiful that allows new ideas to exist alongside tradition.
London Veil-inspired by the idea that our challenges make us more creative, London Veil which has now been extended to NYC and Paris Veil looks at how women in the west are wearing their hijab in beautiful and innovative ways.
When you started shooting portrait and specifically female London hijabis what was the main difficulty?
I was inspired by how this group of people shine so beautifully despite the fact that in the west there has been a lot of negativity directed towards Muslims recently.
London Veil both illustrates and is inspired by the idea that our perceived restrictions, limitations and challenges can encourage  creativity, originality and adaptation.
I have heard from other photographers that this is a group of people that is hard to reach, I myself had very little difficulties, most of the women I met were incredibly respectful. I believe it is always a challenge to respectfully represent someone in a portrait especially when you are making photographs on the street. However, if you are open and sincere people can usually see that.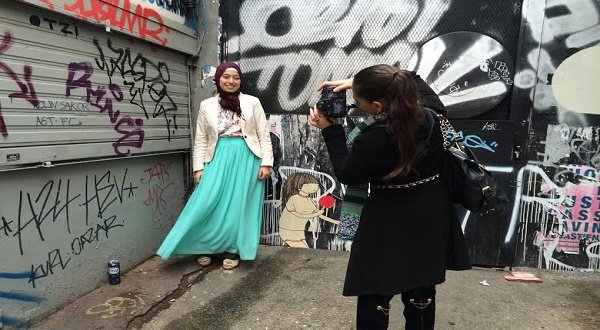 There's a common perception in the West that women who wear veil are forced to do so or are somehow oppressed by the Hijab. Does your work aim to change those perceptions?
All of my work seeks to challenge negative perceptions or assumptions.
Another common perception in the West is that women who wear veil are modest so they're unconcerned with fashion. Does your series aim to disprove that?
I think the women I have photographed clearly disprove that. I think they are just like any other young women and of course in to fashion.
Can you define what "beauty" means for you?
My series Beauty Untold- Portraits from the Street highlights the uncelebrated beauty that exists in every day people and situations. I was once asked about how I define beauty in the past and responded with the following:
Beauty is a concept that is deeper than we are able to perceive with our eyes alone, impossible to associate with one particular age, culture, social status, complexion, physical feature, height, weight or choice of style. Despite mainstream exclusion, categorization and exploitation of certain 'types', beauty is still everywhere, indefinable, engaging the senses and spirit and revealing itself in every kind of person and situation.
The so called 'imperfections' that exist within each of us and the stages of our growth as human beings are themselves beautiful because of the truth they contain. Beautiful is not the same as 'pretty'. Beauty is truth.
What is your most bizarre, weird, horrible, funniest, scariest or touching story from a photo shoot?
There are many touching stories. Especially when I was photographing participants for my 'Love is Change' series, there were many families I photographed and the whole experience was very moving. When photographing people for my Veil Series and for my Britain Retold — A Portrait of London ( an exploration of identity for the multicultural communities that make up London) series I learned a lot about and also related deeply to many of the inequalities and challenges being faced by the participants of my work.
It is very exciting to see the transformation that occurs in people when they are not expecting to be photographed and they see how beautiful they are once I show them their image.
Can you tell us something about what will be your next big project/shooting?
I am currently photographing for an exciting project by curator Shantrelle P. Lewis'. It is called 'The Dandy Lion Project' — an international exhibition and book exploring the embodiment of style, sophistication and a commitment to culture via dramatized Black masculinity. To quote "against an urban backdrop where the clothing of choice for many Black men consists of a of sagging pants, exposed boxers, jerseys and white tees – the "hip hop" generation has produced another phenomenon of style – the New Age Black dandy" I love this project because like the hijabistas in my London, NYC and Paris Veil projects these men are challenging the stereotyped image that is being perpetuated in mainstream media and culture and they are doing it through their manner and clothing.