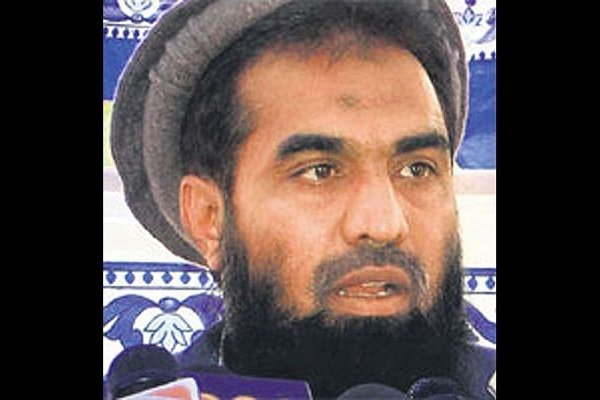 AFP, Dawn
RAWALPINDI — Zakiur Rehman Lakhvi, the alleged mastermind of the 2008 Mumbai attacks, was released from Adiala jail on Friday following the Lahore High Court's dismissal of detention orders issued against him by the Okara DCO on March 14.
A central leader of Jamaatud Dawa (JuD), Lakhvi was released from the prison early this morning after furnishing Rs2 million in surety bonds. According to jail authorities, following his release he was picked up by JuD members amid tight security with his current location not known.
Prior to his release today, the LHC orders were confirmed with Chief Secretary Punjab Khizar Hayat Gondal, who provided the clearance for the JuD leader's release.
However, a case against Lakhvi is still pending in the Islamabad High Court. The Federal Investigation Agency (FIA) had filed an appeal in the IHC in January seeking cancellation of the bail granted to Lakhvi by an anti-terrorism court (ATC) in Dec 2014. He had paid surety bonds worth Rs500,000 before he was released on bail at the time. If the IHC decides to cancel the bail granted to him by the ATC, he could be re-arrested.
The Punjab government had previously maintained that Lakhvi was detained based on 'sensitive information' provided by intelligence agencies.
Justice Anwarul Haq of the LHC had directed the government's counsel to submit record of the information to the court which was also presented in the IHC in the past. After assessing that information, the IHC had ordered Lakhvi's bail.
The LHC has upheld the stance that if this sensitive information was reliable, the IHC would not have accepted Lakhvi's bail plea. Subsequently, the LHC ordered Lakhvi's release based on lack of reliability of the sensitive information provided. It remains unclear whether the LHC went through the 'sensitive information' provided to the IHC.
India condemns release
India condemned Lakhvi's release deeming it an "insult" to the victims of the 26/11 Mumbai attack.
"This is a very disappointing announcement. An insult to the victims of 26/11 Mumbai attack. The global community should take serious note of Pakistan's double-speak on terrorism," said an Indian home ministry spokesperson who asked not to be named.
Lakhvi is among the seven persons charged with planning and helping carry out the 2008 Mumbai attacks. The six other men facing trial in Adiala Jail for their alleged involvement in Mumbai attacks are Hammad Amin Sadiq, Shahid Jamil Riaz, Younas Anjum, Jamil Ahmed, Mazhar Iqbal and Abdul Majid.
At the time of the attacks, Lakhvi was believed to be the operational head of the banned Laskhar-i-Taiba (LT) that has been accused by India of carrying out the attacks in India's financial capital.
Lakhvi along with Zarar Shah was allegedly the key planner of the attack that killed 166 people.