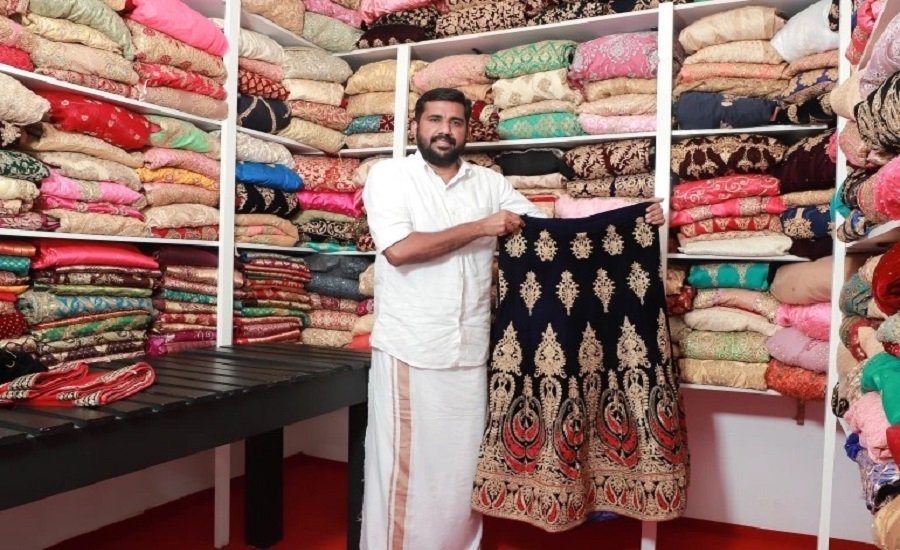 Nasar Thootha runs the charity called "dress bank" in which he collects used dresses from the rich and passes on the same to those in need.
Team Clarion
NEW DELHI – A Taxi driver from Kerala's Malappuram is running a charity of providing expensive wedding dresses to the brides unable to afford them for free.
Nasar Thootha, who hails from Thootha village of Malappuram District, runs the charity programme called "dress bank" in which he collects used dresses from the rich and passes on the same to those in need. He took the initiative in April 2020 and so far gifted free wedding costumes to around 300 underprivileged brides.
Last year, Nasar, who returned from Saudi Arabia where he employed in a supermarket, invited the people through the social media to pass on their idle used wedding dresses to him for the cause. As his request spread far and wide, dresses started landing on his doors.
"Wedding attires are all about vanity. They are worn for a few hours and then never come out of the cupboards. Realising this, many families came forward to support our cause," Nasar was quoted by Al-Jazeera as saying.
He receives all these donated dresses from across the state with the help of friends and charity organisations. He cleans and packs them to keep them into distribution racks.
"With God's grace," said Nasar, I personally don't have to invest any money on the dress bank. I am just a channel through which women who need them the most receive them from kind donors".
His initiative has met with massive success as he has around a thousand dresses in stock, which range in prices from Rs 3000 to 50000 rupees. Not just Kerala, people from neighboring states of Tamil Nadu and Karnataka also started donating dresses.
"The bride and her parents can directly visit the Dress Bank and select the dress item that she needs irrespective of its cost. We never ask them to return the dress after use," he told The News Minute.
Talking about the inspiration behind the initiative, Nasar said, "After returning from Saudi Arabia, I was helping state agencies rehabilitate the poor and homeless. During that period, I met many families who were struggling to arrange wedding dresses for their daughters, which are usually expensive. So I decided to help them".
Nasar, who has four children, parents, and a handicapped sister, was helped by the family members in his work. Initially, he started the work from home. Later, a friend gave him a shop to carry on with his charity work.
Apart from the dress bank, he runs an ambulance for patients. He does not charge those who are unable to rent an ambulance.