If they (Govt) feel an urge to ban religious activities in the public, implement it across the board, not selectively. There can't be two sets of laws in the country, it goes against the spirit of the Constitution.
Behzad Parvez | Clarion India
ON July 23, eight street vendors were arrested by the Haridwar police on a complaint by a few locals. Their crime was that they offered namaz at a weekly market. The police cited offering namaz in a public place without permission as a reason for their action.
However, the vendors were booked under Section 151 of the Code of Criminal Procedure (CrPC) for disturbing the peace, and detained, albeit for a few hours. The question remains how could an act, as innocuous as namaz, even if offered in a public place, amount to disturbing public order as is being made out to be.
Personal Grudge
Namaz is a self-restrained and purely meditative activity through which a person has communion with his Creator. Those who indulge in this mode of worship of the Almighty momentarily detach themselves from the mundane world. This is the reason no complaint has ever been reported against those who offer namaz in the open. If some still have grouse against people offering namaz at a public place, it has something to do with their personal grudge rather than the act.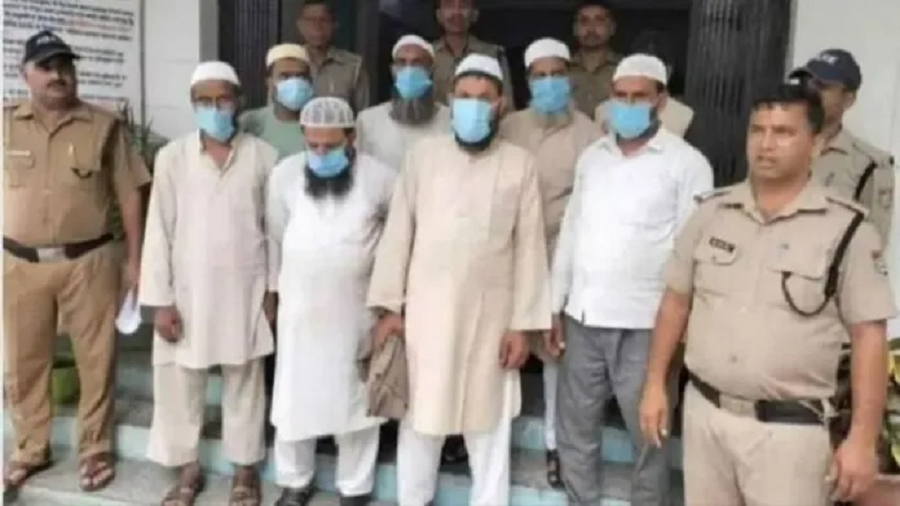 Contrast this with the kanwar yatra. Every year at this time of the season, a major part of North India plunges into chaos with saffron-clad kanwariyas in thousands literally taking over streets, roads, and all public places in small and big cities. Major arteries of roads and highways in UP, Punjab, Haryana, and elsewhere are blocked by the administration for the general public for days on end to give safe passage to the kanwariyas despite the fact that many of them indulge in hooliganism. Even meat and egg sellers are not allowed to do business on the routes of the kanwariyas depriving them of their livelihood.
What's more, the civic and police administrations go out of their ways to appease these kanwariyas extending hospitality to them in every possible way, welcoming them, feasting them, and felicitating them. Of late, a new trend is in vogue, that's state administrations engaging helicopters to shower rose petals on the kanwariyas while they are on their way.
Anti-social Elements
While some of the kanwariyas happen to be genuine pilgrims undertaking the trek to fulfill a religious obligation, many join the yatra for the fun of it. Among them, one can even find antisocial elements who indulge in all sorts of nefarious activities. They are so rude and ill-tempered that they pick up arguments over trivial issues that invariably end up in brawls.
While many of them create a nuisance for commuters, some of them are even reportedly seen consuming ganja and other narcotic substances openly. The common complaint against these kanwariyas is that they seldom abide by traffic rules and end up causing road accidents. However, the administration turns a blind eye to their indulgences and a deaf ear to the complaints of the law-abiding citizens, why? They seem to spare their energies for a crackdown on Muslims. This double standard won't be lost on anyone.
Haridwar incident is not the first where Muslims are targeted for offering namaz, nor is it going to be the last given the atmosphere of hate in the country. The foot soldiers of BJP/RSS always keep the cauldron of communal violence simmering by attacking unassuming and vulnerable members of the community in packs, lynching them, demolishing their places of worship, etc. with some excuse or the other. From cow to "love jihad" to hijab to azaan, they have developed a knack to find an excuse to get even with Muslims. The latest fad of the Hindu right is the Muslim prayer – namaz.
While Muslims pray five times a day either at home or at a mosque, in addition to congregational prayers every Friday and on Eids (Islamic festival), they don't spill over on the streets intentionally. For them, namaz outside the mosque is a compulsion, not a choice due to the paucity of mosques. But the saffron brigade is out to build a narrative around the religious and spiritual activities as a conspiracy against the Hindus and by extension the country at large. If Muslims had enough mosques to accommodate all worshippers, why would they pray in the open? But this simple logic doesn't seem to strike the Hindutva hotheads who see a conspiracy in everything Muslims do.
Namaz in Gurugram
In Gurugram, Muslims continued to be harassed by Hindutva mobs for offering Friday prayers in public places knowing full well that they were forced to do so due to the dearth of mosques in the area. The fact that they had prior permission from the authorities was of no avail as those who issued the permission chickened out at the nick of the moment. At times, individual Muslims are cornered by communal forces and beaten up black and blue just for offering namaz.
Prof. SR Khalid's episode is a case in point. On May 31, the professor at Shri Varshney Campus in Aligarh was sent on a month's compulsory leave for simply offering namaz on the college grounds to appease sundry right-wing youth groups demanding action against him. A video of the professor performing 'namaz' on the college lawns was made viral as if he committed a heinous crime. What is more, members of the BJP's youth wing, as also other Hindu organisations, petitioned the police to prosecute him?
Going by the oft-repeated logic of public order, how could a lone man offering namaz in seclusion of the college garden with nobody around be a threat to public order? However, logic doesn't seem to work for prejudiced minds when it comes to Muslims.
LuLu Mall
Earlier this month, soon after its inauguration by none other than UP Chief Minister Yogi Adityanath, who is known as Hindu Hraday Samrat (darling of the Hindus), Lulu Mall in Lucknow became a focal point of Hindutva politics after a video of some 'Muslims' offering namaz inside the mall went viral. Hindutva supporters called for the boycott of the mall over the namaz alleging that the mall promotes "love Jihad".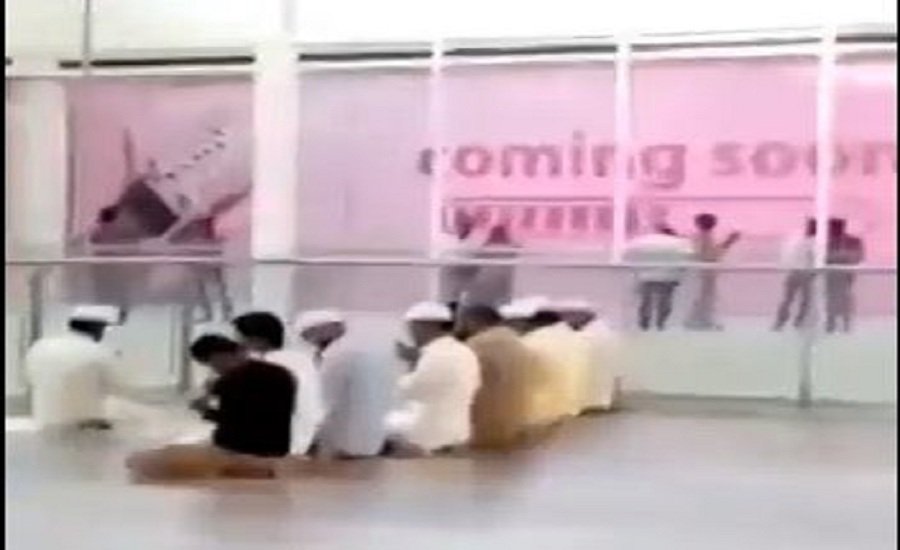 In the aforesaid video, eight men are shown offering namaz inside the mall, the identity of the namazis remained a mystery as initial reports quoting police sources said that the men offering namaz were Hindus, not Muslims. But later, the same police arrested Muslims in this regard.
Till recently, objection to namaz offered by Muslims in public was unheard of. Non-Muslims would rather offer them all help to pray. What happened in these few years that the namaz is seen as a threat? If namaz can be a threat to peace as they say, what about the Kanwar yatra and all the processions we witness around the years on occasions like Ram Navami, Hanuman Jayanti, etc. with participants flaunting naked swords, spears, and even firearms while openly hurling abuses on a particular community. What about aartis, havans, visarjans (immersion of effigies)? Don't these cause air, noise and water pollution apart from vitiating the social atmosphere.
Rise of Hindutva forces
Fulfilling a religious obligation has never been prohibited in India since time immemorial. But today, thanks to the rise of Hindutva forces that are flourishing on hate-mongering, one can see a crackdown on Muslims every now and then over namaz. If not undermining the religious freedom of an entire community to make them feel like second-class citizens in their own country, what is it? Hindutva forces bent upon curtailing the basic fundamental rights of Muslims in the country are emboldened by the advent of the government that makes no bones about claiming its Hindu nationalist credentials as against Indian nationalism. No wonder these hoodlums feel privileged under the shadow of the ideology and behave like sole proprietors of the country.
Here, I would like to ask the governments since when offering namaz in the open has become a cognizable offence. I challenge the lawmakers and law enforcers who have taken oaths to protect the constitution of the country to name the law that prohibits namaz in public. If they feel an urge to ban religious activities in the public, implement it across the board, not selectively. There can't be two sets of laws in the country, it goes against the spirit of the constitution.
________________________
The views expressed here are author's personal.