Time for the nation to unite against sectarianism and religious hatred in the country, says Maulana Mahmood Madani. Shankara Vijayendra Saraswathi of Kanchipuram Mutt affirms Muslims too are the son of the soil.
Team Clarion
NEW DELHI – With a view to eliminate religious hatred from the country and usher in a spirit of Indianness and humanity, Jamiat Ulama-i-Hind organised Sadbhawna Sansads in more than one hundred cities across the country including Bhopal, Khargone, Ranchi, Darrang Karimganj (Assam), Manipur, Goa, Meghalaya, Mewat, Yamuna Nagar, Kishanganj, Mohali, etc. They unequivocally sent out the message of national unity and peace.
On the occasion, slogans like "Manovta Ka Raj Hoga", "Pura Bharat Saath Hoga", "Nafrat Hatao Desh Bachao", "Nafrat Ke Pujari Bharat Chhodo", "Hinsawadi Desh Ke Dushman Haen", "Na Teer Se Na Talwar Se Desh Chalega Peyaar Se" were on displayed at the meeting venues.
In his special message on the occasion, Maulana Mahmood Madani, president of the Jamiat Ulama-i-Hind, said India is our home; we love it from our soul. The biggest feature of this country is unity in diversity where different civilisations and people of different religions lived here for centuries. Even the oppressive government like the British failed to eliminate this distinction. However, of late, some vested interest groups want to erase the diversity of this country. No matter how powerful they are, they cannot defeat our centuries-old unity.
"To demonstrate the power of this soil, we are organising such sansads. Today we are doing sansads in hundred places; tomorrow we will hold it in more places. Our efforts to unite the hearts and minds of Indians will continue," he asserted.
In his message, Jagadguru Vijayendra Saraswati, through his representative, said people of all religions in India are like the five fingers of a hand and will remain so in the future too. He asserted that unity, sankalp and prayers are three mantras that are for the sons of the soil and race. And undoubtedly Muslims are also the sons of India.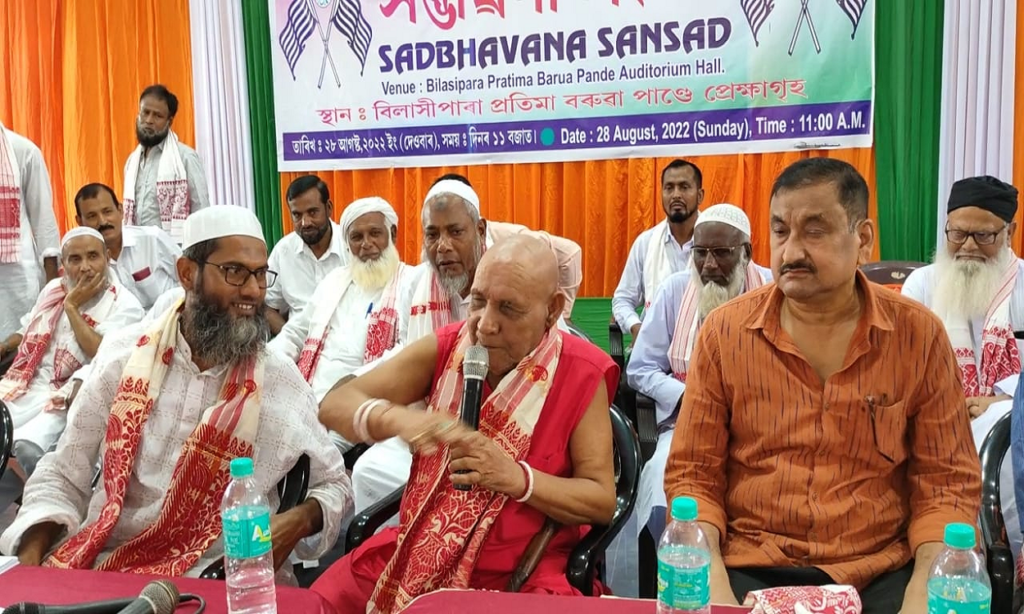 Addressing the same meeting, Maulana Hakeemuddin Qasmi, Jamiat general secretary said that the programme is not of any particular group, but a joint venture of all those who love the country. Explaining the concept of a united nationalism of Jamiat Ulama-i-Hind, he said "our association with India goes back to times immemorial.
Representatives of different religious denominations joined the movement.
Sikh leader, Harpath Singh, Christian Pastor Santom Church Yesri Sargunam in Chennai, Mahendra Pratap Singh Director Hoffman in Ranchi, Shri Bhaskar Prasad in Bangalore, Shri Manohar Chandra Prasad of Dalit Christian Leader Bangalore, Shri Surjeet Singh Imphal, Bhante Sarpet Sahib Amravati, Sri Sri Swami Dujendrananda Maharaj Ramakrishna Mission Ashram, Malda, Sri Dayaram Naam Devji Bhopal, Father Stephen Mariaji, Professor Manoj Jain ji, F. Max Periya Goa, Mahant Madhugiri, Guru Vasu Devgiri Mukteshwar Mandir Palanpur, and five hundred Hindu religious leaders from across the country participated in the Sadhbhavna Sansad.
These leaders participated in separate Sansads and addressed the participants.
Apart from them, the leaders of Jamiat Ulama-i- Hind led the programme in their respective areas. A program in Delhi was addressed by the convener of Jamiat Ulama Sadbhavna Manch, Maulana Javed Siddiqui Qasmi and others.