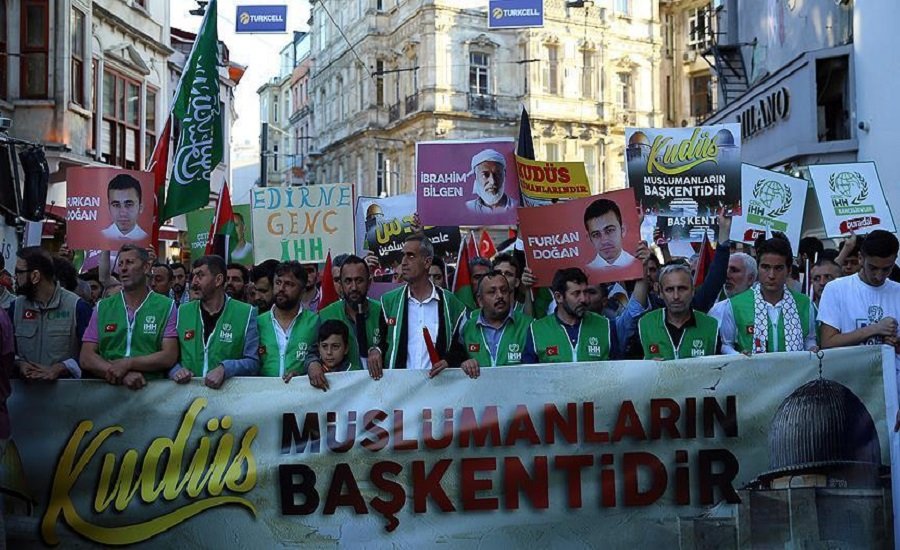 People in march organized by Humanitarian Relief Foundation chant: 'Jerusalem is capital of Muslims'.
ISTANBUL — Dozens of people marched in Istanbul on Thursday to voice their support for the Palestinian cause, with many chanting the slogan: "Jerusalem is capital of Muslims".
Istanbul-based Humanitarian Relief Foundation (IHH) organized the march on the eighth anniversary of the infamous Mavi Marmara incident.
On May 31, 2010, Israeli commandos killed 10 Turkish activists on Mavi Marmara boat convoy, which was headed for Gaza to deliver humanitarian aid.
"Damn Israel", "Murderer Israel, get out of Palestine", "Mavi Marmara [incident] is our honor", and "Al-Aqsa mosque is not alone" slogans were also chanted during the march.
Participants also carried a huge Palestinian flag while marching towards the city's well-known Galatasaray High School on the Istiklal Street in Taksim district.
Addressing the crowds, IHH President Bulent Yildirim said: "Gaza is a defender of al Aqsa Mosque, Gaza is a guard of Jerusalem. This struggle will continue until Jerusalem is liberated."
Terming Israeli Prime Minister Benjamin Netanyahu and Israeli soldiers as "murderers", he urged Turkish soldiers to take revenge from Israel.
Tension has mounted in the Palestinian territories since last December when U.S. President Donald Trump announced his decision to recognize Jerusalem as Israel's capital.
On May 14, the U.S. relocated its Israel embassy from Tel Aviv to Jerusalem, drawing condemnation from across the Arab and Muslim world and further inflaming passions in the Palestinian territories.
Since March 30, at least 118 Palestinians have been killed — and thousands more injured — by Israeli army gunfire in the eastern Gaza Strip.
---