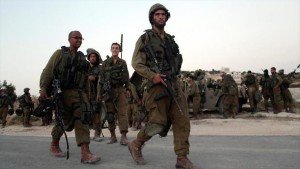 RAMALLAH (Ma'an) — Israeli forces detained at least five Palestinians in the occupied West Bank overnight Tuesday, targeting so-called Hamas operatives in predawn raids, including exiled Jerusalem lawmaker Ahmad Attun.
During a raid into the central occupied West Bank city of al-Bireh in northeastern Ramallah, Israeli forces detained Attun, as well as Hamas spokesperson Fayiz Abu Wardeh, after breaking into and searching their homes.
Attun, a member of the Palestinian Legislative Council, was e
xiled from occupied East Jerusalem to the West Bank
after the Israeli Interior Ministry had been threatening to deport Hamas-affiliated lawmakers — under the pretext of disloyalty to the Israeli state — since Hamas won Palestinian legislative elections in 2006.
Meanwhile, according to a statement on Hamas' official website, Abu Wardeh, who lives in al-Bireh's al-Jinan neighborhood, has been previously detained several times. He suffers from heart disease and has underwent several surgeries, the report said.
According to
a joint report
released by Palestinian prisoners' rights organizations, at least five Palestinian lawmakers were detained by Israel last month. Attun's detention raises the number of Palestinian lawmakers currently detained by Israel to 13, according to the Palestine Prisoners' Center for Studies.
An Israeli army spokesperson only confirmed one detention was made in al-Bireh, who she said was a "Hamas operative." She added that another Palestinian was also detained in Qalandiya refugee camp, south of Ramallah.
Israeli forces also detained 24-year-old Hazem Khalid Khallaf, after raiding his house in the town of Dura in the southern occupied West Bank district of Hebron, locals said. The Israeli army spokesperson claimed was a Hamas operative.
Separately, Israeli forces detained a Palestinian at the al-Jaba military checkpoint in the southern occupied West Bank district of Bethlehem. Local activist Muhammad Ayyad Awad identified the detainee as 20-year-old Mutasem Samer Issa Brighith.
Brighith was on his way home to Beit Ummar in the Hebron district from Ramallah, where he attends university. He was detained at the checkpoint and transferred to an unknown location in an Israeli military jeep, according to Awad.
According to Addameer, 6,500 Palestinians were held in Israeli prisons as of January, including 53 women, 300 minors, and 536 held in administrative detention. The group has estimated that 40 percent of Palestinian men have been detained by Israel at some point in their lives.