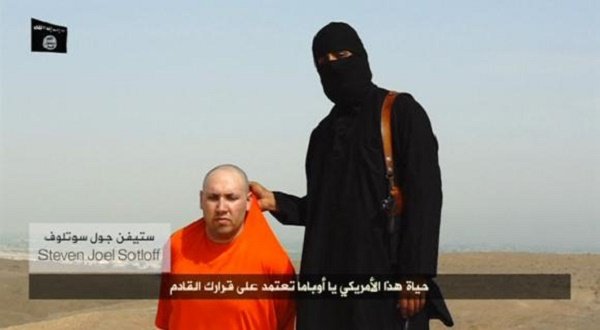 JORDANIAN CLERIC DEPORTED BY BRITAIN SLAMS ISIS MILITANTS AS 'DOGS OF HELLFIRE'
A
MMAN (AFP) — Radical cleric Abu Qatada, who is being tried in Jordan on terror charges, called the Islamic State group a "killing machine" on Sunday and denounced the beheading of journalists by its members.
Abu Qatada was once described by a Spanish judge as the right-hand man in Europe of Al-Qaeda terror network founder Osama Bin Laden.
He was deported from Britain to Jordan in July 2013, after a 10-year legal battle, to face two separate trials.
In June he was acquitted of plotting a 1999 attack on the American school in Amman but is still being tried on another terror charge of conspiring to attack tourists in Jordan during millennium celebrations.
Speaking to reporters from the dock at a Amman courthouse Sunday, Abu Qatada repeated his condemnation of IS that controls swathes of territory in Iraq and neighboring Syria.
Asked about the beheading claimed by IS of American journalists James Foley and Steven Sotloff, he said: "Journalists should not be killed because they are messengers of the truth."
He lambasted IS, branding it "a killing and demolition machine" and likened its fighters to "dogs of hellfire."
Nevertheless Abu Qatada said he opposed plans by the United States to set up an international coalition to destroy the jihadist group, saying: "I am against any coalition opposed to any Muslim."
The court, meanwhile, postponed his trial to September 24.
In July, Abu Qatada and another Jordanian jihadist ideologist denounced IS for declaring an Islamic caliphate in the territory it controls in Iraq and Syria.
"The announcement of a caliphate by the Islamic State (IS) is void and meaningless because it was not approved by jihadists in other parts of the world," Abu Qatada wrote in a 21-page document posted online.
Abu Mohammed Al-Maqdessi, once mentor to Iraq's now slain Al-Qaeda leader Abu Musab Al-Zarqawi, said IS must "reform, repent and stop killing Muslims and distorting religion.