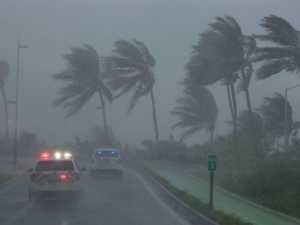 STEPHEN LENDMAN | Special to Caravan Daily
Hurricane Irma is expected to make landfall in Florida early Sunday morning, its winds intensified to category 4 strength at around 130MPH.
According to the National Hurricane Center (NHC), it's "expected to bring life-threatening wind and storm surge to the Florida Keys and southwestern Florida as an extremely dangerous major hurricane through Sunday."
Tropical storm winds already reached the Keys. Southern and central Florida face life-threatening heavy winds and storm-surge flooding, especially along southwest coastal areas.
"Irma will bring life-threatening wind impacts to much of Florida regardless of the exact track of the center," the NHC warned. Georgia, Alabama and portions of South Carolina will be affected.
Rainfall in some areas could reach 25 inches, in others from 10 – 20 inches. Residents throughout southeastern states face possible flash-flooding.
Pre-dawn on Sunday, Irma was around 50 miles from Key West, moving northwest at 6MPH, the slower the speed, the greater the chance it could intensify further over warm water before hitting Florida.
Its path threatens Tampa, St. Petersburg, and Clearwater with a direct hit, the first time for this area in nearly a century.
The National Weather Center (NWC) said "major hurricane-force winds" are expected to batter the Keys early Sunday morning as Irma moves up Florida's west coast.
Despite mandatory evacuation orders for over six million Floridians, tens of thousands remain in harm's way, many for lack of means to get out.
Federal, state and local officials offered no help other than issue warnings – a disgrace for the world's richest nation, able to airlift or provide other transportation to evacuate tens or hundreds of thousands of people had plans been prepared well in advance for this-type emergency.
Pre-dawn Sunday, more than 270,000 Floridians already lost power, according to Florida Power & Light – millions likely to lose it once Irma makes landfall and reaches central areas.
The entire state is threatened, including most Panhandle areas around Sunday evening into Monday morning facing category 3 strength storm conditions.
Meteorologist Todd Crawford said "(m)uch of Florida, especially the southern half, is in for a really long and horrible day on Sunday" – severe winds, heavy rain and storm-surge to continue throughout the day before subsiding.
Damage from Katrina in 2017 dollars was about $160 billion. Irma could be as high as $200 billion, including the toll in affected Caribbean areas.
CoreLogic estimates around 8.5 million properties may be damaged or destroyed. Most Floridians lack hurricane insurance, according to AP News, explaining "most residents in hazard zones are badly exposed" – around 2.5 million homes.
In Florida's 38 coastal counties, only 42% of homes have hurricane insurance, 41% in hazard zone areas.
In southeastern Collier, Broward, Monroe and Miami-Dade counties with 1.3 million homes in flood hazard zones, only 34.3% have coverage.
According to University of Miami hurricane researcher Brian, McNoldy, Irma "could be the most costly storm in US history."