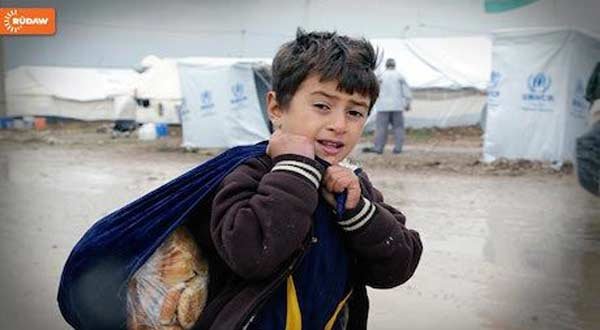 By Judit Neurink
SULAIMANI – Kurdistan Region – The world is blaming the Islamic State of Iraq and Syria (ISIS) for fighting in Iraq to set up an Islamic state, but that is not the real story, say refugees from Tikrit and Samarra, who found safety in the northern Kurdistan Region. What the world does not realize, they say, is that a Sunni revolution is underway to liberate Iraq from its Shiite prime minister.
Sunnis did not flee their areas because they fear the establishment of an Islamic Republic, but out of the fear of violence: Getting caught in the fighting between Iraqi troops of Prime Minister Nouri al-Maliki and what the world considers to be fighters of the ISIS, an al-Qaeda breakaway.
"ISIS is a facade," says Thaer, who just arrived in the second-largest Kurdish city of Sulaimani in a car packed with family members and belongings. Over 6,000 families from Tikrit and Samarra arrived here in just a matter of days when the fighting reached their towns and surrounding villages. As most cheap motels have filled up, Thaer was still looking for a place for the night.
"Nobody accepts the idea that these fighters are ISIS," he goes on to say. "We know that in part they are from Saddam's former military.  They are revolutionary and mujahedeen."
According to Thaer only five percent of the coalition of Sunni fighters confronting the Iraqi army belongs to ISIS, a notion that is echoed by many of the other refugees from the area. People get annoyed when asked about ISIS — or "daash" in the local vocabulary.
It is an invention by Maliki," says 18-year-old Rokan, who fled with his family from a village near Tikrit. "For him, every Sunni is a member of daash. He declared us to be the enemy."
Some of the refugees say that Maliki paints ISIS as the Islamic threat to Iraq, using this propaganda to get international support. And that gives Iran a reason for military intervention.
From the stories of refugees, it is clear that the fighters confronting the Iraqi army now comprise as many as 20 groups, with ISIS just one of many.
The picture that emerges is one of a resistance movement gaining speed, after a year and a half of protests against what Sunnis perceived as discrimination by Maliki, who they accuse of neglecting their regions and jailing them in large numbers.
As he ignored the demonstrations, and even used force to stifle them. Frustration came to a head when Maliki even emerged as the frontrunner in recent parliamentary elections.
Former soldiers and leaders of the protest movement worked together with Muslim fighters, amongst them ISIS, to "liberate" Mosul" in the language of most refugees.
Then, others joined in: Frustrated former military officers and soldiers who were not accepted in the new and mostly Shiite army; activists in the protest movement; former members of Saddam's Baath party; even members of the militia that the Americans once set up to fight al-Qaida have joined.
In Tikrit, Saddam's birthplace and once considered his city, the fighters were welcomed by an organization that had been working underground for months.
Anything is better than Maliki, the refugees say — like many Iraqis said in 2003 about Saddam. But the American liberators then only brought a Shiite majority in power that discriminated against the Sunnis, who now seem to depend on Saddam's men again.
That is clear because, even though apart from ISIS a number of other Muslim groups are involved, none of the refugees is really afraid of an Islamic State being formed.
"They are ignorant people, they don't know what the role of Islam is," says Abed, a former lieutenant in Saddam's army. "We saw them drinking alcohol, how Islamic is that," his son Anwar snorts.
The fear gripping the West, about an Islamic State being formed in Iraq, hardly seems to touch the Iraqi Sunnis. Even though most of them are religious, they are far more moderate than ISIS, and hardly anyone longs for an Islamic State. It will not come to that, Abed declares: "Few really support daash. Those who do, just do so from fear."
Once we get rid of Maliki, the problem of the radical Muslim groups will disappear, seems to be the shared opinion of many. People look at what happened in Mosul, where a Sunni coalition brought peace and security. They cannot believe that rulers try to win the hearts of the people, like ISIS did in Syria, to then introduce Islamic rule.
For the moment the main thought is simple, as worded by Abed: "Anything is better than Maliki. We need a government to save us, and to bring us justice." — rudaw