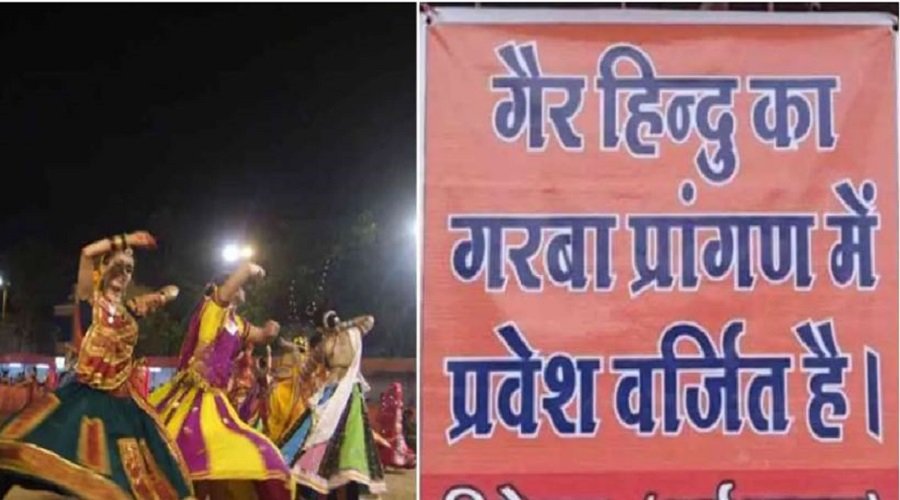 No action against Bajrang Dal men who stormed the event and singled out Muslims, one of them a volunteer
Team Clarion 
NEW DELHI — In yet another incident of police in collusion with right-wing groups targeting Muslims in Madhya Pradesh, four people, including two students have been arrested in Indore for watching Garba event on Sunday after Bajrang Dal supporters barged in and went on a rampage.
According to an NDTV report, the police termed its action "preventive arrests" as the four – Adnan Shah, Mohammad Umar, Abdul Qadir and Syed Saqib – were released on bail against bonds of Rs 50,000 each.
No action has been taken against the Bajrang Dal men who stormed the event while the college has been fined for violating Covid norms.
The extremist group accused the Muslim men of "love Jihad" but they said they were targetted for their name even as they showed college identity cards.
According to the report, 21-year-old Adnan Shah was asked by the Garba event organising committee to volunteer at the event. He was helping participants park their vehicles at the cycle stand when 100-150 Bajrang Dal men stormed in.
He said he was singled out from 25 volunteers and asked why he was there.
In its complaint, Bajrang Dal said that the college had been permitted by the administration to allow only 800 people at the event but many more showed up as the college sold tickets. Tarun Deva, the local leader of the outfit, accused the college of "encouraging Muslims" to attend a Garba programme organised during the festival of Navratra.
Besides Adnan, one more student and two Muslim men who had bought tickets were arrested by police "to maintain peace".
A police officer quoted by the NDTV said that 5,000 people attended the event. "An FIR was registered against the college and we arrested four young men to maintain peace," said Prashant Chaubey, a senior police officer.
The families of those arrested have questioned the police asking what law stops Muslim children from attending college functions.
Vishwa Hindu parishad had also put up posters outside colleges in the county asking for "non-Hindus" to be barred from attending Garba events. The police said there was nothing communal about the posters.
BJP leader Usha Thakur who had asked for barring non-Hindus at Garba events in 2014 is currently the state's culture minister.