UK PARLIAMENT VOTE COMES SOON AFTER SWEDEN VOTED TO RECOGNIZE PALESTINE; ISRAEL SAYS VOTE 'UNDERMINES PEACE PROSPECTS'
JERUSALEM (AFP) – Israel warned Tuesday that a vote by British parliament in favor of recognizing a Palestinian state risked undermining the prospects for peace.
"Premature international recognition sends a troubling message to the Palestinian leadership that they can evade the tough choices that both sides have to make, and actually undermines the chances to reach a real peace," said a statement from the Israeli foreign ministry.
Late Monday British MPs voted 274 to 12 for a non-binding motion to "recognize the state of Palestine alongside the state of Israel as a contribution to securing a negotiated two-state solution".
The resolution was welcomed by the Palestinians.
"It will enhance the European voices calling for the recognition of the State of Palestine and will create the right environment for the international community to grant the Palestinian people legal parity and rights," senior Palestine Liberation Official Hanan Ashrawi said in a statement.
Palestinian foreign minister Riyad al-Malki urged London to "immediately recognise the state of Palestine," while the Islamist movement Hamas said the parliamentary motion was symbolic only.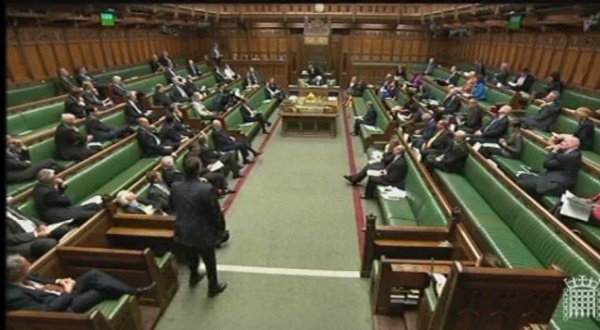 "This symbolic vote is an important sign that the international community is changing its attitude in regard to the occupation'€™s crimes, but it is still a symbolic move," Hamas spokesman Sami Abu Zuhri told AFP.
Britain's ambassador to Israel, Matthew Gould, said although the vote was not binding on the British government it was significant.
"I think that this vote is a sign of shifting public opinion in the UK and indeed beyond," he said in an interview on Tuesday morning with Israeli public radio.
The debate in the House of Commons came after the Swedish government said it would recognize a Palestinian state — it would be the first EU member in Western Europe to do so — drawing anger from Israel.
It follows the collapse of peace talks between Israel and Palestine, and this year's conflict in Gaza in which more than 2,000 Palestinians and dozens of Israelis were killed.
"The conflict in the summer over Gaza had a big impact on British public opinion and has affected Israel's standing," Gould said.
"Announcements on settlements since the summer have also had an impact and so although this vote won't affect government policy I think it is right to be concerned about what it signifies in terms of the direction of public opinion."
The Palestinian Authority estimates 134 countries have recognized Palestine as a state, although the number is disputed and several recognitions by what are now European Union member states date from the Soviet era.
Britain abstained in 2012 from a vote in the United Nations on giving the Palestinians the rank of observer state, which was granted over the objections of the United States and Israel.