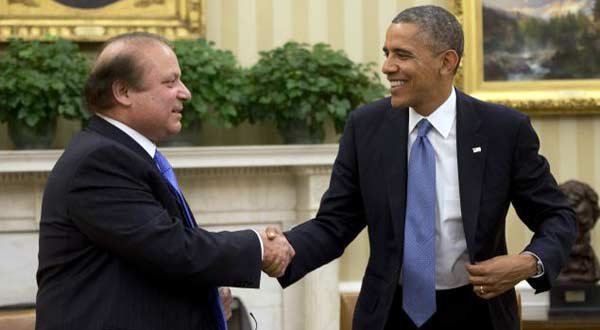 PAKISTAN PM VOWS TO END THE 'CYCLE OF BLOODSHED AND VIOLENCE'
ISLAMABAD, Nov 4 — Pakistan's Prime Minister Nawaz Sharif on Monday used his address to military officers to criticize US drone strikes following a recent drone attack that killed Taliban chief Hakimullah Mehsud and ultimately scuttled peace talks with the militants.
The Taliban said following the drone strike that they would not hold talks with the government and would also take revenge of the killing of their leader.
Interior Minister Chaudhry Nisar Ali Khan accused the US of frustrating the government peace initiative with the Taliban. But the US said dialogue with the Taliban is Pakistan's internal matter and that Pakistan and the US had a "shared strategic interest in ending extremist violence".
Prime Minister Sharif, in his address on Monday to military officers, did not specifically mention Friday's attack but reiterated Pakistan's stance against the drone attacks, Xinhua reported.
"The government of Pakistan has made its position clear that (US) drone strikes constituted a violation of Pakistan's sovereignty and of international humanitarian laws," the prime minister said.
He told military officers at the conclusion of exercises in Punjab province that the drone attacks are also counter-productive to Pakistan's efforts for bringing peace and stability in the country and the region.
Pakistan insists the drone strikes complicate the war on terror and spark anti-US sentiments but has not indicated any change in the CIA-controlled covert drone mission.
Senior Pakistani officials said the US had earlier promised not to carry out drone attacks during the talks with the Taliban but Washington did not fulfill its commitment.
Taliban spokesman Shahidullah Shahid said the group would not hold talks with the Pakistan government as it has failed to stop drone strikes.
Friday's drone attack killed the Taliban chief when a group of top clerics, on behalf of the government, were scheduled to visit the Waziristan tribal region to discuss the agenda and venue for the proposed talks with the Taliban.
Prime Minister Sharif also reiterated his government's policy to opt for dialogue despite the drone strikes and said that economic development was closely linked to peace and security.
He recalled that top political leaders had unanimously underlined the imperative need to give peace a chance at a government-sponsored conference in September.
"My government is firmly resolved to bringing the cycle of bloodshed and violence to an end, but it cannot be done overnight, nor can it be done by unleashing senseless force against our citizens, without first making every effort to bring the misguided and confused elements of society back to the mainstream," he said.–IANS