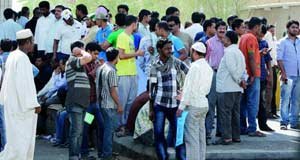 EXITING EXPATS TO BE FINGERPRINTED AT DEPARTURE POINTS
By Md Rasooldeen
RIYADH, Nov 4 — Illegal workers in Saudi Arabia who are not in possession of official documents will be considered for final exit provided their respective embassies certify their citizenship, Maj. Gen. Mansour Al-Turki, the Ministry of Interior's spokesman, said on Sunday.
Al-Turki was speaking at a joint press conference with Deputy Labor Minister Mufrej bin Saad Al-Haqbani to announce the end of the amnesty period from Monday.
He said that expatriates to be considered for final exit should not have any criminal record and that these workers will not be able to come back to the Kingdom for employment in future since they will be fingerprinted at departure points.
He said this arrangement has been made in response to requests from several embassies who say they do not have any documents to support the original entry of many of their citizens.
Speaking with Arab News following the press conference, Al-Haqbani thanked foreign workers who have participated in the development of the Kingdom.
"We want foreigners to remain in the Kingdom lawfully," he added.
Al-Haqbani said labor inspectors would visit commercial establishments, construction sites, operations and maintenance offices, retail outlets, catering companies, cafes and other foreign worker strongholds.
"Inspectors will crosscheck workers' identities with their legal documentation to ensure that workers are legal," he added.
Haj, Umrah overstayers and other overstayers who came to the Kingdom for medical treatment will also be subject to inspection.
He said inspectors and members of the security forces will have full authority to arrest illegal workers who had failed to rectify their status.
"We expect employers to have workers who are legally documented and who work under their sponsorship," Al-Haqbani said. Sponsors who aid and abet the overstay of illegal workers will be punished according to Saudi regulations, he noted.
Al-Haqbani also said that lingerie outlets and female shops should have female Saudi staff by Monday. "We want more Saudi men and women to work in the private and public sectors," he stressed.—Arab News