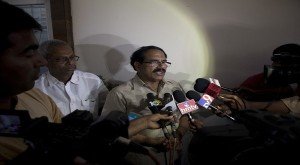 NEW DELHI — Family members of the Indian men shot at an Olathe, Kan., bar on Wednesday in a possible hate crime said they feared that an atmosphere of fear and xenophobia in the United States means the country is not a safe place for Indians, with one Indian father exhorting parents not to send their children there.
"There is a kind of hysteria spreading that is not good because so many of our beloved children live there," said Venu Madhav, a relative of Srinivas Kuchibhotla, the young software engineer fatally shot Wednesday night. "Such hatred is not good for people."
Kuchibhotla and his friend and colleague Alok Madasani, 32, were at a bar crowded with patrons watching a basketball game Wednesday, witnesses said, when an allegedly drunken man began hurling racial slurs at them and then opened fire, reportedly shouting, "Get out of my country!"
Kuchibhotla, 32, was seriously wounded in the attack and died later at a hospital. Madasani and a third victim — Ian Grillot, who had tried to intervene — were treated for shotgun wounds at a hospital.
Adam W. Purinton, 51, of Olathe, a Navy veteran, was later arrested and charged with first-degree murder and attempted first-degree murder. Federal law enforcement officials said on Thursday that they and local police are investigating to determine whether the shootings were "bias motivated." Witnesses said Purinton seemed to be under the impression that the men were of Middle Eastern descent.
Family members of the victims living in the southern city of Hyderabad told the Hindustan Times that the two friends — software engineers with the Olathe-based Garmin — had not antagonized Purinton, and that Purinton had "picked an argument" with the men, suggesting that they were staying in the United States illegally.
"They tried to tell him that they had done their [master's degrees] in Kansas in 2006 and had been staying there with valid work permits," a relative said.
Kuchibhotla and Madasani were employees on the Aviation Systems Engineering team at Garmin. According to Kuchibhotla's LinkedIn account, he held a master's degree in electrical and electronics engineering from the University of Texas at El Paso and a bachelor's degree from the Jawaharlal Nehru Technological University in India. Madasani's LinkedIn said he studied at the University of Missouri-Kansas City and at Vasavi College of Engineering in India.
Madasani's father, Jaganmohan Reddy, told the Hindustan Times that in recent months, he had begun to ask his son to return home, fearing that he might not be safe in the country's racially charged atmosphere, with ugly incidents and hate groups on the rise. (washingtonpost.com)