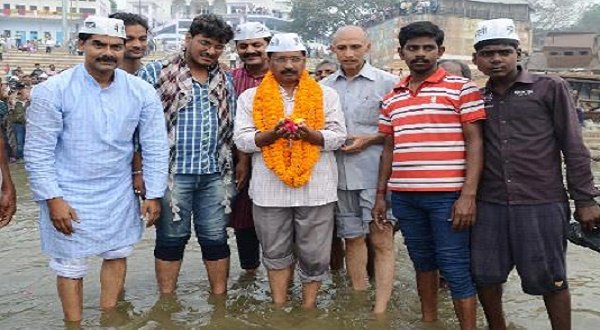 A dangerous cocktail of religion and politics has been a bane of polity and society in this part of South Asia and one does not see an immediate end to it. Kejriwal could have offered an  alternate scenario
SUBHASH GATADE
Masjidon main maulvi khutbe sunate hi rahe,
Mandiron mein barhaman ashlok gatey hi rahey
Ik na ik dar par jabeen-i-shouq ghisti hi rahi
Aadamiyat zulm ki chakki mein pisti hi rahi
Rahbari jaari rahi, paighambari jaari rahi
Deen ke parde mein jang-i-zargari jaari rahi.
—Majaz
Nilanjan Mukhopadhyay, author of a much discussed book on Modi, made few interesting observations about AAP's (Aam Aadmi Party ) foray into electoral politics of Gujarat. Underlining the fact that Kejriwal's entry into the state – wherein he tried to put the government on the mat for its acts of omission and commission – did raise expectations, he maintains that the momentum did peter away slowly.
What is more important to note that when the electoral battle started the party did not field a single candidate from the minority community despite the fact that population of Muslims in Gujarat is more than nine percent. According to the state leadership of the party it did not 'find any suitable candidate from the community' to contest elections. Questioning this explanation Neelanjan says that it thus did not challenge the prevalent norm that 'Muslims are not to be given tickets' by the mainstream parties. (Modi ki Raah Chale Kejriwal, Deshbandhu, 30 April 2014).
Any neutral observer of the whole situation – who is familiar with the fact that there are places where AAP did field 'outsiders' to fightelections – would also be of the opinion that this explanation seems insufficient and perhaps there are deeper reasons involved in this decision.
If at the political level it could bracket BJP as well as Congress at the same level by portraying their alleged proximity to the Adanis' and Ambanis' why did not it try to make another strong political point by giving ticket(s) to candidate(s) belonging to the minority community. (To put it on record, the BJP did not field a single Muslim candidate and Congress could muster courage to do it in only one constituency).
Why did it fail to do so?
Can we say that it was done to appear more 'accomodating' towards the 'concerns' of the majority community in a state which has been witness to a carnage more than a decade ago and a gradual silencing or marginalisation of minority voices ? Perhaps one can look back at its Delhi experience in fighting elections – where it trounced Congress from many of its safer seats, delivered a humiliating defeat to three term chief minister Sheila Dixit – but was later criticised for not being forthcoming on the menace of communalism.
The absence of any candidate from the minority community from AAP (in Gujarat) would not have become a cause of concern if Arvind Kejriwal would not have decided to contest against Narendra Modi himself from Varanasi and the nuanced messages of his own campaign with rich symbolisms would not have become obvious. Media has already given coverage to the fact that the campaign formally started with Arvind's 'holy dip' in the Ganges and is supposedly surging ahead with a bag of promises, the prominent one being to declare Varanasi as a 'holy city. And as we go to the press one finds reports appearing in press that Kejriwal had gone for a 'Ganga Aarti'. The AAP manifesto for Varanasi elections declares that
"Varanasi will be developed as the spiritual capital of the world and hence it will get the status of a holy city. "
Close watchers of the Varanasi situation may tell you that it has been an old demand raised by the conservative forces from time to time but to no avail and AAP's electoral campaign has definitely added new 'glamour' to it.
Holy City, Unholy People ?
Question arises what is a 'holy city'?
Holy city is a term applied to many cities, all of them central to the history or faith of specific religions. Such cities may also contain at least one headquarters complex (often containing a religious edifice, seminary, shrine, residence of the leading cleric of the religion and/or chambers of the religious leadership's offices) which constitutes a major destination of human traffic, or pilgrimage to the city, especially for major ceremonies and observances. A holy city is a symbolic city, representing attributes beyond its natural characteristics.
(http://en.wikipedia.org/wiki/Holy_city)
To be fair to Mr Kejriwal, he is not alone in promising 'holy' status to particular city.
In the sixty plus year trajectory of independent India there have been occasions where sureptiously or openly few cities were declared 'holy ' supposedly to cater to demands of different pressure groups or political formations. In fact in a multi-religious, multi-cultural and multi-racial country like India, attempts to declare particular cities 'holy' are not limited to the Hindus only.
Way back in early '80s when Khalistani terrorism was raising its head the world came to know how Jarnail Singh Bhindranwale – the radical Sikh cleric who died in Operation Bluestar – had demanded a particular code of conduct to be followed in Amritsar, a city which is revered by the Sikhs world-over and was duly implemented then.
There have been demands by Hindutva groups to declare Ayodhya holy city from time to time. And they have used every occasion to further their agenda. Few years back when Ayodhya witnessed a terrorist attack few of the senior leaders of the Vishwa Hindu Parishad had spewed venom calling for shifting 'Muslims from the adjoining areas and the localities acquired in Ayodhya reiterating that there will be no guarantee of security of the Ram Lalla till they are not shifted.'
Few years back Babulal Gaur, Cabinet Minister in M.P government had in a G.O (Governmental Order) circulated instructions about banning of eggs, meat and fish etc from few of the holy cities declared by the erstwhile Uma Bharati government way back in 2003-2004. One can still recall how after the said declaration by Ms Uma Bharati about Amarkantak etc, questions were raised about imposition of a Varna agenda not only on non-Hindus but also on majority of non-vegetarian Hindus.
When YSR Reddy happened to be Chief Minister of undivided A.P., under an ordinance number three and two related G..O. it was instructed that there would be ban on non-Hindu groups to undertake any religious activities in Tirupati and 19 other 'holy' cities. Analysts then had termed the move as emergence of 'Special Religous Zones' in 21 st Century India.
One can just imagine what sort of havoc such declaration under a secular dispensation can play with the life and liberties of people, communities who are considered the 'other' in the overall schemata of things. Apart from case studies done by democratic groups about impact of such steps on the livelihood of the people – where they are forced to stop merchandise in these 'banned' items – the more dangerous aspect of such declaration becomes the leverage it gives to majoritarian fanatic groups to take law into their hands and deliver 'instant justice' with the police becoming a mute spectator.
It is clear that in their hurry to challenge Narendra Modi and the brand of exclusivist politics he represents neither Mr Kejriwal nor any of his supporters have thought over their proposal to declare Varanasi a 'holy city' with all sincerity.
 Question of Composite Heritage
Whatever might be the claims of the protagonists of this particular demand, even a cursory glance at the history of the city and its surroundings makes it clear that it disregards the rich composite heritage represented by the region. Many knowledgeable people have written about it and interested people may refer to the debates which have taken place already.
Very briefly, it is important to emphasise that Varanasi is of key importance not only for religious minded Hindus but Buddhists as well as Jains. Sarnath which is located just 13 kms north east of Varanasi happens to be the place where Gautama Buddha first taught the Dharma, and where the Buddhist Sangha came into existence. Isipatana (modern Sarnath) finds mention in Buddha's preaching as well. According tohim it is one of the four places of pilgrimage which his devout followers should visit, if they wanted to visit a place for that reason.
It is a city where many great Tirthankars of the Jain community – prior to Mahavir – were born and worked among people. Singhpur, a village approximately one km away from Sarnath, was the birthplace of Shreyansanath, the eleventh Tirthankara of Jainism, and a temple dedicated to him, is an important pilgrimage site. On closer scrutiny we also find few important shrines of Islam as well which are revered by Muslims of different shades.
The cultural importance of Varanasi could be gauged from the fact that it gave birth to the great rebel saint Kabir, Ravidas as well as Tulsidas in the medieval ages. Perhaps the rich cultural tradition of composite heritage found a new voice in the legendary Premchand in the early 20 th century who was born here only- who started his journey as a Urdu litterateur and later shifted to Hindi – but who is still respected by both the streams. Not very many people would know that in the early 50s the city elected a Communist Member of Parliament named Com Rustam Satin – with huge margins. It needs to be emphasised that Com Satin – belonged to the Parsi community – which had a very nominal presence in the city.
It is crystal clear that Mr Arvind Kejriwal – 'who is neither left or right' as he claimed in one of his interviews- is either oblivious of this history or does not want to refer to these details.
One can very well understand why RSS and its anointee Narendra Modi would like to obliterate this rich heritage even from the minds of the people as it does not suit their larger weltanshauung (world view) of ushering us into a Hindu Rashtra.
We have before us how they were nearly successful in doing similar thing with the image of Ayodhya which according to scholars also has a long history of composite heritage with elements of Buddhism, Jainism, Islam and Sikhism intermingling with Hinduism in very many ways. Reinventing tradition and myth, they claimed that Ayodhya has always been Hindu, thus tried to promote it to the status of a Hindu Vatican. Yet, as critical historians have pointed out, this claim stands completely unsubstantiated.
But why Mr Kejriwal wants to walk in that trap is a moot question.
Even if one decides to leave the debate about composite heritage of the city here itself, another question still remains which demands greater introspection and contemplation. How this demand which tries to flow with the public mind to achieve a narrow political goal is qualitatively different from similar demands raised by forces of Hindutva mentioned earlier. Can it be claimed that the demand to declare Varanasi a 'holy city' is qualitatively different from similar demands raised by the proponents of Hindu Rashtra.
We know very well why the votaries of what is popularly known as Hard Hindutva decided to field NaMo from this particular constituency. They could foresee that if someone with a 'Hindu Hriday Samrat' tag can catch the imagination of the people in this 'religious city' as well then without raising the communal tempers further it can gain them rich political dividends.
In fact for anyone who is concerned with maintaining communal harmony in this part of South Asia, the bloody history of late eighties and early nineties is a grave reminder that whenever there are attempts to upstage Hard Hindutva by Soft Hindutva — the way Congress under Rajiv and Rao tried to do — the gainer has always been Hard Hindutva.
And a better strategy to counter this blitzkrieg type of politics would have been not to appear a better Hindu or rather a soft Hindu but uncompromising secular.
By faith Hindu, by choice Secular
It is said that the relation between religion and politics correlates with the relation between sacred and the secular. And the long journey towards secularisation of society effectively means removal/exit of the 'sacred' from the functioning of state and society and its reconstitution on secular foundations. We should never forget that founders of constitution decided to move ahead on these lines in an atmosphere which had seen enough inter-communal bloodletting and killing of innocents. Despite the challenges involved in the process they resolved that unless and until we ensure separation of religion and politics similar bloodletting may occur again.
The fact of the matter is that a dangerous cocktail of religion and politics has been a bane of polity and society in this part of South Asia and one does not see an immediate end to it.
Imagine an alternate scenario which could have been followed by Mr Kejriwal.
Instead of engaging in the public display of his religiosity – by taking a 'holy dip' in the Ganges or by participating in the Ganga Aarti ( nobody is here questioning his right to do so) – he could have as well declared that by faith he might be a Hindu but for him it is a private matter and by choice and by practice he believes in clear separation of religion and politics.
This move would have definitely cost him few votes but could have helped him set an alternate agenda in these critical times when the very idea of secularism is being questioned, challenged and derided as never before.
Yes as far as NaMo brigade is concerned there would not have been any impact on their brazenness but looking at the fact that Mr Kejriwal has been able to fire imagination of thousands and thousands of people all over the country who have taken the plunge with all sincerity and dedication to 'cleanse the system' this move would have placed him in the ranks of a Visionary who is not only adept at flowing with the public mind but is ready to challenge it also on crucial junctures.
All opinions and views expressed in columns and blogs are those of individual writers and do not necessarily reflect the editorial policy of Caravan