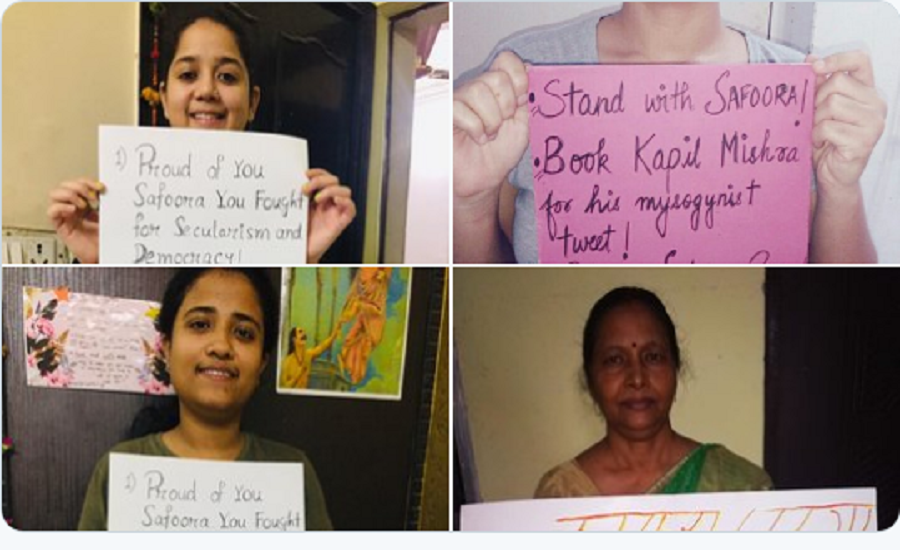 Waquar Hasan | Clarion India
NEW DELHI – Ever since it came into the limelight that Safoora Zargar was pregnant when she was arrested, Hindutva trolls, including controversial Bharatiya Janata Party leader Kapil Mishra, started making lewd comments on her pregnancy. The unscrupulous trolls met their match in the netizens who came in support of the woman activist.
The canards that were being spread about the pregnancy of the anti-CAA activist and Jamia Millia Islamia Scholar amounted to outraging her modesty and character assassination.
Mishra, who is accused of instigating violence in Jafferabad that led to full-fledged pogrom in February, made a very offensive remarks against her saying his speech did not make her pregnant.
Haryana BJP's social media head, Arun Yadav, also passed on a very nasty comment on her pregnancy. "ab 500 me 9 mahine ka recharge kisne kiya," reads a tweet by Yadav which was taken note of by social media users.
"Jo maang rahe the aazadi, leke loute abadi." This is Yadav's another misogynistic tweet referring to Safoor's pregnancy.
Apart from the above tweets from the BJP leaders, there were more vicious comments from the Hindutva trolls bordering on pornography.
The comments drew a lot of outrage on the social media and forced the Delhi Commission for Women (DCW) to issue a notice to the Delhi Police to take action against the offenders. However, the police have failed to take any action against them so far.
But some activists, including Kavita Krishnan, came in support of Safoora. They have launched an online campaign with the hashtag #WithSafooraAgainstSlander".
The activists have uploaded their photos with a placard writing a message in support of Safoora.
"While hatemonger like Kapil Mishra continue to spit venom and attack women and their personal relationship, innocent lives suffer in jails made for hardcore criminals. #ReleaseSafoora,"reads one placard.
. @DamniKain @SamantaDolan and other @AISA_tweets and AIPWA activists #WithSafooraAgainstSlander pic.twitter.com/dzcgC6h7Mh

— Kavita Krishnan (@kavita_krishnan) May 7, 2020
Starting this campaign, Kavita Krishnan posted a video message to the name of Prime Minister Narendra Modi urge him to take actions Mishra and other offenders. She also asked that why a pregnant lady has been put behind bars amid the outbreak of Covid-19.
प्रधानमंत्री @narendramodi @PMOIndia के नाम कुछ सवाल#WithSafooraAgainstSlander
देश भर में महिलाएं आपसे इन सवालों को कर रही हैं pic.twitter.com/4J2InqSGu9

— Kavita Krishnan (@kavita_krishnan) May 7, 2020
Here are some of the tweets which shared the photos of this online campaign.
Women students extend their support to Safoora and demand that the misogynistic campaign being run against her and her unborn child must stop. Right wing trolls get extra pleasure in demeaning women specially a vocal Muslim woman. #WithSafooraAgainstSlander pic.twitter.com/YkQm3VWk2I

— Kawalpreet Kaur (@kawalpreetdu) May 7, 2020
Voices from across the country.
Online sexual harassment of #SafooraZargar must stop!
Those involved in maligning her and running hate campaign against her, including @KapilMishra_IND, must be arrested.#WithSafooraAgainstSlander pic.twitter.com/4JBD44RwGR

— AISA (@AISA_tweets) May 7, 2020
There were other who demanded action against Mishra and Yadav.
We demand @DelhiPolice to
arrest @KapilMishra_IND and @beingarun28 for initiating and promoting online abuse, assassination, and slandering of Safoora Zargar's character and modesty.

PASS IT ON. #WithSafooraAgainstSlander

— Nabiya Khan | نبیہ خان (@NabiyaKhan11) May 7, 2020
While fighting against the shameless online attacks on Safoora Zardar, let us not forget that she is innocent. She is a political prisoner of a corrupt, fascist regime which is witch-hunting voices who stood up for their rights. #WithSafooraAgainstSlander pic.twitter.com/NfeRzU8Ruu

— Shreya kapoor (@ShreyaDU_AISA) May 7, 2020