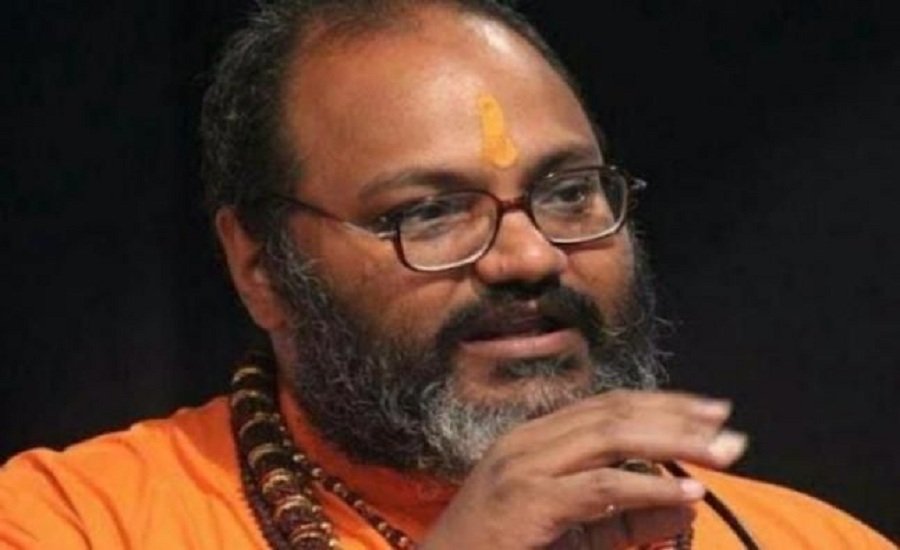 In his latest video uploaded on Sunday, he makes inflammatory speech against Islam and Muslims inciting 'non-Muslims' to be 'Islamobhobic' and taking pride in it
Waquar Hasan | Clarion India
NEW DELHI – TheGhaziabad Police on Saturday arrested a Hindutva activist Shringi Yadav for brutally assaulting a Muslim boy Asif because he entered into a temple to drink water. The police came into action after the video of assaulting the boy was uploaded on the Instagram account of Hindu Ekta Sangh and went viral on other social media platforms.
A cursory look at the assaulter's Facebook account shows that Yadav is deeply inspired by Hindutva hatemonger Yati Narsinghanand. Narsinghanand himself called Yadav his lion after he was arrested for assaulting the Muslim boy.
"Today my lion has been sent to jail and I'm sleeping peacefully. I'm ashamed of my weakness. Shringi Yadav or Yati Shivanand Saraswati ji has fought for Shivshakti and went to jail for it," wrote Narsinghanand on his Facebook account on Sunday wee hours.
Yadav also shared a video which shows that he is attending the programme of Narsinghanand which suggests there is a mutual admiration for each other.
Narsinghanand has been avowedly self-proclaimed anti-Muslim and Islamobhobic, who has been constantly inciting hate and violence against India's minority community.
In his latest video uploaded on Sunday, he made inflammatory speech against Islam and Muslims inciting 'non-Muslims' to be 'Islamobhobic' and taking pride in it.
"I'm an Islamophobic person. They call me Islamobhobic. The fact of the matter is that I'm far ahead of these Islmobhobic things. But they want to hide the truth of Islam by declaring us Islamobhobic. They are thief, they are robber, they are rapists, they are a group of murderers but they want that no one should call them by these things," he said in his latest inflammatory speeches.
Yati Narsinghanand Saraswati has uploaded his latest video abusing Islam and Muslims. He called Muslims 'rapists' and 'murderers'. Hello, @Uppolice why don't take action against this hatemonger? pic.twitter.com/iU4eekHu4i

— Waqar Hasan (@WaqarHasan1231) March 15, 2021
There is a long history of him making such speeches which incite violence and hatred against Muslims. He is the caretaker of the Dasna Devi temple. The Muslim boy was assaulted for entering that temple. At the gate of the temple, a board has been put up in which it is written that the entry of Muslims is prohibited.
In 2017, a video surfaced on social media which shows Hindutva activists including children are being given armed training at the temple. Talking to The Quint, those people said that they are preparing themselves to fight Muslims as well as terror group ISIS.
Narsinghanand told The Quint that Islam means 'darkness' and 'ignorance'.
Narsinghanand has been seen along with some of the ruling Bharatiya Janata Party leaders like Giriraj Singh and Kapil Mishra at different points of time.
In a report 'Just Before Delhi Riots, Militant Hindutva Leader Called Repeatedly for Muslims to be Killed', The Wire gathered all his inflammatory speeches against Muslims.
Two months before Delhi riots, he called Muslims 'Rakshash' or demon.
"Those we call Muslims in our current era were called demons in earlier eras" he said talking to a reporter.
He called Nathuram Godse, the assassin of Mahatma Gandhi, as his 'hero'.
"We cannot find words enough to praise Nathuram Godse ji. I consider Veer Savarkar ji and Nathuram Godse ji as my biggest heroes," he said.
Reacting to the murder of Hindutva leader Kamlesh Tiwari in October 2019, he had called for violence against Muslims and Islam saying that he will make Muslims mourning the way Tiwari's family mourning.
"Muslims around the world are celebrating because a Hindu lion has been killed and all our homes are in mourning. I am telling every one of those bastards, telling the Muslims, if I don't make you mourn the way Kamlesh Tiwari's house is mourning today, then I am not my father's son. As long as I am alive I will use weapons. I am telling each and every Muslim, we will eradicate Islam from the country one day," he said.
In a speech in December 2019, he lamented that riots are not happening and explained the reason that it's because Hindus are not picking up weapons.
After the video went viral, Shringi Yadav was arrested last night for mercilessly beating Asif for drinking water inside Dasna Devi Mandir. A look at his Facebook profile shows he is inspired by hate speeches of Dasna Mandir Mahant Yati Narsinghanand Saraswati. Thread 👇 pic.twitter.com/mF7eDol3Dq

— Mohammed Zubair (@zoo_bear) March 13, 2021