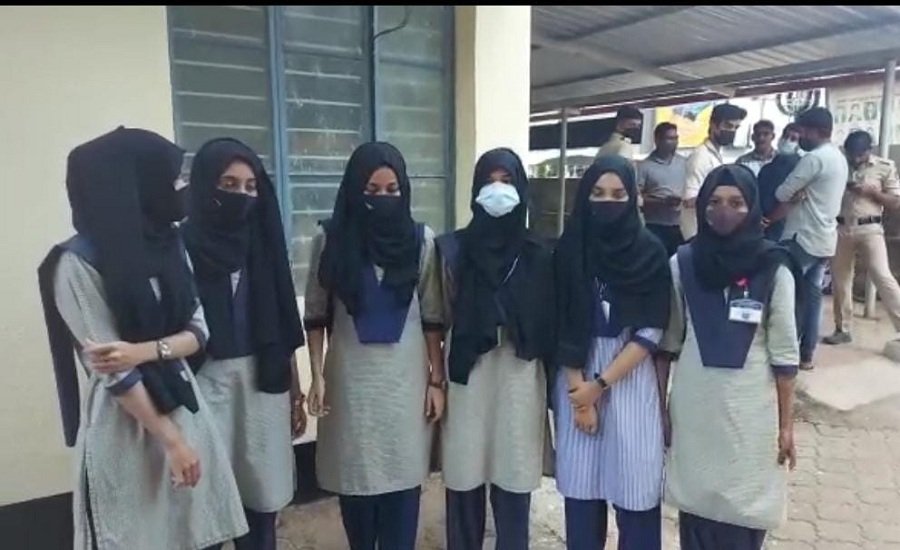 Phone numbers, parents' names, and home address of Muslims girls are shared in WhatsApp groups exposing them to harassment, trolls and even physical attacks.
Team Clarion
NEW DELHI – The Muslim girls who started the resistance against ban on hijab in their college in Udupi district of Karnataka have alleged that college authorities have leaked their addresses and mobile numbers making them vulnerable to harassment and attacks.
According to a report in the Quint, 17-year-old Aliya Assadi, one the girls who protested against the hijab ban, said phone numbers, parents' names, and home address were shared in WhatsApp groups.
"I am not comfortable showing my face anymore. Already everyone knows how I look and where my home is. What if someone targets me," Aliya asked.
She has started wearing a burqa covering her face too after her details surfaced on the social media.
Another student, Hazara Shifa, said her parents are receiving calls from unknown numbers.
The group has demanded answers from the college authorities as to how their private details came out in public.
The girls have accused Udupi BJP MLA Raghupathi Bhat, who happens to be the chairman of the College's Development Committee (CDC), of instigating students against the girls for wearing hijab. "He has now made, not just the college, but also our homes unsafe," Assadi lamented.
Tensions are soaring in the state since last week when Hindu students at several colleges wore saffron shawls in opposition to the hijab. On Tuesday, they took out marches against the hijab leading to clashes between the two student groups at a number of places. The government issued order banning clothing that "disturbs law and order".
Meanwhile a hearing by a larger bench of Karnataka high court is underway.