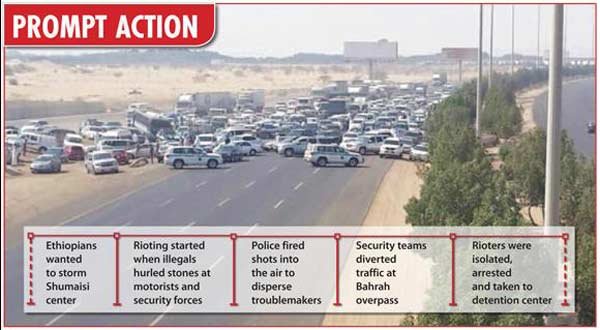 by MD AL-SULAMI
JEDDAH – Security forces arrested 20 Ethiopian rioters on the Makkah-Jeddah Expressway on Friday for throwing stones that damaged 14 cars and injured four Saudis.
An eyewitness said police officers fired shots into the air to disperse the rioters and soon brought the situation under control.
The Ethiopians were apparently rioting because they could not gain entry into the Shumaisi detention center, he said.
"A large number of Ethiopians, who arrived in buses, moved onto the highway and tried to stop speeding cars. However, the highway security patrol closed the expressway at a safe distance from the detention center to prevent the situation from escalating. The troublemakers were confronted and taken into custody," a security source said.
"The rioting started when a group of Ethiopians hurled stones at passing motorists and the security forces. The police opened fire into the air to bring the situation under control," the eyewitness said. He said the Ethiopians went on the rampage when they could not enter the detention center.
The center only takes in those expatriates arrested by the security forces for violating labor and residence regulations. It does not accept those who surrender voluntarily.
The highway patrol teams diverted oncoming traffic via Bahrah overpass.
The rioters were isolated, arrested and then taken to the detention center.
Maj. Gen. Ali Al-Ghamdi, director of Makkah Police, and Brig. Hassan Al-Shablan, director of the road security special forces, were present to oversee the operation, according to police sources.
Various social networking sites carried a number of postings showing the incident.
Some Ethiopians resorted to similar unruly behavior in front of the center last week, said Col. Badr Al-Saud, director of public relations at the Makkah police department.
Until Wednesday, 38,000 illegal workers were detained at the Shumaisi center, including 25,200 men and 12,800 women and children. Most of them were from Ethiopia and Indonesia, and others from Somalia, Niger and Chad.
The source said 9,870 illegal workers were deported from the center since the launch of the labor correction campaign on Nov. 4.
In another development, 200 Ethiopians are continuing their sit-in protest at the gate of their consulate in Jeddah. They want travel documents to go home. Arab News