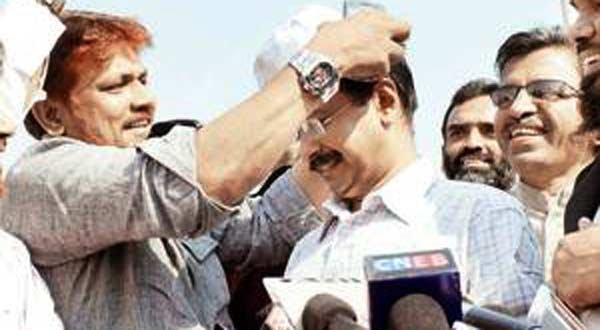 Amit Shah's 'revenge' speech in UP has driven Muslims into the waiting arms of Congress-NCP
JYOTI PUNWANI
[dropcap]B[/dropcap]arely had Amit Shah made his "badla lena" speech in rural Uttar Pradesh, that two things happened in faraway Mumbai: the Congress-NCP workers began approaching influential maulanas, and frantic SOSes were sent to Medha Patkar, telling her to visit Muslim heavyweights in her constituency.
This reflex action, and the fact that Patkar was the only Aam Aadmi Party (AAP) candidate to receive such messages, sums up where Mumbai's Muslims stand in this election: their hearts are with Kejriwal, their brains with a Congress-led Third Front. "After AAP, there's no need for a separate Muslim party," says Maqbool Alam, veteran social activist. "What we didn't have the guts to say about the system, he (Kejriwal) declares from the rooftops."
Yet, Alam, like many other Mumbai Muslims, advocates voting for the Congress, even while decrying the party's deviation from its Nehruvian ideals. Two reasons. One, the fear of Narendra Modi, and two, the lack of credible AAP candidates.
"If only Medhatai had stood from here, AAP would have swept the polls…" This comment is echoed from Dharavi to the slums of Colaba. Seeing the enthusiasm of Muslims in Patkar's constituency, the community 'leaders' have fallen in line. They won't declare their support officially, though, for fear of getting rapped by their Congress-NCP patrons, as happened when they held a meeting with Kejriwal in 2011, during Anna Hazare's Jan Lokpal agitation in the city.
But Patkar is one of a kind. Among the other AAP candidates, only Mayank Gandhi from Mumbai North West is known, while Meera Sanyal from Mumbai South has a presence more mysterious than familiar. Both these constituencies have dense Muslim pockets and AAP's rivals here are the Congress heavyweights, Gurudas Kamat and Milind Deora. Muslims have always helped Deora win.
An additional disadvantage is that AAP's prominent Muslim faces in these areas aren't exactly popular in their community. Patkar's work has generated hundreds of grass-root workers in her constituency, who she knows personally. While there's no lack of grass-root Muslim activists keen to work for Gandhi and Sanyal, they are not being tapped by those who have the latter's ear. And their own efforts to reach the two candidates have failed.
Take S M Malik. This activist's letter to an Urdu daily on the hope held out by AAP of an alternate, non-votebank politics, was reprinted in Urdu newspapers across the country, receiving enthusiastic feedback. Invited by Nirbhay Bano Andolan's Shakeel Ahmed, who heads AAP's Social Justice Cell and who, many hoped, would get the North Central ticket against Priya Dutt, Malik helped draft amanifesto on what AAP could do for Muslims in Maharashtra. But frustrated after repeated attempts to reach Sanyal with concrete campaign suggestions, Malik has given up.
Sajid Shaikh, well-known in Jogeshwari (E) for his work among Muslim youth for over two decades, was keen to work for AAP. To his dismay, he found he would have to report to a bunch of Muslims who had crossed over from the MNS after Raj Thackeray declared his support for Modi.
"It took me 20 years to collect 25 non-corrupt volunteers in my mohalla committee team," says advocate Yasmin Shaikh, Nagpada's famous mohalla committee leader. "AAP has had no time to screen those joining it, but Muslims are impatient."
Shaikh describes ruefully how the determination of Muslim women in Nagpada and Agripada to "teach Milind Deora a lesson this time" is slowly evaporating. What's taking its place, she says, is the fear that if Modi comes, the Haj subsidy will be cancelled and sacrificing cattle on Bakri Eid will be banned.
Aware that its stock among Muslims was zero, the Congress began playing the what-if-Modi-comes-topower card early on. Ex-MLA Yusuf Abrahani floated the front Sach ka Safar to 'expose' Modi and appeal to the community "not to divide the secular vote" by voting for AAP. But many Muslims held out, recalling scornfully how the party which presided over the 1992-93 riots had for decades used the Bal Thackeray bogey. "And what should we make of Sharad Pawar's clean chit to Modi?" asks an NCP office-bearer.
Desperate, Congress-NCP leaders pointed out that AAP had no special policy for Muslims. "Why do you think of us as Muslims?" retorts a group of Patkar supporters. "Better a party which treats all as equal than one that promises the moon and delivers nothing," says Mumbra activist Javed Shaikh. Interestingly, while AAP has fielded four Muslims from the state, the Congress-NCP combine could find just one.
At this stage came Amit Shah's speech, driving the community into the Congress-NCP's waiting arms. Next time, Arvind, this time majboor hain," is the mood among Mumbai's Muslims today. — Courtesy mumbaimirror.com