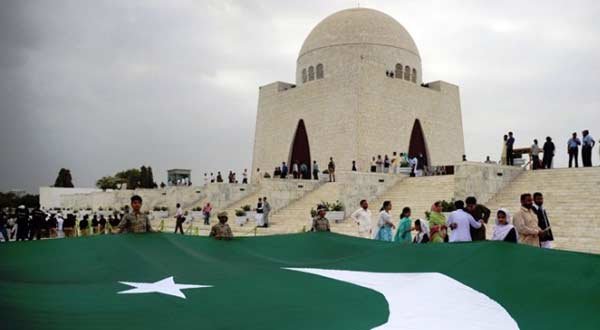 Jinnah's historical significance is that he founded what was then the largest Muslim state in the world within the law and left behind a model of a modern nation state and that model is still relevant
DR AKBAR S AHMED 
'Jinnah Street in Chicago?!' I had every reason to be incredulous. Chicago was, after all, that most American of cities. But my Pakistani friends were right. Not only was there a Jinnah Street in the Devon area of the city, but the number of men and women wearing the traditional shalwar-kameez, the shops selling saris and sweetmeats, and the kebab houses made me feel as if I were in Karachi or Lahore. Pakistanis have even transformed the local pronunciation of Devon into the more Pakistani-sounding "Diwan".
I was traveling the length and breadth of the United States to conduct fieldwork on the Muslims of America, and was therefore delighted not only to visit Jinnah Street, but to be welcomed there by Alderman Berny Stone, the Jewish politician who had initiated its naming. A gentle, frail and elderly man, Stone told me that he had more support among Muslim voters than among Jews.
I found similar enthusiasm for Jinnah — whom Pakistanis call the Quaid-i-Azam, or "Great Leader" — in other Western cities such as London and Birmingham. In London, Jinnah's portrait has a place of honor at Lincoln's Inn, and the anniversaries of his birth and death are still commemorated in the Pakistani community.
Jinnah's life spans different centuries, cultures and continents. He was born in Karachi in 1876, studied at Lincoln's Inn, practiced law in Bombay, led the movement which resulted in the creation of Pakistan in 1947, and died in Karachi in 1948. Jinnah was renowned for his prickliness and impeccable suits. It was widely rumored that they were stitched in Savile Row. In appearance, morals and wit, he was the quintessential Victorian gentleman.
Pakistanis remember Jinnah with a mixture of nostalgia, awe and admiration. He represents an ideal to them. They see him as a figure of fierce integrity and intellect and as a champion of Muslim causes. Most importantly, he gives Pakistanis hope – he was a leader who succeeded against all the odds and gave them their homeland.
In Pakistan itself, so revered is he that people have taken to adding "Rahmatullah Alay" ("may the mercy of God be upon him") after his name, a blessing normally reserved for respected spiritual leaders. Jinnah's mausoleum in Karachi remains a top tourist attraction and an essential destination for foreign dignitaries. The atmosphere there is worshipful, with dozens of men and women reading the Qur'an incessantly and invoking the mercy of God on his soul.
Jinnah envisaged a country that would foster human rights, women's rights, minority rights and the rule of law. During the short period he was governor general of Pakistan he established the importance of showing extra consideration to minorities.
Once, on his way to a state function, he ordered his entourage to stop because he saw a Muslim mob threatening a small group of Hindus with violence. These Muslims were refugees who had lost everything in India and were venting their anger. Jinnah, against the pleading of his staff, threw himself into the mob and demanded that it desist. He declared: "I am going to constitute myself the Protector General of the Hindu minority in Pakistan."
All this would suggest that his legacy has been safely preserved in Pakistan and that the Jinnah model has survived. Alas, this is not so.
Jinnah died one year after creating Pakistan and the strong forces of feudal and tribal society soon reasserted themselves, overriding modern notions of justice, democracy and the rule of law. Almost inevitably, civilian government faltered and just a decade after Jinnah's death the military stepped in to assume power. The history of Pakistan since then has oscillated between shaky democratic governments and rapacious military rule.
Those who vie for power in Pakistan today can be placed in one of three categories: religious leaders who claim to speak on behalf of Islam and promote the violence of the Taliban; military rulers such as General Pervez Musharraf who violate the constitution; and democrats such as the current president of Pakistan, Asif Zardari, who have a reputation for corruption.
Ambitious generals and corrupt politicians mislead Washington and London when, during foreign visits, they sell the idea to receptive audiences that nothing prevents nuclear Pakistan from falling into the hands of the dreadful Taliban other than their services. Billions of dollars have been given to the rulers of Pakistan, and more promised. In that sense, the West's ignorant enthusiasm in support of military dictators or tainted politicians makes it complicit in the state in which Pakistan finds itself.
Jinnah himself would not have been happy with any of these categories. His vision of Pakistan can be reconstructed from the speeches he gave towards the end of his life. He had a clear idea of the kind of country he wished to create.
This would be a modern democracy, not a theocracy, and non-Muslims would be safe in it. He would have been heartbroken at the persecution and killing of minorities in Pakistan; we have had too many examples of attacks on Christians and the horrendous slaughter of Ahmadis in Lahore.
Pakistanis need to heed Jinnah's first speech to the Constituent Assembly of Pakistan, which elected him as the country's first president, delivered on 11 August 1947. It is a seminal speech in the history of Pakistan. (The state itself came into being a few days later, on 14 August, which is now celebrated as Independence Day.) Because the words reflect a vision of Islam which does not suit either the likes of the Taliban or those in uniform or civilian clothes who do not wish to promote a tolerant, democratic and humanist nation, they have been frequently expunged from the history books.
For me, this is the heart of the speech, and because of its importance and relevance today, I quote from it at length:
If you change your past and work together in a spirit that every one of you, no matter to what community he belongs, no matter what relations he had with you in the past, no matter what is his color, caste or creed, is first, second and last a citizen of this State with equal rights, privileges and obligations, there will be no end to the progress you will make.
I cannot emphasize it too much. We should begin to work in that spirit and in course of time all these angularities of the majority and minority communities, the Hindu community and the Muslim community – because even as regards Muslims you have Pathans, Punjabis, Shias, Sunnis and so on, and among the Hindus you have Brahmins, Vaishnavas, Khatris [Kshatriyas], also Bengalees, Madrasis and so on – will vanish. Indeed, if you ask me, this has been the biggest hindrance in the way of India to attain . . . freedom and independence, and but for this we would have been free people long, long ago.
Building from this powerful passage comes the vision of a brave new world, consciously an improvement in its spirit of tolerance on the old world Jinnah has just rejected:
You are free; you are free to go to your temples, you are free to go to your mosques or to any other place of worship in this State of Pakistan. You may belong to any religion or caste or creed – that has nothing to do with the business of the State . . . We are starting in the days when there is no discrimination, no distinction between one community and another, no discrimination between one caste or creed and another. We are starting with this fundamental principle that we are all citizens, and equal citizens, of one State.
Jinnah's words regarding the poor and the less privileged are particularly poignant as they are largely being ignored by Pakistan's rulers, in or out of uniform:
Now, if we want to make this great State of Pakistan happy and prosperous, we should wholly and solely concentrate on the well-being of the people, and especially of the masses and the poor. If you will work in co-operation, forgetting the past, burying the hatchet, you are bound to succeed.
Jinnah had regularly reminded his Muslim audiences of the ideal in Islam: "Our own history and our Prophet have given the clearest proof that non-Muslims have been treated not only justly and fairly but generously."
Jinnah was confident of the future if Pakis­tanis could follow these ideals. His attitude towards India is also instructive. When things go wrong in Pakistan, Pakistanis tend to blame Indian intelligence and Indians respond in the same vein when there are problems in India, blaming the Pakistan secret services. There is an ugly and destructive aspect to the relationship between the two.
Yet Jinnah envisioned an India and a Pakistan living as good neighbors, supplementing and supporting each other. He even proposed a joint defense system that would seem outrageous to most Pakistanis and Indians today. On the death of Mahatma Gandhi on 30 January 1948, he issued a statement in which he described the slain leader as "great" three times.
The Jinnah model was both vital and relevant for Pakistan. Unfortunately, in the country's tribal and clan-dominated societies, it did not make a deep impression. The repeated acts of violence by the Taliban and others on those whom they see as the enemies of Islam, and the violation of the constitution by the rulers of Pakistan, have convinced many that the Jinnah model is irrelevant. In time, the people of Pakistan, with good humor and irony, began to comment on the widespread corruption by saying that only Jinnah could solve the country's problems, by which they meant the official currency notes that carry his portrait.
Besides, Jinnah's critics are many and widespread. To Indians and many in Britain, he is the ultimate villain in the drama of the partition of India into two countries. He is depicted as a megalomaniac who caused the deaths and displacement of millions of people.
For groups such as the Taliban, his model is the most dangerous of all for Muslim society, because it is capable of winning the support and affection of the masses.
Today, some prominent commentators hostile to Pakistan suggest that Jinnah was a failure precisely because he created Pakistan, a "terrorist state".
Fareed Zakaria, for example, who hosts a foreign affairs show on CNN, wrote in the Newsweek that "from its founding, the Pakistani government has supported and encouraged jihadi groups, creating an atmosphere that has allowed them to flourish". To suggest that the very proper, British-trained constitutional lawyer was even faintly associated with any kind of violence is a travesty of history. Perhaps Zakaria, as an Indian, combines a need to display his anti-Pakistan credentials to Indians while scoring cheap points in the American media by indulging in the popular pastime of "Paki-bashing".
Jinnah's historical significance for Muslims today is that he founded what was then the largest Muslim state in the world within the law, never advocating the hijacking of planes, hostage-taking or terrorism of any kind. Whatever his personal foibles and failings, there is no denying that he left behind a potentially successful model of a modern nation state.
Pakistan remains vital to the West. General David Petraeus, commander of NATO troops in Afghanistan, had stated bluntly that the war on terror could not be won without Pakistan. Besides, this country of 170 million people is a nuclear state. Its location makes it a vital player for any power interested in the geopolitics of the region.
This is where the interests of several world powers intersect. Perhaps most importantly, Pakistan has the potential to nurture the Jinnah model. Because the country is seen as a leader among the Muslim nations, it can, if the model succeeds here, open the way for other Muslim interests to strive towards democracy. That is why the West needs to enter into alliance with Pakistani leaders to keep Jinnah's dream alive.
Professor Akbar Ahmed is Ibn Khaldun Chair of Islamic Studies at American University in Washington, DC and the author of "Journey Into America: the Challenge of Islam", Brookings Institution Press. This first appeared in Pakistan Link