Mir Ayoob Ali Khan
THESE past few days have been dominated by events that took place in Turkey and followed up in Hyderabad.
Nawab Mir Barakat Ali Khan who was popularly known as Mukarram Jah Bahadur passed away in Istanbul, Turkey at 89 on January 14. His body was shifted to Hyderabad in a chartered aircraft the next day evening. A few selected groups of people were allowed to pay him their last respects that night.
The next day the general public was facilitated to enter the Chowmahalla Palace to see him for the last time between 8-00 am and 1-00 pm. The body was later shifted to Makkah Masjid where he was interned in a grave alongside the other Asaf Jahi rulers.
One question that has lingered on in the minds of the people is: Why he did not choose to be buried next to his grandfather, Nawab Mir Osman Ali Khan, the Seventh Nizam, in the foreground of Masjid Judi located in the premises of King Kothi?  It was the Seventh Nizam who had chosen him over his first son Azam Jah Bahadur to be his successor.
In the night of January 20th, Mukarram Jah's first son Mir Mohammad Azmat Ali Khan Azmet Jah has been anointed as the new head of the family. The press note issued by the Palace said that the successor of Mukarram Jah was declared in the presence of "immediate family members, trustees, close friends, well-wishers, and staff members."
Leaving out Muffakham Jah
Surprisingly, among these "immediate family members…" Muffakham Jah, the only brother of the late Prince, was not present.  According to Palace sources, Muffakham Jah who was there at the Palace and later at Makkah Masjid during the last ceremonies was not informed about this succession ceremony. Why?
What is left of the grand old Nizam Mir Osman Ali Khan who owned huge tracts of land in Hyderabad and on its outskirts, Golconda Fort, several palaces, etc.? (For reference please refer to the Blue Book, a document spread over several pages. Copies of this book are available with some resourceful persons in Hyderabad).
It is sad but true that Mukarram Jah did not value his lineage or heritage and quietly left Hyderabad in 1971 never to return and stay here for long.
Yes, he did make a few sojourns to the city, visited a mosque near Katora House in the precinct of the Golconda Fort, and met a few friends and acquaintances. He is also said to have held a ceremony or two in these last 51 years in Hyderabad.
Mukarram Jah Trust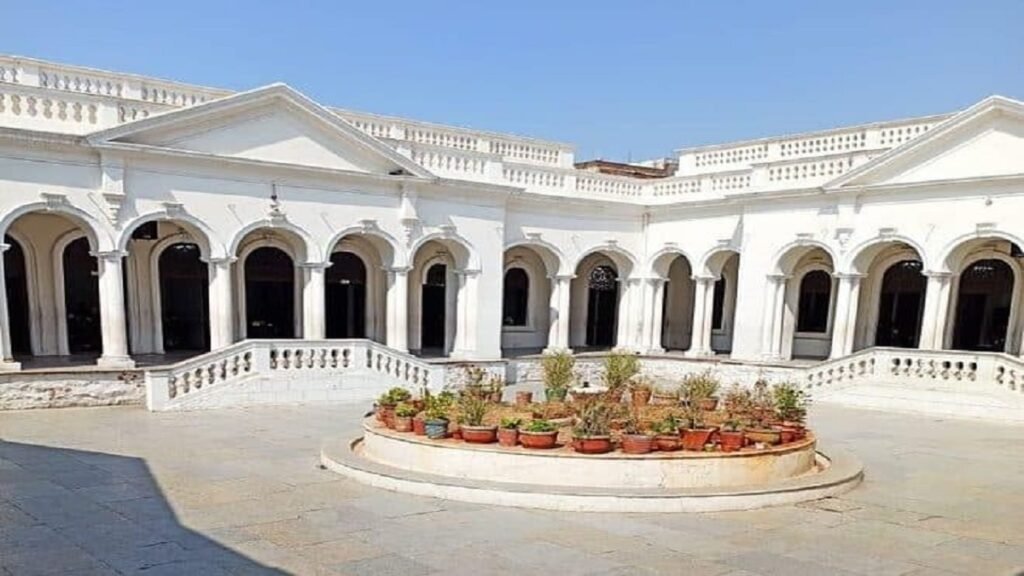 However, he did establish Mukarram Jah Trust for Education and Learning and, roped in some big names to be part of that trust but nothing beyond that has happened.  An educational institution for boys and girls has been set up somewhere in the mid-eighties. He made a few visits to the school whenever he was in the city.
City watchers ask what he has done beyond establishing that school for Hyderabad and its people. There are many other people who have done a similar or even better job. For instance, you have Sultanul Uloom Education Society, Deccan Education Society, Madinah Education Society, Shaadan Education Society, etc. where thousands upon thousands of boys and girls are graduating every year. Hundreds of them are medical, engineering, pharmacy, education, and business management graduates.
So what is the big deal if Mukarram Jah has established one school? People ask.
Nazri Bagh in dispute
The status of King Kothi Palace of which only a portion—Nazri Bagh—is left with the family is not known.  Even Nazri Bagh is said to have become a disputed property with no clarification from quarters that claim proximity to the Prince and his heirs.
Prince Neglects Chiran Palace
Some six acres of property spread over different parts of the premises of KBR Park belong to the late Prince. It is known by its original name Chiran Palace. The Prince and the people appointed by him have held long but unending negotiations with the State government over the status of the land.  The negotiations are in limbo.
Chiran Palace is occasionally used by the family. This writer interviewed Prince Mukarram Jah and his son Azmet Jah there a few years ago.
Chowmahalla Palace opened
Now we come to the Chowmahallah which has been renovated and opened for the public by Princess Esra Jah, former wife of the Prince, who holds a general power of attorney over his properties in Hyderabad. She has done a fine job. Whoever visits the palace comes out praising it. It was the Durbar Hall of this palace where the body of the Prince was kept for the people to pay their last respects.
Now, the questions that the people of Hyderabad would like to ask: Princes Esra, whenever she is in Hyderabad, stays at Falaknuma Palace where a separate luxurious portion has been left aside for the family by Taj Falaknuma management. Would Azmet Jah stay in the same area as her mother? Or would he like to stay at Chowmahalla Palace where an exclusive portion has been left for occasional use?
What role would he like to play within his extended family that includes a host of hostile relations? What relations would he like to have with Hyderabad as such (that also means the government of Telangana). Finally, the most important question: Would Azmet Jah stay in Hyderabad at all, or would like to fly back to his cozy corners in the UK and the USA?
Let us all wait and watch.
_____________
c. The Siasat Daily