Food is panacea for jaded souls and the great leveler for people from diverse backgrounds. For Punjabis, food has always held a distinct pre-eminence, with all life activities revolving around creation and consumption of foods
SHIVANI MOHAN
[dropcap]F[/dropcap]OOD has strange effects on us. Food stirs emotions, brings back memories and creates instant rapport with people we've never met before. Food is panacea for jaded souls and the great leveler for people from diverse backgrounds. For Punjabis, food has always held a distinct pre-eminence, with all life activities revolving around creation and consumption of food. You may take a Punjabi out of Punjab but you cannot take the foodie out of him.
Today, as we live more cosmopolitan lives in Delhi and other metros, it is difficult to eat Punjabi food every day. Our palates have grown and diversified and courted other cuisines. Yet we carry our Punjabiyat with us wherever we go.
It could be turning weak kneed at the sight of white butter, it could be the home-made Gobhi-Shalgam-Gajar achaar we beg our mothers to ship to us every winter. It's the way we tell our kids that Dal Makhni is heaaalthy! A trip to Amritsar or Chandigarh or Ludhiana emboldens this closet Punjabi.
As Punjabis trot out of their Pajeros and Audis in their Jimmy Choos and heavy, unrecognizable accents, they go gooey over that roadside Chole-Kulche wala that stands with his stall at the same place for the last 30 years or more! They go misty eyed to see hot rotis popping out of a tandoor.
If by any chance you are suffering from any form of (PFDD) Punjabi Food Deficient Disorder, there is help at hand right here in the capital!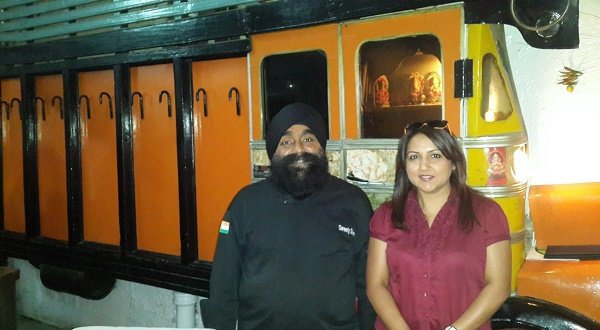 Dhaba at the Claridges Delhi that has for long been the sole vanguard of good old road-side eatery style, rustic Punjabi food right here in Lutyen's Delhi, has tied up with Chef Sweety Singh, who specialiZes in authentic home style Punjabi cooking.
His food is fuss-free and delicious, with none of the OTT trappings of pseudo-Punjabi-go-heavy-on-desi-ghee restaurants you find at every street corner in Delhi.
The award winning restaurant at The Claridges, New Delhi along with Celebrity Chef Sweety Singh showcases an array of authentic preparations from the rustic Punjab region using his secret blend of spices. Chef Sweety Singh has conceptualized a special menu that is taking Delhi's food enthusiasts on a culinary journey of rich flavours and appetizing aromas.
Ask him about his special magic mantra and Sweety Singh, with characteristic Punjabi hospitality and savoir faire says, "Nothing ji, Maa da Pyaar, mother's love. That is what Punjabi food is all about. My only food dictum is-no compromise!"
He further adds that he usually uses not more than 5 spices that he blends personally to suit every dish.
"You'll never find any cream or dry fruits in my food. Have you ever seen these items being used in our food at home? Never. I wonder why restaurants douse them over all Punjabi dishes! Try my dal makhni and there is not an ounce of cream in it, but it is velvety," he elaborates.
I know I am in for something special. The menu looks exciting and the names of dishes stir up a torrent of memories, of summer holidays in my childhood spent in Punjab and my culinary discoveries during a relatively recent stint at Amritsar.
Some of the highlights are Sweety Singh's signature dishes such as Chukandar de kebab, Ajwaini Pomfret, Kandhari murgh de tikke, Nalli Meat, Kadi pakora, Jhinga masale de naal, Tandoori Kukkad, Tandoori bhuniya meat and many more.
I see a fairly impressive array of vegetarian stuff that my grandmother and mother would rustle up in minutes and feed overpoweringly huge families with patience and devotion. The meats were mostly handled by men, an uncle who would toil over on a stove for hours till we had perfectly browned mutton.
Chef Sweety Singh relates how he learnt the secret and complex food formulae from his father who was a legendary chef himself.
With achingly sweet Punjabi that chokes me with emotion and gratitude, he asks me "Aap ji de layi main hun kuch khaas khana bhejda haan(I am sending something special for you now)," receding into the kitchen.
He has connected thus with almost every table in the restaurant, as I can see with great personal touch and involvement. We start with Anarkali, a dhaba special drink of pomegranate.
For starters we have Chukundar ke Kebab, Tandoori Bharwan Aloo and Paratdaar Paneer Tikka. Then we try his sensational Fish Seekh and Jeere de Naal Tandoori Kukkad which is simply outstanding.
There is none of the red color you find in commercialised Tandoori Chicken everywhere but a rich brown cumin rich coating, roasted perfectly. The accompaniments of Mooli Chutney & Garlic Chutney are perfect besides the Pudine di Chutney.
For the main course we have Saag Meat and Dahiwala Kukkad with some tandoori roti and Gobhi wali Makki di Roti and Wadi Wale Chawal. The dal as promised is devoid of any overpowering dairy product and absolutely light.
His other specials are Amritsari Meat Tari Wala, Ghiya Wadi di Sabzi, Malai Wale Tinde and Kathal Masaledaar all of which would be spectacular, going by the very original Aloo Bukhara Kofta Mattar De Naal that I sample. Chikkad Chole Kulche de Naal is another speciality.
For dessert we have Beetroot Halwa, Panjiri and Kesari Kheer. Well a spoon each of, at least. The Chukundar Halwa is the clear winner, so much more than a Gajarela (Gajar Ka Halwa) and made absolutely without any khoya.
Finally the icing on the cake, the Dhaba Paan Shot which is a delightful liquid version of the ubiquitiois paan, leaving us absolutely refreshed. It's as Punjabi as it can get. Here's a call to Punjabis and Punjabis at heart or lovers of Punjabi food, have this great experience at 'Hidden Treasures of Punjab' promotion at The Dhaba, The Claridges, New Delhi on till the end of this month. Rest is all balle balle! Aaho ji aaho!