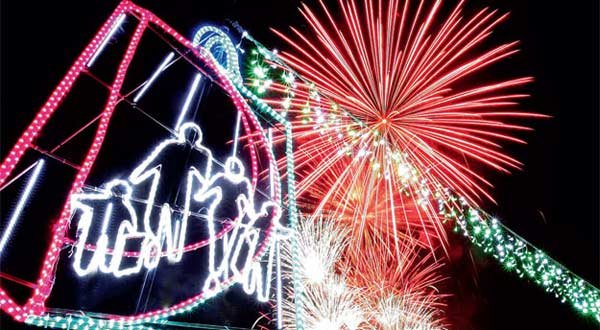 The biggest shopping extravaganza in retail sector world-wide is celebrating its 20th birthday and has triumphantly bolstered Dubai's status as a shopping and entertainment paradise on the global map
RAZIQUEH HUSSAIN
[dropcap]V[/dropcap]isitors: 1 million in 1993. 10 million in 2012. Target 20 million by 2020.
When 1.6 million shoppers spent US$584 million between late January and the end of February in 1996, "Shopping tourism" had arrived in the Middle East. Now 20 years later, the government-supported Dubai Shopping Festival has grown into an unquestionable World's Fair of no VAT shopping, entertainment and cultural spectacle that sprawls across the Emirate's many malls, food courts, restaurants, hotels, amusements within Dubai city.  It is estimated that the mega event has contributed a total of 56 million visitors to Dubai with an estimated monetary contribution of US$ 39.5 billion. The ever-increasing numbers show that this event is counted among some of the biggest shopping extravaganzas in the global retail sector which has successfully reinforced Dubai's status as a shopping paradise world-wide.
In Dubai, nothing is done by halves and visitors can expect to stay in the best hotels, explore some of the world's finest attractions and be treated like a VIP from start to finish.
Dubai is famed for the sheer size and quality of its malls and for those in need of some serious retail therapy, the Dubai Shopping Festival is an event not to be missed. This year's festival takes place from January 1 to February 1 and has attracted millions of people to the UAE for what promises to be a retail extravaganza, unlike anything seen before…  simply a journey of celebrations.
British Airways released findings of a recent survey that states customers are flocking to Dubai this festive season to escape the chilly northern hemisphere winter. More than 2,760 users nominated the overseas destinations they most want to visit in 2015 and Dubai was named in the top five. "Dubai has long been a destination of choice for Europeans looking for sun, sand and shopping," said Paolo De Renzis, Area Commercial Manager Middle East and Central Asia, in a statement.
Merchants outdo each other with discounts that can reach 75 per cent, and shoppers joyously cart off jewellery, perfumes, textiles, handicrafts, electronics — and even automobiles.
"The DSF is unlike any event in the world," says Laila Suhail, CEO of Dubai Events and Promotions Establishment. "The festival has now become the longest running festival of its kind in the world and a much-awaited annual global attraction. DSF has been an engine of growth for the retail sector in Dubai and has also given a boost to various other sectors like aviation, hospitality, travel and financial services."
The DSF has helped shopping and tourism emerge as key pillars of the government's strategy to make Dubai a leisure destination in the Middle East.  Ian Yeoman in his book Tomorrow's Tourist: Scenarios & Trends says that Dubai has put the UAE on the global retail map. Retailers make roughly 50 per cent of their annual turn-over in this annual festival and tourists account for 65 per cent of the retail business. "Russians in particular go on a shopping frenzy, shelling out over US$5,000 in retail outlets per visit to Dubai, followed by tourists from other middle-east countries with US$2760 per trip," he says.
DSF this year is termed as a journey of celebrations so countries have erected pavilions in Global Village to showcase their culture and heritage through handicrafts, clothing, music and dance. Shoppers can win gold, jewellery, luxury cars and US$10,000 cash at draws. There's a circus, a perfume souk and a Bedouin-style "Family Desert Camp" (with camels and tents). There are festivals of jazz, film, dance and cartoons. The closing ceremony rivals those of the Olympics with fireworks and mega entertainment.
Targeted marketing bolstered DSF 2015, which saw a big increase in the number of amusements. Festival officials travelled to Russia, China and India to promote the event. Ms Suhail says the public-private partnership is vital, even if some of the retail partners wind up being loss leaders because of steep discounts. The winners are the hotels, hotel apartments, and restaurants, which would earn nothing without visitors in rooms or at tables.
Package tours — in which airlines, hotels and tour operators get together to offer deals at various price points – have also had success. Meanwhile, the government has played a significant role in building the retail and tourism infrastructure, financed partly by the private sector: the hotels, malls, roads, airports and Metro.
More than the sales and discounts, the festival has become something of cultural extravaganza that the whole family can enjoy. While mum is off trawling the shops, the kids can take part in workshops and cartoon events.
A number of international fashion shows are taking place throughout the month, as well as street-side performances, nightly fireworks displays, musical shows and even film screenings.
If you are more of a history buff, you won't be disappointed as a number of events are scheduled to showcase the emirate's unique culture and cosmopolitan character.
Dubai boasts dozens of shopping centers, including the Mall of the Emirates which is home to Harvey Nicholls, Aspreys and Debenhams. Visitors will find the main shopping malls located around Al Fahidi Street, Al Rigga Road, Al Karama, Al Satwa's Al Dhiyafah Road and Baniyas Square, with modern stores standing side by side with traditional souks.
Dubai is not just a shopper's paradise, but there are also plenty of attractions to visit, according to the Telegraph, the famous Wild Wadi Water Park, is widely regarded to be one of the best in the world. The park is located beside the Jumeriah Beach Hotel and a visit is a must between shopping sessions for mums with little ones who enjoy splashing about.
Dubai is what it is today because of the unstoppable vision of its current leader His Highness Sheikh Mohammed Bin Rashid Al Maktoum, UAE Vice President and Prime Minister and Ruler of Dubai, who, says Lonely Planet, promised that he would make Dubai the greatest city on earth.
It says, "Driven by Sheikh Mohammed, a leader who doesn't understand the word 'no', visitors and potential residents are flocking to this Middle East metropolis in increasing numbers with the promise that Dubai is like no other city on earth."
Celebrating 20 years of shopping entertainment, discounts and tourists, Sheikh Mohammed has certainly kept his promise.