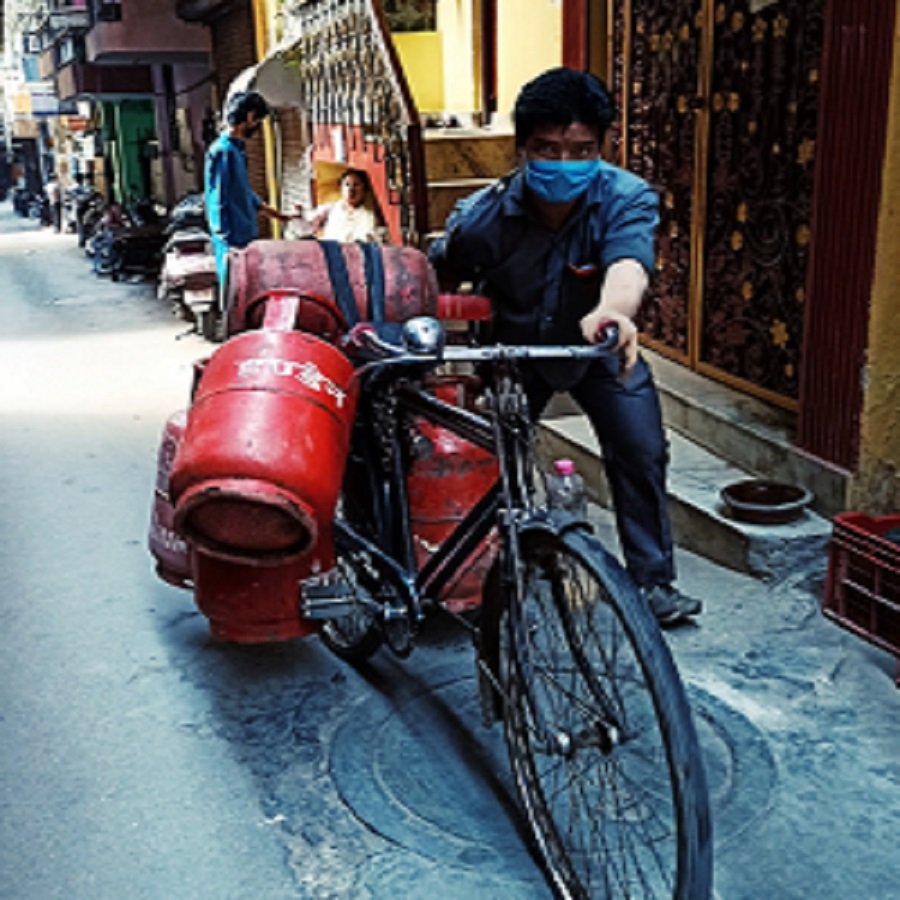 Unlike doctors and other medical staff, Gopal is yet to be recognised as the "frontline worker" against the war on the coronavirus. Unlike them, he has got no protection, no recognition, and zero financial help.
ABHAY KUMAR | Clarion India
NEW DELHI — So far no helicopter has been deployed to shower rose petals on Gopal. Nor has any jet fighter gone into the sky to salute him.
Meet thirty-year-old Gopal. He is an LPG cylinder delivery man working in South Delhi. Amid the corona pandemic, he keeps hundreds of kitchens running. Every day he delivers around 30 filled LPG cylinders to residents and takes back an equal number of empty ones to the godown. For each cylinder, he gets just Rs. 30 that is far less than half a dollar.
While doing his work he gets exposed to the threat of coronavirus. A mask on his face and gloves over his hands are little protection against the virus.
His condition is not less vulnerable than the doctors and the medical staff. But unlike them, Gopal is yet to be recognised as the "frontline worker" against the war on the coronavirus. Unlike them, he has got no protection, no recognition, and zero financial help.
Some of you may remember that the Indian Army choppers showered rose petals on doctors and medical staff a week ago. Even the army jets soared through the sky in hailing their services. The establishment and the national media rose to their feet in thanking these frontline workers against the coronavirus.
But the news has also come in that hundreds of resident doctors and the medical staff in Gujarat have gone on strike, complaining about lack of safety gears required by medicos. This points to a gap between what the government does and what it exhibits to be doing.
When I look at Gopal, my heart raises several questions: If the doctors and the medical staff are treating the corona patients, Gopal is equally working hard to keep our kitchen running. If the service of the medical profession is publicly praised by the government, what has stopped it from recognising the service of Gopal and other delivery men?
In the lockdown Gopal keeps working for the whole day. I have seen him pull cycle, to which four to six LPG cylinders are hooked. Pulling the cycle towards an uphill climb becomes far more difficult. In a multi-storied building, he has to lift the filled cylinders to the kitchen and then take the empty ones down.
Despite his hard work, he does not have any fixed salary. Imagine a situation if he falls sick and he is not able to deliver cylinders. How would he manage to eat? Apart from food, he also has to pay Rs. five thousand a month for his rented room in South Delhi. In addition to that, he has to send some money home as his two children stay in the village.
My acquaintance with Gopal is one-year-old. Once upon a time, the flame of my stove died down. The gas was exhausted but the food remained half cooked. Some of my guests were waiting for the food. In that panic situation, Gopal emerged as a "saviour". As he arrived at my door, he brought a smile to our face.
One of the reasons why he feels connected with me is our location. Once he carried an LPG cylinder to my room, he was profusely sweating. A filled cylinder weighs almost 30 kg. He lifted them to the fourth floor. To carry a twenty-liter jar of water from the shop to my room, I sweat.
I brought a glass of water to him. I offered him a piece of sweets. But he just had water. When he was taking rest, sitting in a chair in my room, I asked him, "Where are you from".
"Nepalganj [Nepal]", he replied.
On hearing Nepalganj, I became a bit interested in him as my native town Raxaul (Bihar) is on the border of Nepal. I told him about this.
After a while, Gopal told me that he often boards a bus from Gorakhpur border to his native place. In this way, he does not need to go to the Raxaul border as it is situated far in the East from his village.
Gopal is a man of short stature with fair complexion. His face is round. His hair is black and thick. I could also spot a 'sikha', also called 'choti' in Hindi or a lock of hair left on the top of the hair. A similar 'sikha' is also spotted on the head of an orthodox Brahmin.
During the lockdown, he has acted as a proverbial 'farishta' (angle) for us. I feel shivered to imagine: what if he had not been available for his service. With the eateries remaining closed up these days, how many days one would have managed to survive?
This is not an isolated case of Gopal. As I noticed a pattern, a large number of the LPG delivery men working in South Delhi are from Nepal, Bihar, and UP. They all continue to give their service to us uninterrupted.
The irony is that the gas agencies make most of the profits but the real frontline workers are ill-paid. Nor do they have social and economic rights.
The stone-hearted policymakers, the indifferent rulers, and pliant media refuse to accept the ground reality. Gopal and his colleagues do not figure in their imagination as "frontline workers" against the coronavirus.
Does this not show their inherent bias against the workers and labouring classes?
___________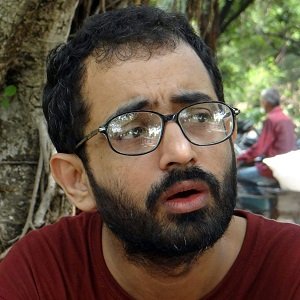 Abhay Kumar has recently submitted his PhD at Centre for Historical Studies, Jawaharlal Nehru University, New Delhi. A regular contributor to newspapers and web portals, Kumar has been working on the broad theme of the Indian Muslims and Social Justice. You may read his other writings at abhaykumar.org.