Son of an educated village headman, Alam was just in his teens when he saw the decline of his father's economy and social clout and the rise of bad elements in the village. However, the blood running in Alam's veins gave birth to a leader in him
Mumtaz Alam | Clarion India
NEW DELHI/ KATIHAR — People start coming to meet him in Shivanandpur village of Bihar's Katihar district since early morning when he is still in his beds. The four-time MLA doesn't mind but calls them in the bedroom of his kutcha house, listens to them and tries to resolve their issues. This has been going on for over a quarter century and it has earned 63-year-old Mahboob Alam of CPI-ML(L) huge love from the locals. It was the love and popularity that he won the latest Assembly polls with the highest margin in the state – though he was one of the poorest candidates in the fray.
Talking to Clarion India from his home in Katihar, Mahboob Alam, who won the Balrampur seat in this election with 53,597 votes, recalls how his teenage days in village and college shaped his life and career in politics, mantra of his popularity and reasons behind the backwardness of his district and the region called Seemanchal.
Activism in Village and College Shaped His Career
Son of an educated village headman, Alam was just in his teens when he saw the decline of his father's economy and social clout and the rise of bad elements in the village. However, the blood running in Alam's veins gave birth to a leader in him.
"I have always engaged myself in village activities. I have had a group of 8-10 boys and would always work for the poor. I was always active in social work and also on cultural front," says Mahboob Alam who has won three Assembly polls before 2020, all as CPI-ML(L) candidate and with a margin of over 20,000 votes.
"An incident had happened in the village, but no panchayat was held on it. I made it an issue. My father had got socially very weak then. The victims went to the local police station but got no help. I then launched a public agitation against the local police station. Consequently, I was booked in several cases," he says.
After matriculation, Alam got admission in a local college. It was the turbulent 1970s. He soon lost interest in education and after clearing Class XII exam he joined CPI-M.
"While in college, I began participating in activities of SFI (youth wing of CPI-M). I started students' movement for creation of common room and auditorium for students. By that time, my father's grip on society had weakened and some people with criminal mindset had come up."
Plunges in Electoral Politics, Defeats BJP Thrice in Assembly Polls
Alam began his electoral debut with CPI-M.
"We supported Janata Party in 1977. Then we revolted from it and pushed our independent candidate in 1978 election. It was 1985 when for the first time I contested Assembly election on the ticket of CPI-M. I left the party in 1988," says Alam.
He joined CPI-ML and fought the Assembly polls in 1990 and 1995. He finished at No. 2. It was in 2000 when he won his first Assembly election from Barsoi seat in Katihar by defeating a BJP candidate with over 26,000 votes. He won the seat again in 2005 with over 20,000 votes, again defeating BJP candidate.
In 2010, he contested from Balrampur seat but lost with a small margin of over 2700 votes to an Independent.
But he reclaimed the seat in the 2015 polls with a heavy margin of over 20,000 votes – this time also he defeated BJP.
In the latest 2020 Assembly polls, he made history as he won the Balrampur seat with over 53,000 votes. This time his main opponent was BJP ally Vikassheel Insaan Party.
Reasons behind Rising Popularity
Mahboob Alam was among the poor candidates in the current Assembly poll but he got record victory margin while several crorepatis lost or could not get even half his victory margin. Why? Has his party's alliance with Mahagathbandhan pushed his victory graph northward?
"When we fought alone (not in alliance), then too our victory margin was more than 20,000 votes. Traditionally, we have been getting around 60,000 votes here. This time we got support of Mahagathbandhan. Our past performance of development and agitations for people's issues also helped," says Alam.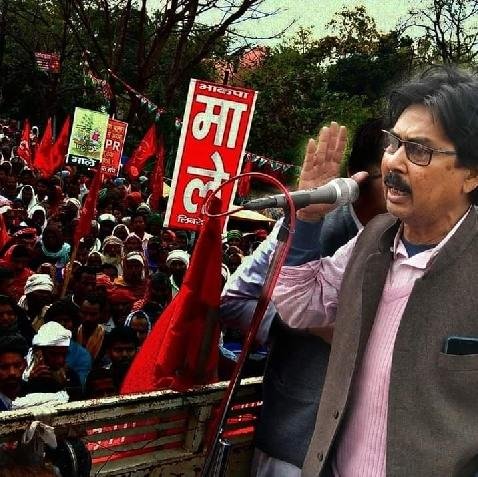 "I aggressively highlighted the issues of common people in the Assembly and got success also. On the issue of NRC/CAA/NPR, I moved a motion in the assembly, debate was held on it and a resolution against NRC was passed. I have always been raising the issues of the poor and marginalized communities. I got names of deserving people included in BPL list. This helps them get benefits of welfare schemes. I work for rickshaw pullers, auto drivers and vendors and agricultural labourers. People are living in their homes for over 100 years but don't have documents. Feudalists try to uproot them. I helped hundreds of such people to get their documents," Alam counts as factors for his rising popularity.
 During the election campaign last month, he also raised the issue of miseries of migrant labourers during the lockdown.
"I raised the miseries of migrant labourers that they faced during the lockdown. I also raised the issue of minimum price for farm products. I raised the issue of NRC/NPR/CAA during the campaigns. I have been in direct contact with poor people. I love to remain among them more than being among MLAs and politicians," says he.
Alam has won four Assembly polls, but unlike many others, he lives a simple life. He has not purchased his own house. He, his wife and two children live in a kutcha house that he has inherited from his father.
Electoral Victories of Mahboob Alam
Constituency
Party
Votes Polled
Victory Margin
Runner-up
2020
Balrampur
CPI-ML(L)
104489 Votes
53597 Votes
VIP
2015
Balrampur
CPI-ML(L)
62513 Votes
20419 Votes
BJP
2005
Barsoi
CPI-ML(L)
45451 Votes
20840 Votes
BJP
2000
Barsoi
CPI-ML(L)
62644 Votes
26559 Votes
BJP
"I think we should live a natural life. People make gestures and postures to show they are MLA but I don't like all these things. I am content with my simple life. I am living in the very property and plot that I got from my father. We are communist and member of CPI-ML. We have little interest in owning properties. We devote ourselves in the fight for the poor, labourers and underprivileged. I live in kutcha house," says Alam.
People easily reach him with their issues. "I start meeting people at my home since morning."
In this election, his party CPI-ML has shown wonderful performance by winning 12 seats. In the 2015 elections, it had won only 3 seats.
"In the last five years, we actually played the role of opposition. We led various agitations and movements on the streets. We joined hands with Mahagathbandhan this time and this also helped us. We already have a big constituency," says Alam.
Why is Seemanchal Most Backward Region of the Country?
Mahboob's home district Katihar lies in Seemanchal – the eastern Bihar region comprising Kishanganj, Araria and Purnia besides Katihar. On all parameters of development, the region, with high concentration of Muslim population, is said to be the most backward area in the country.
Alam says that annual destructive floods and constant neglect by ruling parties have pushed the area behind.
"This area is surrounded by Ganga and Kosi rivers and Teesta river from West Bengal. The main farm produce is jute and paddy. Jute industry has closed. There is no industry here. Every year floods bring destruction to farmers here. This area has been neglected by government after government. This is a Muslim-dominated area. I raised the issue of development of the area several times. To earn the living, people migrate to Delhi, Mumbai and other places," says Alam.
Public education system is also in a shambles, he says.
"There was only one college here and it is also in ruins. Teachers are not there. How will children of the poor study? Rich people can send their children to other places," says Alam and appeals to national media to visit the region and see the condition here.