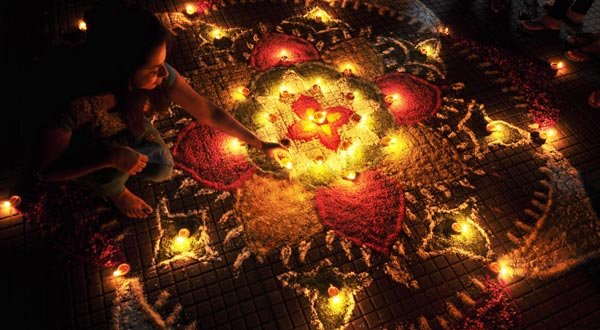 Diwali, the festival of lights, and its lights and fireworks are the things you miss  the most when far from home
By Vanit Sethi
After his victory over Ravana, when Lord Rama returned to Ayodhya from Lanka, the residents celebrated his victory and homecoming by lighting 'diyas' or earthen lamps, as a traditional way of welcome. He took 20 days to traverse the distance from Lanka to Ayodhya after vanquishing Ravana on the tenth day of the waxing moon (Vijaydashami) in the Hindu month of Ashwin (corresponding with late September to mid-October in the Gregorian calendar). So, when he returned home, it was the new moon night or 'Amavasya' – a dark night, which was dispelled with the joy of the King returning home with his wife Sita, and the army of men and monkeys (Vanar Sena).
Of course, there are many myths and rituals associated with Diwali or Deepavali, the biggest Hindu festival of the year – the most prominent one being Laxmi Puja, or worship of the Goddess of Wealth. Since Diwali is the end of the harvest season (end-October to mid-November), it is also a festival of Thanksgiving to Laxmi for the wealth she has bestowed upon us. That's why traders and shopkeepers keep their shops open till late on Diwali night to welcome Goddess Laxmi – in the form of customers who bring in riches to the traders by buying their stuff.
Diwali is the culmination of a month-long season of celebration, which begins with Navratri (nine nights) or Dussehra (ten days) from end of September to mid-October – falling exactly 20 days after Vijaydashmi (victory day). Traditionally, Diwali is a five-day long festival beginning with Dhanteras – the day of buying new stuff for your house, mostly gold and utensils, but also electronic items, furniture and furnishings, lamps, decoration pieces, sweets and dry fruits (the last two items mainly for distribution to family, friends and relatives).
This is the day both shoppers and shopkeepers love for their own reasons. The festive season ends with Bhaidooj – a day of sibling love and affection, when sisters and brothers meet to share sweets and sweet memories.
Diwali needs no introduction to most Indians. But now, the festival has crossed many borders due to the increasing presence of the Indian diaspora in countries across the globe. Of late, the festival is being celebrated even at the White House, where the US President interacts with prominent members of the Indian community. Since every seventh person in the world is an Indian, it is not surprising that the festival of lights is now gaining prominence and visibility in many countries of the world where Indians are a significant, sizeable community. This includes many neighbouring countries, countries in Southeast Asia, the Gulf and Middle Eastern countries, and Western nations like UK, US and Canada.
For example in the UAE, where Indians comprise at least half the population, there are many localities in Dubai – like the Meena Bazar – where on Diwali night, you would wonder if you were suddenly transported to India without your knowledge (or as an expat Indian, whether you were simply dreaming of home). A similar experience could await you in London's Southall and New York's Jackson Heights, which are unofficial Little Indias, like Dubai's Meena Bazaar. In Singapore, Serangoon road is more famous as Little India, and also officially called by that name.
A few years ago, as I was returning home from work on a pre-Diwali night in Dubai, I had to catch a bus from Bur Dubai (the newer part of Dubai) to Sharjah. Walking down Meena Bazar en route to the bus terminus, I lingered on a little longer in that glittering market, as I felt very much like in India on a Diwali night (of course, the level of noise was much less). Living outside India, it is during Diwali that you miss your homeland the most, as compared to any other time of the year.
Back home in India (where I am living for the past nearly three years now), Diwali is as colourful as it was earlier before I left for the UAE in 2002, but less noisy now, due to constant efforts of different social organisations and NGOs, and also some governments, to promote a safer, green Diwali. The increasing noise and smoke pollution during Diwali – besides the regular fire incidents – has led to a gradual movement towards celebrating the festival in a better way. There are several hundreds of people across the country who are now simply lighting up their houses and partying with acquaintances, but not bursting crackers or fireworks, in a bid to reduce pollution. Which is a good thing.
Of course, for children, it is always more fun with patakas, sparklers, anars, zameen chakras, and rockets. The mindless expense on Diwali can be toned down, and so can the smoke and noise pollution, by celebrating it together as a community, rather than in homes with the family members alone.
But realistically speaking, one cannot do away with fireworks altogether – and why should one? That's the main charm of Diwali. It's the major festival of Hindus (including Sikhs and Jains), like Eid-ul-Fitr for Muslims, and Christmas for the Christians. In our bid to celebrate the festival in a sober fashion, one must not and cannot do away with traditional fireworks altogether. Those are the things you miss the most when living abroad – as you can still party around.
On this note, here's wishing A VERY BRIGHT, HAPPY AND PROSPEROUS DIWALI to everyone. Cheers.
Vanit Sethi spent around quarter of a century working with newspapers in India and in the Gulf before returning home to a more relaxed and peaceful existence in one of the prettiest parts of India. He loves music, food, writing and reading. This is first of his blogs for Clarion.