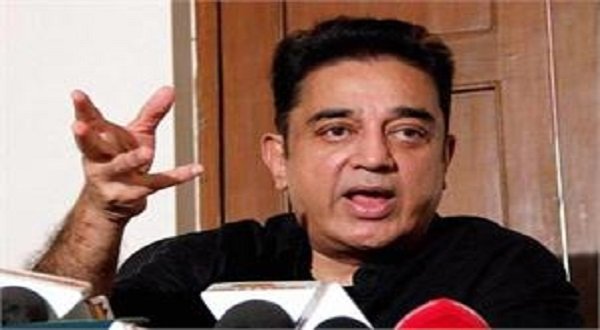 CHENNAI (PTI) — Makkal Needhi Maiam (MNM) chief Kamal Haasan on Thursday said freedom of expression was "slowly being snatched away" in the country and this should change.
"Certainly," was his response when a reporter cited recent arrests of protesters over various issues and asked if freedom of expression was being "snatched" in the country.
"Certainly. It is slowly being snatched… The situation in the country should change," he told reporters here.
His comments come in the backdrop of Tamil Nadu witnessing a series of protests including against Sterlite copper plant and the proposed Rs 10,000 crore eight-lane Salem-Chennai greenfield corrdior project.
Opposition parties have accused the government of indiscriminate arrests of protesters, a charge denied by Chief Minister K Palaniswami who wondered if democratic rights were being used appropriately in the state.
To a question on the Salem-Chennai expressway, the actor-politician reiterated that people should decide whether they require the big ticket road project.
"People should decide whether they want it or not," he said.
On his recent meeting with Karnataka Chief Minister H D Kumaraswamy over the Cauvery issue, over which he faced criticism from some quarters, Haasan said he had "no shame" in seeking water for Tamil Nadu farmers.
A 'spin' was given to that meeting by some that MNM was against the setting up of a Cauvery Management Authority (CMA), he alleged.
"We need the authority," the MNM chief said, adding, such a panel was required to handle water-sharing during distress.
On the controversy surrounding the use of a military helicopter to airlift Tamil Nadu Deputy Chief Minister O Panneerselvam's ailing brother recently, Haasan said late Chief Minister M G Ramachandran had flown in in a private carrier for his medical treatment.
Ramachandran "flew in a private aircraft even when he was battling for life," Haasan said in an apparent reference to the former's US visit for medical treatment in early 1980s.
DMK working president M K Stalin had yesterday demanded the resignation of Defence Minister Nirmala Sitharaman and Panneerselvam following the controversy.
Panneerselvam had earlier said his New Delhi visit on Tuesday was only to thank Sitharaman for arranging a military air ambulance to shift his brother to Chennai from Madurai, prompting Stalin to question how a defence helicopter can be provided for use by a private individual.