Four Greek fighter jets have violated Turkish airspace on Saturday, the Turkish General Staff stated on its website. Daily Sabah reports.
According to the statement, the violation of airspace lasted for a minute, and Greek jets left Turkish airspace when two Turkish fighter jets approached.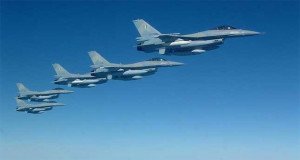 Four F-16 jets belonging to Greece violated Turkish airspace between 01:19 p.m.- 03:15 p.m. southwest of Antalya, the statement added.
The incident occurred in the southern Kaş region, located in Antalya province, which will host the G20 Summit on November 15-16.
On October 3 and 4 Russian fighter jets had violated Turkish airspace and the Ministry of Foreign Affairs summoned Russian ambassador to the ministry over airspace violation.