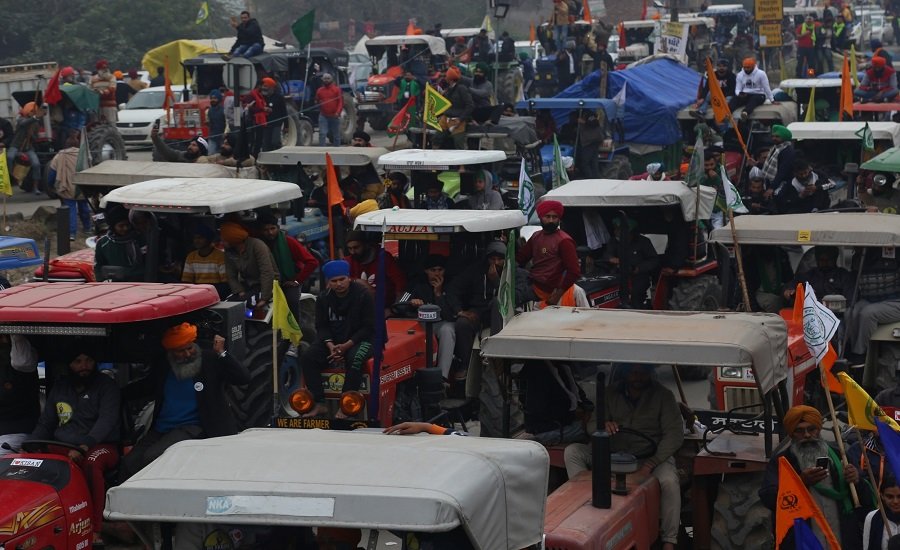 "While the farmers are adamant to parade on Ring Road, the Delhi Police is not ready to accept our demand," Yogendra Yadav said.
NEW DELHI — The meeting between farmer leaders and Delhi Police officials on the issue of the tractor march on January 26 remained inconclusive. The meeting was held at the Mantram Resort on Thursday.
Now, another meeting is expected to be held on Friday.
However, the farmers will discuss all these issues among themselves first, for which a joint Kisan Morcha meeting will be held at the Singhu border. By Thursday evening it is expected that the farmers will unveil their strategy in front of everyone.
The meeting was attended by Delhi Police's Special CP (Law and Order) Sanjay Singh, Special CP (Intelligence) Dipendra Pathak, Joint CP S.S. Yadav and two additional DCPs of the Delhi Police, besides senior officers of Uttar Pradesh and Haryana Police. Darshan Pal, Yogendra Yadav, Yudhveer Singh and other farmer leaders attended the meeting on behalf of the farmer organisations.
Yogendra Yadav said, "While the farmers are adamant to parade on Ring Road, the Delhi Police is not ready to accept our demand. The rally will be held in a peaceful manner. The reputation of the festival of public will remain."
"Millions of farmers from across the country have left for this parade, we cannot stop them."
In the meeting, the Delhi Police had suggested that the farmers take out tractor parades on the KMP (Kundli-Manesar-Palwal) and KGP (Kundli-Ghaziabad-Palwal) highway outside Delhi. However, the farmers rejected this proposal. — IANS