Ghazala Ahmad | Clarion India
NEW DELHI — Speakers at an Iftar gathering, organised here by the Students Islamic Organisation (SIO) on Thursday, spoke of the importance of standing up for human rights, and of the need to fight the "unjust detention and imprisonment" of several political activists.
The Iftar party at the SIO headquarters was to express solidarity with the families of "political prisoners and victims of hatred." It was attended by the families of Khalid Saifi, Meeran Haidar, Saleem Khan, Athar Khan, Gulfishan Fatima, Tahir Hussain, Salim Munna, Salim Malik and Tasleem Ahmed. Student activists Asif Iqbal Tanha, Ramees E.K. and Abdullah Faiz also attended the gathering.
It was the first time that Gulfishan Fatima's parents attended a gathering ever since her arrest in 2020.
"This is the third Ramadan she is spending alone in jail. I went to meet her before the holy month started; she has become very lean and weak," a dejected Shakira Begum, Gulfishan's mother, told Clarion India.
"We don't even know what to say to the media; it has now become a routine for us to go to courts and jail every other day. We do not see a day coming soon when we will reunite with our daughter," she said. She was unsure of how long this wait would continue.
"What is our fault? What was my daughter's fault? She is being punished just because she stood up against injustice and raised her voice for all of us? We would have accepted the punishment had she done any wrong," Gulfishan's father Sayyad Tasneef Hussain said.
"We only need justice and nothing else. We are humans and not sheep that would continue walking keeping their heads down. Treat us like humans", he said.
"What should we do? Should we cut our tongues? Should we go deaf and dumb and stop reclaiming our rights?" he asked.
Meeran Haidar's sister Farzana Yasmeen burst into tears as she started to speak: "My brother is in jail and my father's health is deteriorating. He remembers him day and night. He waits for him to get released. All this makes us more anxious", she said.
Yasmeen said her father invariably has sleepless nights. He keeps thinking of his son, always.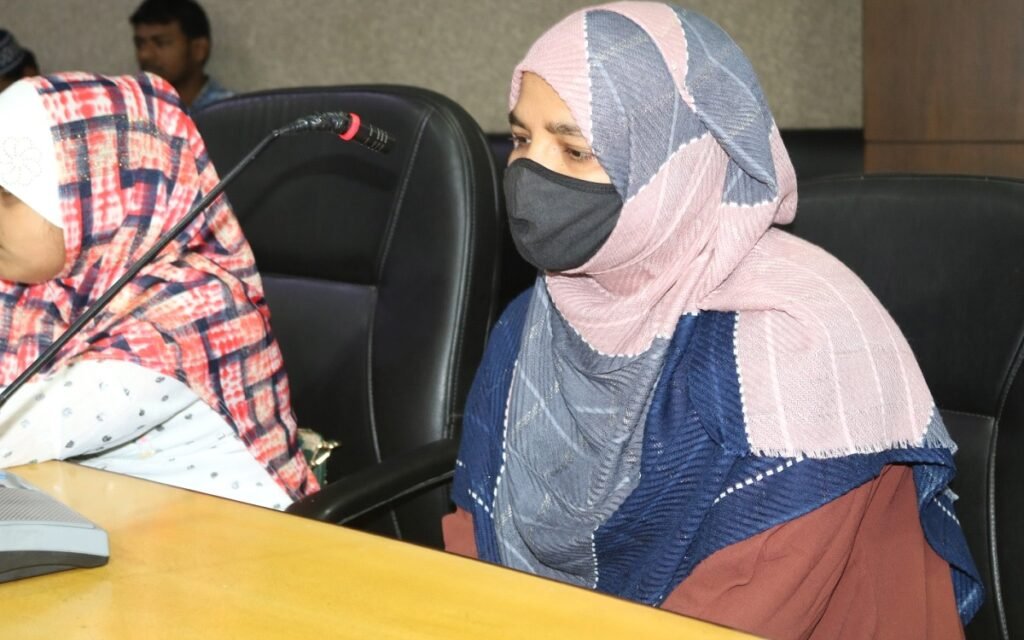 Saleem Khan's daughter, Saima Khan, highlighted the inordinate delays in the legal procedure and said: "On every hearing or meeting they make us wait, but we are patient. We can bear this wait but one day when he will be free there will be no more wait."
"But this wait is getting longer and longer, the court orders are reserved in FIR 59", she said.
However, she said that she has full faith in the law and the country's judicial system. "I am certain that we will get justice. And I hope that all political prisoners will be set free very soon," she said.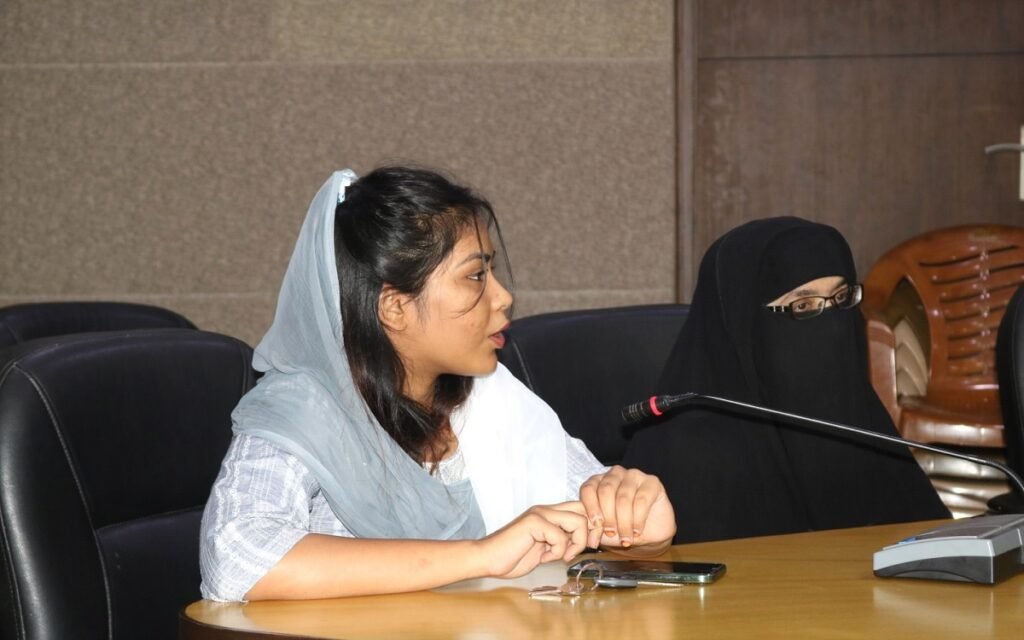 Nadeem Khan from United Against Hate, a citizens' campaign against hate said, "It's not easy to fight for the rights of those who have been silenced but we must continue until everyone is free."
He also talked about discrepancies and delays in the legal procedure.
He said: "We must hold the establishment accountable for its actions, and demand that they release all political prisoners immediately."
Laeeq Ahmed, Assistant PR Secretary Jamat-e-Islami Hind (JIH) said, "We need to be very clear about one thing, we are innocent."
He said those in jail are the bravest of all and didn't do anything wrong.
He said, "They fought for us and fought for our rights. We have come a long way, strengthening each other along with our worries and sorrows and we will continue to support each other until we get successful in our cause."
The gathering concluded with the address of Ramees E.K., National President of the SIO. He spoke about the imposition of draconian laws like the Unlawful Activities (Prevention) Act (UAPA) on students and activists to suppress dissent and restrict freedom of expression.
He urged everyone to fight the oppressive laws that restrict the rights of all individuals, regardless of their political affiliations.
"Nevertheless, we must acknowledge that the use of these laws continues to affect us, causing immense suffering to countless individuals and families. It is our duty to confront these injustices head-on and fight for the rights of the oppressed", he said.
Abdullah Mohammad Faiz, National Secretary of SIO said: "SIO pledges to continue its fight against these injustices with our collective strength. Let us come together and join hands to create a society that is just, equal, and free from discrimination. Let us fight for the rights of the oppressed and work towards building a better world for ourselves and future generations."