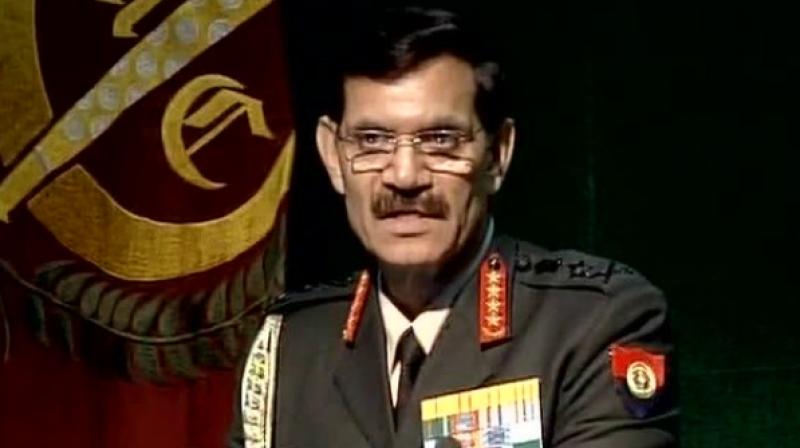 Srinagar (PTI): On a visit to Kashmir amid unrest, Army Chief General Dalbir Singh on Tuesday asked the forces to exercise maximum possible restraint while dealing with mobs and uphold human rights.
He also made an earnest appeal to the people to eschew violence and help restore peace and calm at the earliest.
The Army Chief, who was in Kashmir a day ahead of the visit of Home Minister Rajnath Singh, travelled to south Kashmir, the epicentre of the ongoing unrest, and was briefed by officials about the situation there.
"Following his previous visit only a month ago, the Chief of Army Staff was in the Valley again for review of the security situation," an army official said.
He appreciated the professionalism with which the troops had been operating in full synergy with other security and civil agencies to keep the situation under control, the official said.
"The Army Chief impressed upon everyone to uphold human rights and exercise maximum possible restraint while dealing with the protesting mobs," the official said.
The General also directed to ensure measures "to prevent armed terrorists who jeopardise the lives of innocent civilians from moving with impunity".
Lauding the humanitarian steps, Gen Singh reinforced the need to synergise efforts with all the other stakeholders.
Accompanied by the Northern Army Commander Lt Gen DS Hooda, the Army Chief also visited formations on the Line of Control and units in North Kashmir.
"He was briefed on the operational preparedness besides the recent successful counter infiltration operations in which over ten terrorists have been eliminated over the past one month," the official said.
Commending the alertness of all troops deployed along the Line of Control in foiling the nefarious designs of inimical forces, Gen Singh stressed upon the need to continue high degree of vigil and operational focus, he said.
Later, the Army Chief visited the headquarters of the 15 Corps at Badamibagh Cantonment here where he was briefed by the Northern Army and Chinar Corps Commanders on the numerous initiatives undertaken by the Army all across the Valley to constructively engage with the people towards their well being and an early return to normalcy.