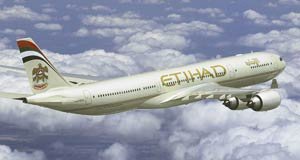 ABU DHABI, Dec 16 – Etihad Airtways, the national airline of the United Arab Emirates (UAE), announced Monday that it will expand its destination network in India by launching flights to Jaipur, the capital of the west Indian state of Rajasthan.
The new flights to Jaipur, which will commence on April 1, 2014, bring the total number of Indian cities served by Etihad Airways to 10, with existing routes including Ahmedabad, Bangalore, Chennai, Hyderabad, Kochi, Kozhikode, Mumbai, New Delhi and Thiruvananthapuram.
"Our daily service to Jaipur will offer travellers across the world access to one of India's most exciting destinations, while providing those in India with seamless connections to the Gulf region and Middle East, as well as Africa, Europe and North America, via our Abu Dhabi hub," James Hogan, Etihad Airways' president and chief executive officer, said.
In addition to introducing new destinations in India, Etihad Airways has been increasing the frequency of its existing services to the country, with plans to more than triple the number of seats on the prime Abu Dhabi-Mumbai and Abu Dhabi-New Delhi routes. –IANS/WAM