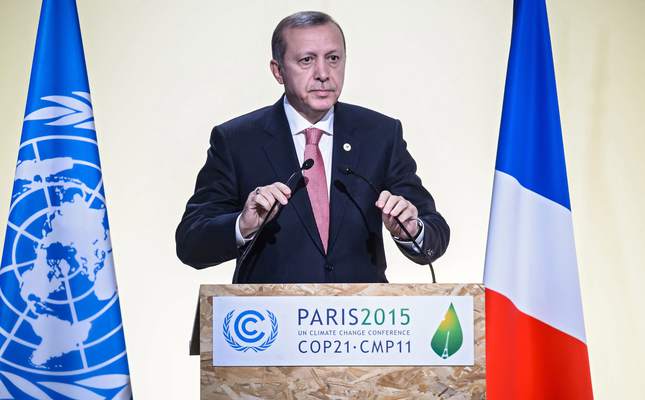 PARIS (AA) — Speaking in Paris during the first day of the UN Climate Change Conference with 140 world leaders, President Recep Tayyip Erdoğan responded to Russian President Vladimir Putin's 'slander' that Turkey buys oil from the Deash terrorist organization.
In his statement, the president underlined Turkey's commitment to fight Daesh terror in every possible way, saying that he will resign from his post if any oil purchase from Daesh is proven. Erdoğan said, "As soon as such a claim is proved, the nobility of our nation requires [me] to do this."
"I will not remain in this post. But I am asking Mr. Putin, would you remain?"
Erdoğan also called on his Russian counterpart to explain Russian purchases of Daesh oil.
He stated that a Russian-Syrian citizen has been buying oil from Daesh and then selling it to Assad regime, which he said was also confirmed by U.S. sources. "First they [Russia] should give an account of this," he added.
The president also said that Russia's claim that Turkey bought oil from Daesh terrorist organization is not 'moral', adding "such claims have to be proved."
Further emphasizing that the countries Turkey buys oil from is 'known' sources, he said: "We buy from Russia, Iran, Azerbaijan, Qatar and Nigeria. We won't accept any other slanders."
Erdoğan further said that Turkey would act "patiently, not emotionally" before taking any measures in response to Russia's decision to impose sanctions on Turkey.
Putin earlier on Monday claimed that the reason Turkey downed a Russian warplane on November 24 was that it wanted to protect supplies of oil from Daesh.
Putin, speaking at the global climate conference in Paris, said that the decision to shoot down the plane was a "huge mistake" and that he had not met Erdoğan on Monday, despite them both being in Paris.
Relations between Russia and Turkey have nosedived since Russia's violation of Turkish airspace last week.
Turkish officials have shown audio and visual evidence that the Russian SU-24 jet violated Turkish airspace and had been warned repeatedly.
Moscow, on the other hand, says that the aircraft was shot down when it was over Syria, where Russia has been carrying out air campaigns to support the forces of Syrian President Bashar al-Assad.
Putin on Saturday signed a decree imposing economic sanctions on Turkey, while Erdoğan has said that Turkey will not apologise over the incident.
On Monday Russia said the ban would be mainly of agricultural products and it might expand the sanctions if needed.