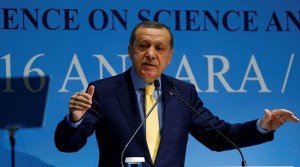 Shubhajit Roy
Ahead of arriving in Delhi on Sunday for a two-day visit, Turkey President Recep Tayyip Erdogan advocated "multilateral dialogue" to settle the Kashmir question — a stand which flies in the face of New Delhi's position that the dispute should be resolved bilaterally. He also said he had been discussing the issue "at length" with Pakistani Prime Minister Nawaz Sharif.
In the interview to WION TV channel, recorded in Ankara ahead of his trip, Erdogan also repeated Turkey's stand that he was in favour of both India and Pakistan being included in the Nuclear Suppliers Group (NSG). India has been arguing that it cannot be equated with Pakistan, which has a proven track record of nuclear proliferation, and Erdogan suggested New Delhi should give up this "attitude".
While there was no official response from the Ministry of External Affairs to his comments, sources told The Indian Express that the two sides are looking at a "more positive" language in the joint statement expected after Erdogan's bilateral meeting on Monday with Prime Minister Narendra Modi. "We are working on a more positive language in the joint statement. It will become clear after the talks between the two leaders," a top government source said.
Officials expect outcomes and bilateral cooperation to be strengthened in areas such as defence, counter-terrorism, information technology, space and investments in infrastructure projects, with Turkey famous for its prowess in the construction sector. There is also possibility of talks on a Comprehensive Economic Cooperation Agreement, apart from better air connectivity. Modi and Erdogan will also explore opportunities to work on developmental projects in third countries, sources said.
In the interview, Erdogan expressed concern at the continuing stand-off between India and Pakistan on Kashmir, and added, "We should not allow more casualties to occur, and by strengthening multilateral dialogue, we can be involved, and through multilateral dialogue, I think we have to seek out ways to settle this question once and for all."
The President said, "Relations between India and Pakistan, if we dig closer, dig deeper, I can confidently say that the relations between the two nations are improving on a daily basis, which makes me very happy. But this Kashmir question, this question saddens us deeply. It upsets both the countries involved. And surmounting the Kashmiri challenge will contribute tremendously to global peace."
He said "peace and stability" were needed in the South Asia region. "Extending conflicts, extending questions and carrying these questions to the future will be unfair to the future generations because they will have to pay the price. And right next to the prosperity of the Kashmiri people, we need security and stability in South Asia. We want this region to be peaceful, we want to win friends wherever we go. India is our friend in the region. Pakistan is our friend in the region. And there are certain aspects which contribute tremendously to our ancient relations. In terms of faith, in India we have followers of the Muslim faith and in Pakistan there are Muslims, and this bring us even closer. We have to build bridges, strengthen dialogue between different stakeholders. We shouldn't allow more casualties to occur. We should strengthen multilateral dialogue. We can stay involved through multilateral dialogue."
Erdogan said Pakistan was willing to settle the issue. "My dear friend the Prime Minister of Pakistan, Nawaz Sharif, is an individual with whom I have been discussing these issues at length, and I know he is a man of good intentions. I heard him personally speak of his will to settle this question once and for all. So if we keep the dialogue channels open, we can settle this question once and for all. And all around the world there is no better option than to keep the channels of dialogue open if we want to contribute to global peace," he said.
On the NSG, Erdogan said, "Both India and Pakistan have the right to aspire for NSG membership. I think India should not assume such an attitude. If Turkey was fair enough to support Pakistan, it was fair enough to support India. We are very objective and positive to the NSG process."
Asked whether the Organisation of Islamic Conference (OIC) suggestion of self-determination as a means to resolve differences over Jammu and Kashmir was valid, and whether the same should then be applied to other crises such as Tibet, Taiwan, Balochistan or even the Kurdish issue (involving Turkey), he said the OIC represents a certain population. "It (OIC) has its area of influence. It has economic and political strengths, it has a say in global matters and it can contribute to world peace. If something has been approved by all member-states, it should not be criticised or questioned. OIC members also have weight in the United Nations (UN). Turkey supports India to become a permanent member of the UN Security Council (UNSC)."
On the possibility of India supporting the demand of the Kurdish people for independence, Erdogan said, "If we compare apples to oranges, we will be making mistakes. We will make a big mistake. We have no problems with the Kurdish people, Kurdish citizens in Turkey. We have a problem with the terrorist organisation. With regards to the Kashmir question, there is no similarity whatsoever. The nature of the dispute is different. There is a territorial dispute. And Pakistan is pursuing, as a State, her own thesis and her own arguments and they are right, and India as a State is pursing her own agenda and her own arguments and they are right too. But inside Turkey, we see a separatist terrorist organisation called PKK, alleging to represent the Kurdish dissidents. But in Kashmir, the situation is much more different… In Turkey we have PKK, we have YPG and YPD — these are just terrorist organisations. And let's not make a mistake of comparing these questions, these problems with one another."
The President said he hoped to boost bilateral trade and investments during his visit to India, including joint investments in third countries. Reducing the trade deficit with India would also be a priority for him. "I visited India in 2008 as the Prime Minister of Turkey. Since then, India has emerged even stronger. It is respected by all. For its part, Turkey's voice is easily heard all over the world. My visit will deepen Turkey-India relations," he said.
The bilateral trade volume between the two countries is about $6.5 billion, but it is more in favour of India. Erdogan referred to it in the interview: "I want a win-win situation and a favourable trade balance" He warned India about the Gulenist network (which Turkey accuses of spreading terror) and said the Indian government should not take them lightly. "The Gulenists have a great network in India," he said. "They might infiltrate the government… The Indian government should take their presence in India very seriously."
On the muzzling of the freedom of the press in Turkey (Turkish media reports say over 140 media outlets have been shut and more than 200 journalists arrested since the failed coup attempt against Erdogan), he said, "These charges are all political… But those people were involved in terrorist actions, maybe they were journalists but they were carrying weapons in their cars. A journalist… do you think he can exercise an infinite array of freedoms? Do you have infinite freedom in your country? If you make a mistake in your country, don't you have to pay the price?"
Courtesy: Indian Express