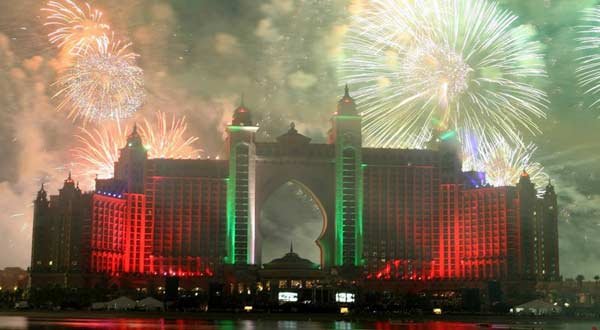 400,000 FIREWORKS TO LIGHT UP 100-KM SHORELINE CREATING 'SUNRISE AT MIDNIGHT'
Caravan Report
DUBAI, Dec 26 – When it comes to razzle dazzle and creating superlatives, no one can come close to Dubai.  The Emirate is set underscore its image once again by hosting the "largest fireworks display" ever this New Year's Eve and is looking to burnish its credentials in the Guinness Book of Records.
The iconic Atlantis The Palm is putting its best foot forward as it attempts to break all records to ring in 2014 with a bang, along with celebrating Dubai's win to host the world expo in seven years. The show will start with a six-minute display choreographed across the whole of The Palm Jumeirah and The World Islands.
Meanwhile organizers of Dubai World Record 2014 have confirmed that a six-minute extravaganza that will stretch across 100km of shoreline, including The Palm Jumeirah and the World Islands, with 400,000 fireworks being set off from 400 firing locations with over 200 experts running the spectacular show with the aid of 100 computers.
Adding to this master effort will be a technological marvel that will create a 'sunrise' at midnight, with a flying falcon taking off into the horizon as the world's largest pyrotechnic flag in the sky will come to life, stretching across 29,250 square meters.
In a media statement, Serge Zaalof, President and Managing Director of Atlantis, The Palm said: "Winning the bid to host World Expo 2020 gives Atlantis, The Palm, a perfect reason to bring in the New Year with a bang, and this year, our fireworks display is set to be the biggest the world has ever seen- twice the size of our launch.
"Guests will enjoy a range of experiences throughout our 21 restaurants, bars and clubs, as well as two incredible entertainment events and, of course, the world's most talked about firework displays, covered in over 30 countries."
With the aim of safeguarding the safety of residents and visitors, and to allow people to move freely before the display commences, special passes will be provided to every home.