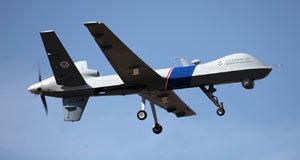 WASHINGTON/ISLAMABAD, JAN 29 (MAMOSA Report) – President Barack Obama in his State of the Union address on Tuesday night said he has "imposed prudent limits on the use of drones" worldwide.
While drone strikes may be reduced, their use for intelligence gathering and monitoring of nuclear facilities in the region is expected to continue, according to a US media report.
"So, even as we aggressively pursue terrorist networks – through more targeted efforts and by building the capacity of our foreign partners – America must move off a permanent war footing.
That's why I've imposed prudent limits on the use of drones – for we will not be safer if people abroad believe we strike within their countries without regard for the consequence.
That's why… I will reform our surveillance programs – because the vital work of our intelligence community depends on public confidence, here and abroad, that the privacy of ordinary people is not being violated," Obama said in his State of the Union speech last night.
On the eve of Obama's address the New York Times reported that American intelligence agencies are concerned they could lose their air bases (if US completely withdraws from Afghanistan) which are not only used for drone strikes against Al Qaeda in Pakistan but are also there to respond to a nuclear crisis in the region also.
Afghanistan exit is seen by US officials as peril to C.I.A. drone missions in the AfPak region, as Obama mulls two options for protecting American interests in Afghanistan.
According to the paper, if President Obama is forced to pull all American troops out of Afghanistan by the end of the year, it would affect long-term American security interests in neighboring Pakistan. Citing US administration, military and intelligence officials, the paper wrote, "troop levels in Afghanistan directly affect long-term American security interests in neighboring Pakistan."
In case of complete withdrawal, these officials are concerned that the nearest alternative bases are too far away to monitor and respond as quickly as American forces can today if there were a crisis in the region, "such as missing nuclear material or weapons in Pakistan and India."
The report supports the idea of the presence through the end of Mr. Obama's term of 10,000 American troops as "it would protect the American facilities, including those in eastern Afghanistan where drones and Pakistan's nuclear monitoring outposts are based."
Pakistan in recent years, the report says, has "accelerated its drive to build small tactical nuclear weapons — similar to what the United States placed in Europe during the Cold War — that could be used to repel an invasion from India." But those weapons are considered more vulnerable to theft or use by a rogue commander, and they are one reason that American intelligence agencies have invested so heavily in monitoring the Pakistani arsenal," it added.
"A scare in 2009, when the United States feared that nuclear materials or a weapon was missing in Pakistan, led Mr. Obama to order the basing of a permanent monitoring and search capability in the region."
Bringing those capabilities to an end are said to be forcing the US intelligence agencies, which run the covert strikes into Pakistan and monitor nuclear events around the world, to scramble. Their base inside Pakistan was closed after a shooting involving a C.I.A. security contractor, Raymond Davis, and the raid into Pakistani territory that killed Osama bin Laden, both in 2011, the report added. The raid, and those drones, came out of American facilities just over the Afghan border, the report added.
"You hear about the president's decision of the 'zero option' in the context of the future of Afghanistan, but this is really more about Pakistan," said one former senior intelligence official who has consulted with the Pentagon and intelligence agencies about the problem. "That's where the biggest problem is."
Obama also pledged in his State of the Union address that 2014 will be a "year of action" to tackle economic inequality in the U.S.