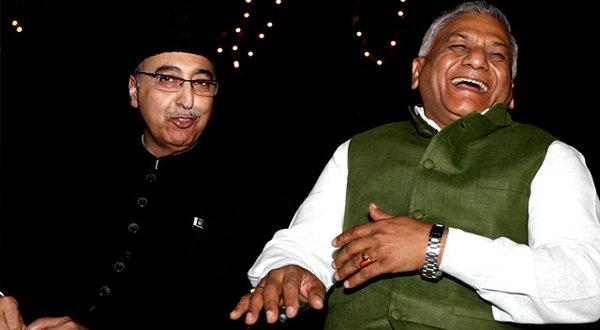 MODI WRITES TO SHARIF, SAYS ALL ISSUES WITH PAKISAN CAN BE RESOLVED WITH DIALOGUE
Agencies
NEW DELHI — Minister of state for external affairs Gen VK Singh has tweeted with the hashtag "DISGUST" after attending the Pakistan Day celebrations in the country's high commission in New Delhi on Monday evening, reported the Times of India.
Singh, a former Army chief, attended the event where several Kashmiri separatist leaders including Mirwaiz Umer Farooq, Syed Ali Shah Geelani and Yaseen Malik were also present.
Singh, who was in the party for just a few minutes, didn't appear comfortable while sitting next to Pakistani high commissioner Basit Ali.
"The government of India had to send an MoS. They sent me and I went there and came back," he said replying to a question about his presence at the reception by a reporter.
Asked specifically whether Prime Minister Narendra Modi asked him to attend the event at the Pakistani high commission, he said, "The government of India asked me to go there."
Chairman of Hurriyat Conference Mirwaiz Umar Farooq, along with Abdul Gani Bhat, Maulana Abbas Ansari, Bilal Gani Lone, Aga Syed Hassan, Mussadiq Adil and Mukhtar Ahmad Waza had held talks with Basit Ali Monday night.
Basit, who invited them to the Pakistan National Day celebrations, said that India was not against these interactions. However, India hit out, saying "the government of India prefers to speak for itself".
This comes in the wake of a spate of attacks by Pakistan-backed militants in Jammu & Kashmir.
Modi: All Issues With Pakistan Can Be Resolved
Meanwhile Prime Minister Narendra Modi said on Monday he was of firm belief that all outstanding issues with Pakistan can be resolved through bilateral dialogue in an atmosphere free from terror and violence.
He underlined it on Pakistan's National Day while greeting Pakistan Prime Minister Nawaz Sharif in a letter.
"I have written to Pakistan PM Mr. Nawaz Sharif, conveying my greetings on the National Day of Pakistan," Modi tweeted.
"It is my firm conviction that all outstanding issues can be resolved through bilateral dialogue in an atmosphere free from terror & violence," he said in another tweet.
The Prime Minister's emphasis on atmosphere free from terror and violence assumes significance as only last week J&K was hit by two attacks in as many days in Kathua and Samba areas.
The first attack was carried out by terrorists on a police station in Kathua and the next day an army camp was targeted in Samba.
The attacks are believed to have been carried out by Pakistan-backed terrorists.
India had recently sent its foreign secretary S Jaishankar to Pakistan where he met his counterpart and some political leaders.
Also known as Pakistan Day, the National Day is observed to commemorate the passage of the Lahore Resolution of 1940, now called the Pakistan Resolution on March 23, 1940.