Ghazala Ahmad | Clarion India
SAJIDA BEGUM, Junaid's wife lay motionless and unconscious as she is still not being able to fathom the truth that her husband, who was the sole bread earner of the family, is no more in the world.
Her 3 months old daughter, Shifa, youngest of 6 children was crying inconsolably as she lingered around her cot, wanting to be fed.
On February 16, a Bolero was found by the police in the jungles near Loharu in Haryana. The vehicle was found charred along with two men who had been burnt alive inside the car.
The two men were identified as Nasir (25) and Junaid (32), residents of Ghatmika village of Rajasthan's Bharatpur district.
They both were uncle and nephew in relation, but more like friends as the villagers said.
The two Muslim men were allegedly abducted, assaulted and burnt alive by mobs who call themselves 'cow vigilantes'.
The incident has left the entire village stunned and shocked. Villagers believe that the brutal act was committed by a group of cow vigilantes headed by Monu Manesar who is the face of the Bajrang Dal in Mewat, and adjoining districts of Rajasthan.
The grieving families ask, "How many Junaid-Nasir will this hate take? When this hate will stop? When these killings will stop? When will this bloodbath end?"
A group of men in white clothes were gathered outside Junaid's house, came to offer condolences to the grieving family.
Inside the house, his wife was surrounded by women who were offering prayers for the departed soul. Some of them were reading prayers on the prayer beads (Tasbih).
Junaid's sisters whose eyes got swollen by weeping continuously said, "We don't have anything to say, will it bring back my brother?"
"We are left with nothing to say, we just want justice for my brother", her throat got lumped as she again started saying the prayer.
Nasir's wife was ill and couldn't speak with Clarion India, as she is still in a shock that her world has been turned upside down as her husband is no longer there.
Sarda Begum, Nasir's sister described him as a hardworking and kind man.
Sarda Begum, Nasir's sister described him as a hardworking and kind man.
She said, "You can go and ask around anyone in the village, they will not say any foul word against my brother, he was very innocent".
Nasir who didn't had any children was fond of kids, her sister said, "He adopted one of his elder brother's kids because he liked kids so much, he was always surrounded by the children".
His 12 year old niece standing beside nodded in affirmation with eyes filled with tears.
Sarda further said, "Our house has been devastated. A sister lost his brother, a wife lost her husband but these monsters are roaming freely. They have a freehand".
"How many lives will they take? How many Muslims will they kill?" she asked.
She said, "My brothers were burnt alive. This is not a small thing. It's been days, nobody took notice to our pleas, and we need nothing but justice. We are devastated".
A fight for Justice and Peace
Mohammad Jabir, Junaid's cousin and Nasir's elder brother is continuously protesting to demand justice for both the deceased men.
He has been protesting in the graveyard, right in front of the graves of Nasir and Junaid. Over the days, he has been joined by the people from his and neighboring villages.
While speaking to Clarion India, he said, "I am sitting here and will be sitting here until I ensure justice for both of my brothers".
He said, "My fight is not only for my own brothers but is also for our generations to come. We can't continue living in fear of these goons."
"For how long we will live in fear? We have already lost many of our brothers, not anymore", he added.
He said in determination, "I promise, I will keep protesting, until my last breathe."
Jabir also blames the mainstream media for furthering hate against Muslims in the country through what they propagate in their debates on their News channels as he calls for peace and brotherhood in the country.
He said, "The hateful debates that take place on TV channels create rifts among Hindus and Muslims, it has a direct effect here in my Village Ghatmika".
"In these debates, they make people fight like animals and a lot of people get influenced by it. The support they enjoy from the majority gives impunity to people like Monu Manesar and his gang who are thirsty for the blood of Muslims".
"A compensation of Rs 21 lakh has been announced but will my brother come back from this money? I demand that this terrorist Monu be arrested at the very first place," he said.
A Memory that Haunts
Junaid and Nasir's case is not the lone case in the village.
Umar from the same village was allegedly lynched to death on November 10, 2017 by the Bajrang Dal while reportedly he was bringing a cow for milk, as he was into the business of stockbreeding.
Two other men were also with him at the time of the incident, Javed and Tahir who anyhow managed to save their lives. Tahir, however was shot by a bullet on his shoulder.
Even six years later, the incident still sends shivers down their spine as they recall the incident. Both of them are dealing with the case of 'cow smuggling' and appear for case hearing.
Tahir and Javed, both refused to speak on record with Clarion India as they believe that it can further land them in another controversy and there can be a threat to their lives.
Umar's youngest son Imran was born on the same day his father was killed. Maqsood the eldest son had to leave his studies to look after his mother, grandparents and younger siblings.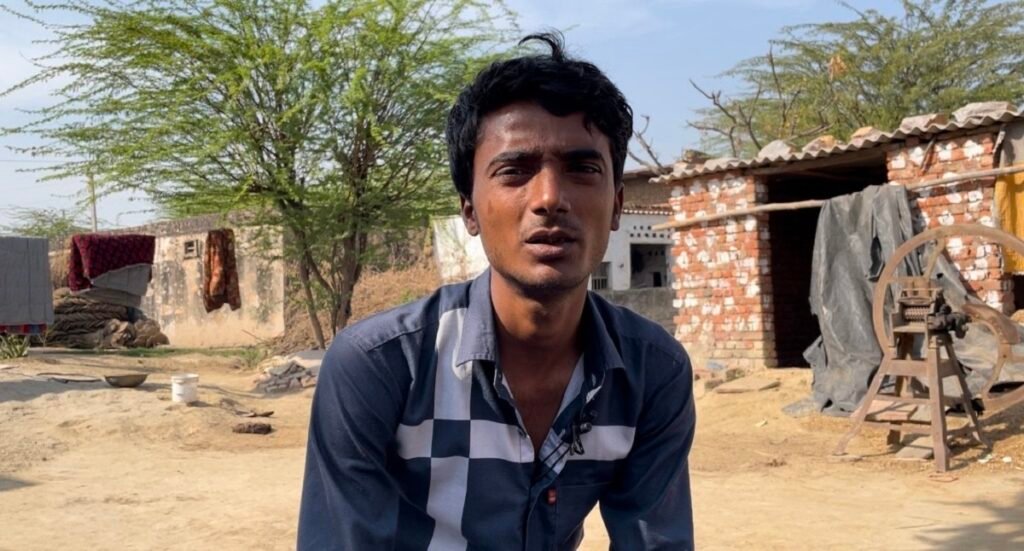 Maqsood recalls the incident of his father's demise and said, "The memory of my father's brutal killing is still stark in my memory. We are leading our lives but I will never be able to forget that they killed my father".
"I was so little but had to become and act like a grown up because there was no one to look after my family", said Maqsood who look much older than his age.
Maqsood said, "Again there is a similar incident, two of our brothers (Junaid and Nasir) are killed in a similar manner, these goondas are roaming freely".
He said, "If they were punished at the time they killed my father, they would not dare to commit this crime again".
"They will continue killing innocent people and making children and families orphan, until they are punished", he added in dismay.
"They should be punished and all the people they have killed should get justice", he urged.
A Slow and Steady Investigation
Mohammad Jabir, Nasir's brother alleged that there is zero to no progress in the investigation process and there is very little assistance given by the government so far.
A first information report (FIR) under the following sections of the Indian Penal Code (IPC) has been registered against the accused Lokesh, Rinku Saini, Srikant, and Monu Manesar and others under Sections 143 (unlawful assembly), 365 (abduction), 367 (kidnapping or abducting in order to subject a person to grievous hurt, slavery) and 368 (wrongful Confinement) on the complaint made by Ismail, Junaid's cousin.
Some other sections are said to have been added to the FIR.
On February 18, Rinku Saini, one of the accused in the case was arrested by Rajasthan Police, while eight accused are still absconding.
Police said, "Saini, during interrogation, gave potential clues on the basis of which eight accused have been identified and raids were conducted in many districts of Haryana to nab the absconding accused".
On the basis of Saini's interrogation, Rajasthan police released the pictures of eight men reportedly involved in the killing of Junaid and Nasir.
On February 22, as the list and pictures of wanted accused was released by Rajasthan police, hundreds of people which mostly include members of right-wing groups gathered in Haryana's Manesar district and conducted a 'Maha Panchayat' to back and support Monu Manesar.
The speakers at the Mahapanchayat reportedly warned Rajasthan police to not arrest Monu Manesar or else they will have to bear the consequences.
Who is Monu Manesar?
Manesar, is a prime accused in Junaid and Nasir's killing and several other lynching cases. He enjoys a huge number of social media following. His Facebook page has almost 80 thousand followers and he has some 35 thousand followers on Instagram. He has also bought himself a blue tick on twitter through subscription where he has around 6 thousand followers.
He also has a silver play button for his YouTube channel and all these social media platforms are used to share videos and photos of 'cow vigilantism' done by him and his gang, which has visuals of where he can be seen punishing the alleged cow smugglers.
The Demand to Arrest the Culprits
As the days are passing, the protest and demand to arrest the people involved in the killing of two young Muslim men is seen to be escalating.
On Friday, February 24, thousands of people came out in support to demand execution and justice for the killers of Nasir and Junaid.
A protest was organised at Ferozpur Jhirka, which was joined by thousands of people from nearby villages, after Friday's congregational prayers.
A memorandum has been submitted to Haryana Police, demanding the arrests. Slogans like, "We want justice", "Nasir wants justice", "Junaid wants justice" were also raised by people in the protest while holding the national flag.
Moreover, Mohammad Jabir along with eight others who are seeking justice for two brothers have been served with a notice for 'breach of peach' by the Magistrate of Pahari, Bhartpur District.
Jabir said, "This has been done to create pressure on us, so that we withdraw our demands".
"If you (government) want to create pressure, it should be made to arrest Mohit aka Monu Manesar".
The notice written in Hindi reads, "I have been informed that you (name mentioned in the notice) are disturbing and breaching the peaceful environment. Therefore, you are directed to appear in the court on 27th February and provide an explanation for doing the same."
The letter was signed by the Magistrate of the Pahadi, Bharatpur.
______________________
Also read:
How Cow Vigilantes Have a Free Hand and Get Away with Murder in Haryana, Again and Again
Anger and Outrage After Two Muslim Men Burnt to Death over 'Cow Smuggling'
________
Cover photo: Nasir (25) and Junaid (32), residents of Ghatmika village of Rajasthan's Bharatpur district, were abducted and killed allegedly by Bajrang Dal workers. Their charred bodies were found in Haryana. — File photo