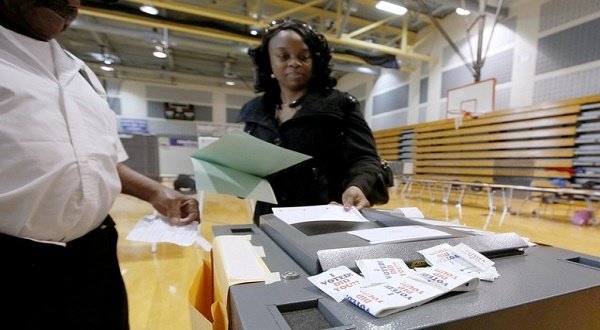 UAE was one of the many Global Primary elections held as part of the US presidential polls. Credit: Jeff Kowalsky/EPA
The overseas primary of US presidential polls was recently held in Dubai.Car after car, people came to vote, even some non-Americans asked could they vote as well! It sounds like a lot and it is, but this is how American democracy works. There are some who live just to be in it
MARYAM ISMAIL | Caravan Daily
[dropcap]I[/dropcap] voted and my guy won!  It may not be big news yet but Bernie Sanders won by 69%. Yes. Despite all of those who are pushing for Hilary Clinton, we won. I am so happy. We Americans abroad have spoken; so listen. It was great to have this chance. Unlike the last 2012 presidential election when my vote was thrown out because of super storm Sandy, this time, I was not going to miss out.
So, when I saw the advertisement for Democrats Abroad on Facebook, I checked it out and learned that I could still vote right here in Dubai. I quickly registered and then ran out to have my vote counted.
The primary was held at Dubai American Academy in the Barsha district of Dubai. On hand was Courtney Hagen, committee chair of Democratic Abroad's for the United Arab Emirates and Orlando Vidal, vice chair and counsel.
The entrance of the school was decked out with a huge official American flag, handouts, postcards, stickers, and the usual souvenirs that one gets during election time. It was like a real polling station back at home, minutes, the century old record book of voters names. Unfortunately, the Republicans don't have a similar platform for their party members abroad.
Car after car, people came to vote, even some non-Americans asked could they vote as well! Yes, I am excited. People drove up all the way from Al Ain, mostly because a primary had been held in Abu Dhabi the day before. Some decided to make a trip of it going to the Mall of the Emirates and elsewhere in Dubai.
The global presidential primary was held from March 1-8, 2016. In the future, American Democrats Abroad party will also hold several local, regional and worldwide caucus meeting to select delegates who will attend a global convention in Berlin, Germany in May. From this meeting another group of delegates will be selected to attend the Democratic National Convention in Philadelphia in July.
It sounds like a lot and it is, but this is how American democracy works. There are some who live just to be in it. They are so committed that they often worked on committees even when there isn't an election. I am not one of those. I just like to cast my vote when I can. I am really grateful to those who had the foresight to create this platform.